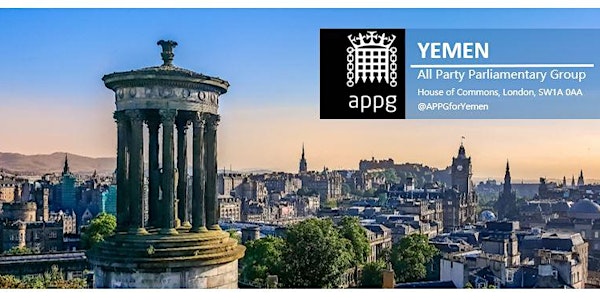 Inter-Parliamentary Conference on Yemen / Edinburgh-Glasgow
GLASGOW SESSION / The 2nd Inter-Parliamentary Conference on Yemen, taking place in Edinburgh and Glasgow on June 20th 2019
When and where
Location
Glasgow City Chambers 82 George Square Glasgow G2 1DU United Kingdom
About this event
The All Party Parliamentary Group for Yemen presents the 2nd Inter-Parliamentary Conference on Yemen, taking place on June 20th 2019.
Parliamentarians, political leaders and charities from across Europe will convene in Edinburgh and Glasgow to address the war that continues unabated in Yemen.
The Conference is split into two sessions:
Edinburgh (10:30am-1pm): contributions from political and charity leaders at Edinburgh City Chambers
Glasgow (4:30-7pm): a community meeting at Glasgow City Chambers
GLASGOW SESSION
A community meeting will hear a panel discussion on Yemeni affairs with Q&A from audience members, taking place in Glasgow City Chambers.
This page is for the Glasgow session, taking place in the evening at Glasgow City Chambers. For the morning Edinburgh session, please register here: https://bit.ly/2WO9rYG
This follows from the acclaimed 1st Inter-Parliamentary Conference that took place in Paris in November 2018. Speakers including the Shadow Foreign Secretary, Emily Thornberry MP, spoke of the desperate need to achieve peace in Yemen.
For further information, please contact Max Daniels at yemenappg@gmail.com