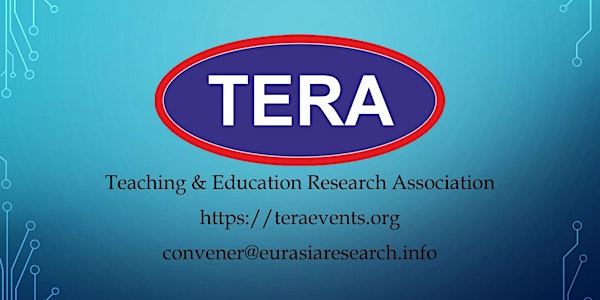 Inter Conference on Teaching, Education & Learning, 05-06 Sep 22, Rome
International Conference on Teaching, Education & Learning, 05-06 September, Rome
When and where
Location
University of Washington Rome Center 95 Piazza del Biscione 00186 Roma Italy
About this event
Conference Name: International Conference on Teaching, Education & Learning, 05-06 September, Rome
Registrations for Online LIVE Conference on Zoom Meeting Also Open
Conference Dates: 05-06 September, 2022
Conference Venue: University of Washington – Rome Center (UWRC), Piazza del Biscione 95, 00186 Roma, Italy
Conference Application Form : https://teraevents.org/online-application?association=tera&postname=17498
Format: In-Person and Online (Both)
Contact E-Mail ID: convener@eurasiaresearch.info
Organizing Scholarly Association: Teaching & Education Research Association (TERA)
Our Upcoming Conferences: https://teraevents.org/tera
Conference Language: English
(Vernacular Session, e.g., European Languages, Arabic, Bahasa, Thai, Chinese, Turkish, Japanese, Russian, will be organized for a minimum of 5 or more participants of a particular language)
(Only English language, full-length, original papers will be considered for publication in conference journals)
TERA is a scholarly association, which provides a platform to researchers, practitioners, students and educationists to be a part of one the largest network for sharing ideas and researches.
TERA President: Dr. Lynne Celli, Dean of Graduate and Professional Studies,Lasell University, Newton, MA, United States,
TERA Vice-Presidents: Prof. Lawrence Gundersen, Professor of History and Political Science, Division of Social and Behavioral Sciences, Social and Behavioral Sciences, Jackson State Community College, the United States
TERA Vice-Presidents: Dr. Kanlaya Daraha, Faculty of Humanities and Social Sciences, Prince of Songkla University, Pattani Campus, Pattani, Thailand
Who should attend:
Researchers, Practitioners, Students and Educationists
Benefits of Participation:
Networking, Publication, Certification, Collaboration, Branding
The association also provides scholarship to needy and scholarly students.
Institutional Membership:
The members of the association may also apply for the Institutional Membership. Please write to email ID convener@eurasiaresearch.info to apply for Institutional Membership.
Publication:
The paper presented in the conferences are considered for publication in our collaborated journal 'PUPIL: International Journal of Teaching, Education and Learning'.
Please find the link for the journal: https://grdspublishing.org/index.php/PUPIL
Also, the journal is highly indexed. Please find the indexing on below link: https://grdspublishing.org/index.php/PUPIL/indexing_archiving