Sales Have Ended
Ticket sales have ended
Get ready to grow your farmers' market business in San Diego in February. Watch for additional information via email this fall.
Sales Have Ended
Ticket sales have ended
Get ready to grow your farmers' market business in San Diego in February. Watch for additional information via email this fall.
Description

Attend InTents: The Farmers Market Conference 2020 to make your farmer's market, farm or food business stronger and more profitable, reduce stress and expand your revenue streams!
GROW YOUR FARMERS' MARKET BUSINESS HERE!
Whether you're a small farmer, food maker or farmers' market manager, discover smart new ways to increase your income and reduce the stress of running your own business at the 4th Annual InTents: The Farmers Market Conference on San Diego's beautiful Mission Bay on February 2nd, 3rd and 4th, 2020.

Take advantage of three days of inspiring speakers, authors and experts on branding and marketing, hiring and training, regulations, packaging, costing and pricing, and expanding your business to wholesale and beyond. More than 30 speakers include:
Charlotte Smith: Three Cow Marketing and author of Farm Marketing From the Heart
Chris VanLeeuwen: Vice President, Veracity Insurance Solutions
Cat Neville: Journalist, Host PBS TasteMAKERS
John Piotti: President, American Farmland Trust
Mark Winne: Food systems Trainer, Author of Food Town USA, and Stand Together or Starve Alone
Beverly Grant: Founder Mo Betta Green Marketplace, Denver
Sarah Marshall: Co-Owner Marshall's Haute Sauce, author, co-host Meaningful Marketplace podcast, author Preservation Pantry
Leigh Sloss Cora: Executive Director The Market at Pepper Place, Birmingham, AL
Catt Fields White: Market Manager and Founder San Diego Markets and Farmers Market Pros, co-host Tent Talk, the farmers market podcast
Lori Rice: Photographer, food stylist and author of Food on Tap
Ben Feldman: Executive Director, Farmers Market Coalition
Alfonso Morales: Farm 2 Facts and University of Wisconsin
Darren Chapman: CEO Tiger Mountain Foundation, Phoenix, AZ
Helena Sylvester: Farmer, Social Media Manager Happy Acre Farm
Brijet Myers: Market Manager, Education Coordinator Farmers Market Pros, co-host Tent Talk, the farmers market podcast
Pascale Le Draoulec: Market Manager and Founder, Morning Glory Markets, NY, author of American Pie
Nathan Macaulay: Sales Manager Apricot Lane Farms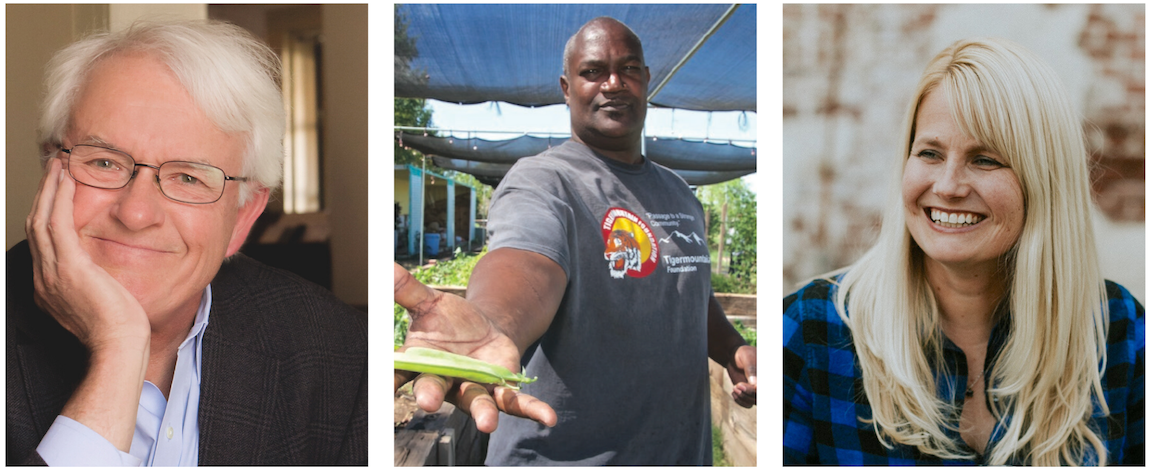 Left to right: Mark Winne, Darren Chapman, Lori Rice

• Farmers and food makers: Update your marketing, display and sales techniques to earn maximum return on your money and energy, train employees, and manage your costs and inventory to prevent waste.
• Managers: learn how to increase sponsorships, streamline regulatory compliance, maximize risk management, curate balanced markets and do effective marketing to increase attendance and profitability.
• Experienced manager or community groups considering the launch of a new market: learn how to weigh your chances of success and how to move forward.
Network and learn at breakout sessions and roundtables. Compare notes and gain new perspectives from fellow farmers, business owners and market managers.
Discover new sources of ingredients, operating supplies, tents, signs, insurance, graphic design, photography, management services, marketing materials and more in the Resource Lounge.
Do be aware that press, photographers and videographers attend the event and by attending you agree that your photo may be taken, shared and published by the event organizers. We will never share your contact information without your permission. No refunds will be issued but tickets are fully transferable (see FAQs).
Order your tickets now to secure your place at this year's conference. To subscribe to the Farmers Market Pros newsletter for the latest offers: CLICK HERE.
FAQs
Who attends this event?
Current and prospective farmers' market participants: farmers, food makers and farmers' market managers. Artists and crafters who participate in farmers' markets will find some value, but many of the sessions are specific to food operations.
Who should sponsor this event?
Companies that offer goods and services that support farmers' market managers, farmers and vendors: website creation, tents, disposable foodservice supplies, credit card processing, insurance, banner and flyer printing, wholesale ingredients and packaging, and so much more.
I already operate a successful farmers' market. Why should I attend?
We think there's always something to learn about new methods of recruiting and retaining farmers and vendors, dealing with increasing costs and regulations, maximizing your marketing budget, and managing invoicing and paperwork. And it's always a good time when you network with other people in your industry. (They get you.) If you really already know it all, contact us about leading a session and sharing your expertise.
Will I learn about the best options for crop irrigation here?
No, if you're a farmer, at InTents: The Farmers' Market Conference you'll learn how direct marketing can increase your profit margin, and how to most effectively choose crops, display your harvest and market your farm to increase your farmers' market sales. We'll also hear from restaurants and retailers about what you need to know to expand your sales operation. If you also need education on farming methods, we recommend your local small conference or Eco Farm.
If I already have my permits to sell my food products at farmers' markets, do I need this conference?
You do, only if you want to maximize your sales, and increase your profits. Almost any market vendor will learn something here about display, packaging, financial planning, marketing staffing, and other ways to increase your business and choose the best ways to grow.
What are parking options at the event?
Marina Village offers an enormous free parking lot onsite.
Does the registration fee include accomodations?
You're on your own when it comes to accommodations but there are several good hotels nearby, and a variety of short term rentals.
What meals are avaiable?
We'll have a variety of breakfast and lunch options available for sale in the Resource Lounge, and a Lunch Market on site each day so you can buy meals, beverages and snacks from actual market vendors. If you register for a Big Tent Pass, that also includes mixers and movies.
What's the refund policy?
Once you've registered, no refunds are available, but you're welcome to transfer your ticket to a friend or associate. Do be aware that if you transfer the ticket too close to the conference, their name tag may identify them as you.
How can I contact the organizer with any additional questions?