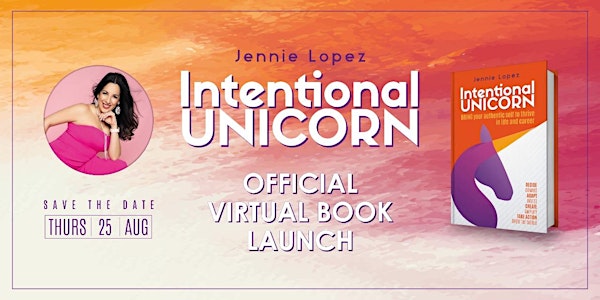 Intentional Unicorn Official Virtual Book Launch
Join us to launch Jennie Lopez's Intentional Unicorn
About this event
Join us for the launch of the inspiring and moving book, Intentional Unicorn, on Thursday, August 25, 2022 AT 7:00pm EST/6:00pm CST!
You don't want to miss this engaging, fun, and one of a kind launch. Register today and support author, Jennie Lopez!
About Intentional Unicorn:
CREATE AND DRIVE YOUR OWN JOURNEY BY PUTTING A SPOTLIGHT ON YOUR UNIQUE SUPERPOWERS… BE PROUD OF BEING A UNICORN… AN INTENTIONAL UNICORN!
The confidence that emerges from the realization of your super-powers fuels and accelerates an exciting growing journey. For many years, author Jennie Lopez felt like she stood out like a unicorn but not always for the right reasons. It was not until she realized that the key was to embrace all sides of her. The energy that we spend trying to fit in must be re-channeled to be the best version of ourselves. Once we uncover and own our uniqueness we can unleash the inner power to grow to levels we never thought were possible. In this book Jennie shares with humor, passion and transparency her journey from living in Puerto Rico, attending grad school in the USA, growing as an Associate Vice President in the corporate world, and starting her own business in parallel to her dancing and fitness career that includes NFL cheerleading and being a Zumba international presenter.
In this book, Jennie shares tools and best intentional practices to:
Understand what are your superpowers
Protect and nurture your mindset
Understand what is success and how to drive it
Tell that nagging impostor syndrome "Not today!"
Inspire you to take action on your life NOW!