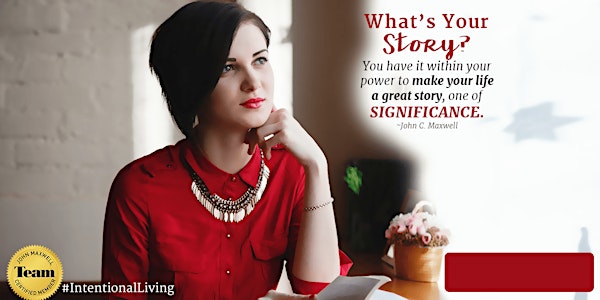 INTENTIONAL LIVING: Choosing a Life That Matters with Coach Erica Loren
Location
The Tasting Room, Faustini Winery
43a Broad Street
Red Bank, NJ 07701
Sales Have Ended
Ticket sales have ended
Online purchase of tickets for this event are no longer available. Please call The Tasting Room at (732) 383-5918 to inquire about attending.
Description
Join us at

one of our introduction sessions on either March 16 or March 23 at 6:30 pm

for an inspiring and experiential talk given by, ICF Certified Happiness Coach, Erica Loren.


Your Life can be a GREAT Story
Most people don't see life as a story they can write; in fact, most don't even see life as a story that they live! Instead, many people wake up and just passively accept whatever the day throws at them. They drift within their own story. Now, some people are organized and systematic, and there's not a minute in their day that's not accounted for. But having command over every minute doesn't count for much if the way those minutes are spent is determined by someone else's agenda. This event is to wake people up to their own story, and to the power they have within everyday to live a better life by being intentional with what they choose. When we choose to look at life as a story, we begin making choices to write our lives instead of accept them. We cease to be a character in someone else's story and become the hero of our OWN!
Join us at one of our introduction sessions on either March 16 or March 23 from 6:30 - 8:00 pm for an inspiring and experiential talk given by, ICF Certified Happiness Coach, Erica Loren ACC,CPC, who will show you how good intentions are just not enough to live a happy and successful life and career. From studding the top experts and putting an end to living life as a struggle for herself, Erica will help teach you proven techniques she uses with her clients to give you clarity and direction toward living a life with intentionality, ease, and tremendous satisfaction.
Learn how to:
Rewrite your story

Let go of myths and ideas that don't serve you

Be your own hero or villain
This talk is for you if you:
Are feeling stressed and exhausted trying to figure it all out

Tired doing it alone

Need new ideas

Want a fresh perspective

Feeling stuck and trapped in a rut about your life or job

Want to feel supported and have fun
Dont wait for something to happen to realize that your life's worth living NOW! Come join us for this no nonsense talk that is guaranteed to make you think and get you motivated to take action in your life. Seating is limited and registration is required.


Ticket admission also includes:
(1) complementary glass of wine

Light snacks
This event is proudly sponsored by Faustini Wines.

About Erica Loren:
Erica has been coaching since 2009 and her philosophy of personal and professional empowerment has been pivotal in helping clients and organizations live up to their peak, positive potential. Erica holds a degree from Rutgers in Health Science and multiple certifications as a Coach, including the CPC,ACC,EL-MPI with the Institute for Professional and Excellence in Coaching and is a member of the International Positive Psychology Association (IPPA). This all translates into one simple fact – she can make real tangible, marketable, sustainable improvements in your career and life.
When Erica isn't coaching clients, speaking at conferences or engaging with organizations, Erica volunteers at Trinity Church in Asbury Park, NJ as a Youth Group Leader and board member. She also offers pro-bono career coaching services to organizations such as Dress for Success,St Elizabeths College NJ and Stand Beside Them Veterans and is an active board member and volunteer for the International Coaching Federation NJ Chapter. Erica cherishes her family, which includes her twin sister and 8 nieces and nephews. She also makes time to travel and has hiked Lions Mountain in South Africa.