Intentional Impact for a Change with Sonya

Saturday, April 11, 2015 from 9:30 AM to 4:00 PM (CDT)
Event Details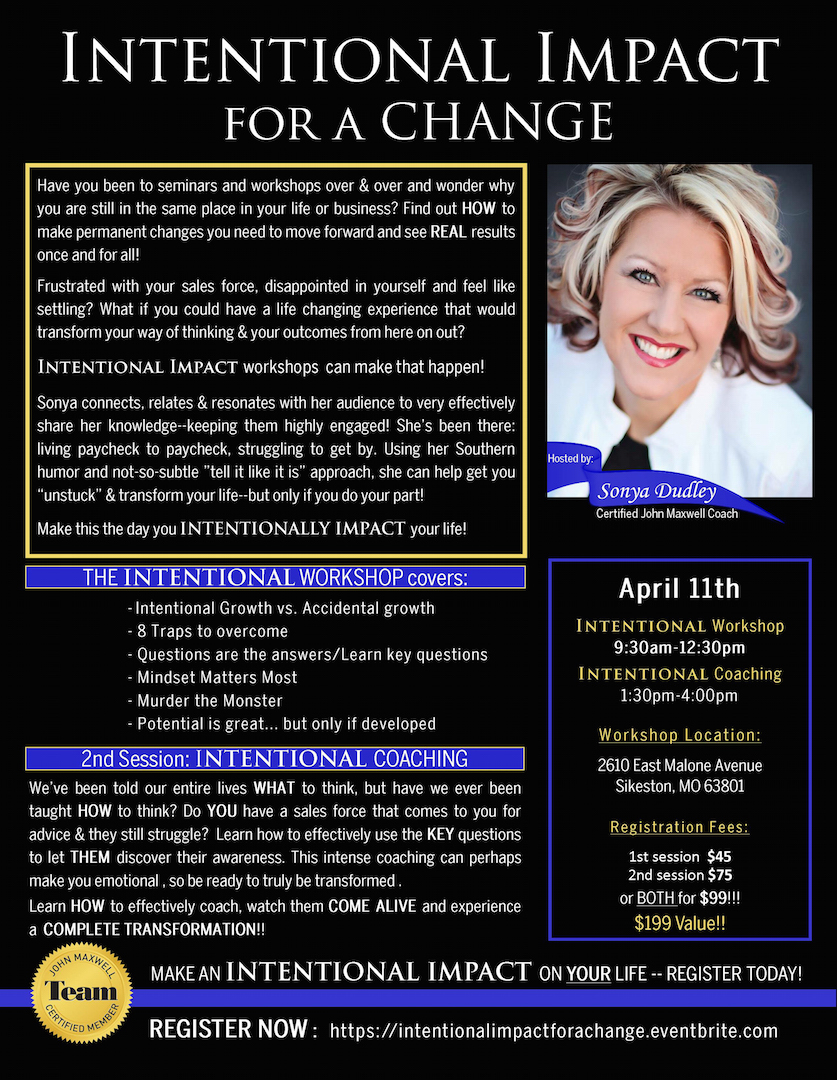 Morning session: 9:30-12:30      
Are you sick and tired of being sick and tired? Are you frustrated with your sales force, disappointed in yourself, and feel like settling? What would be the value to you, to know that you could have a transformational and life changing experience that not only would transform your way of thinking but your outcome from here on out? Sonya can connect, relate and resignate with her audience to effectively export her knowledge to the audience to engage them intensely. She uses her southern humor, her not so subtle"tell it like it is" but can get away with it. Let this day be the day you choose to INTENTIONALLY IMPACT your life….
THE INTENTIONAL WORKSHOP WILL COVER:
Intentional Growth vs Accidental growth
8 Traps to overcome
Questions are the answers/Learn key questions 
Mindset Matters Most
Murder the Monster
Potential is great but only if developed
And much  more.....
Afternoon Session:   1:30-4:00
 Intentional Impactful Coaching..... Taught by one of the worlds most sought after international coaches, Sonya will teach you HOW to effectively coach, not give advice, but to TRULY peel the layers back and watch the transformation happen right before your eyes.....You will leave having what you need to effectively coach your sales team or anyone who comes to you from now on......Hold on for this one!!
When & Where

Sikeston
2610 East Malone Avenue
Sikeston, MO 63801


Saturday, April 11, 2015 from 9:30 AM to 4:00 PM (CDT)
Add to my calendar
Organizer
Sonya has been in the "people" business for 26 years. She has been in business for herself leading herself and others to success for 20 of those years. She also has worked in many sales positions successfully with a track record to prove it. Her specialty is connecting and relating to people, encouraging others to the point that they completely start transforming, changing the mindset/self image for better results, Helping them discover their intentional purpose, coaching them to a true understanding of what THEY want and much more. Sonya was in the July 2014 edtion of Success from Home magazine for achieving the highest position in her company in a 10 month period. She is most proud of her family which includes her husband of 22 years and her 2 children. She loves travel the world making a true Intentional Impact.