Intensive Seminar on IDEO's Strategies for Sparking Innovation & Creativity Throughout Your Organization

Thursday, February 26, 2015 from 9:00 AM to 4:00 PM (PST)
Event Details
DISCOVER the power of the Ten Faces or personas for developing successful new products, services and companies. 
ADOPT specific Faces to tackle team and individual projects, design briefs and challenges, fostering robust team and personal skill development.
TAKE stock of your strong Faces, and become adept at collaborating to reduce individual and team vulnerabilities. 
All attendees will receive FREE autographed "The Ten Faces of Innovation" book by the author and speaker Jonathan Littman!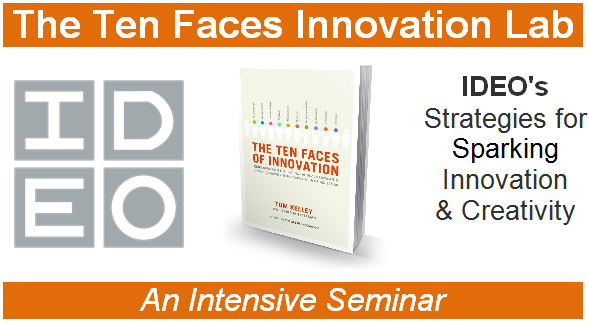 Jonathan Littman's Ten Faces of Innovation Lab is a powerful human tool to ignite innovation and develop project skills for individuals and teams. This engaging and interactive one-day seminar builds valuable project skills and talents for individuals & teams. 
"The Ten Faces of Innovation superbly maps how people and process can be managed to innovate successfully. It makes explicit the intuition and experience of the world's master innovator. Every business executive should read it!" — Clayton Christensen, Harvard Business School.
Jonathan spent six years interviewing and studying the founders and project leaders at IDEO, the world-renowned design and innovation firm, co-authoring with Tom Kelley the international bestsellers, The Art of Innovation and The Ten Faces of Innovation. In this fast-paced and inspiring seminar, Jonathan shares the strategies that IDEO uses to foster innovative thinking and overcome the naysayers who stifle creativity. The Ten Faces of Innovation Lab brings the heart of IDEO into an inspirational and highly actionable methodology. The Lab is about discovering your innovation talents and embracing fresh, proven methods to develop new products. Attendees learn how to seize market opportunities by accelerating individual and team capabilities.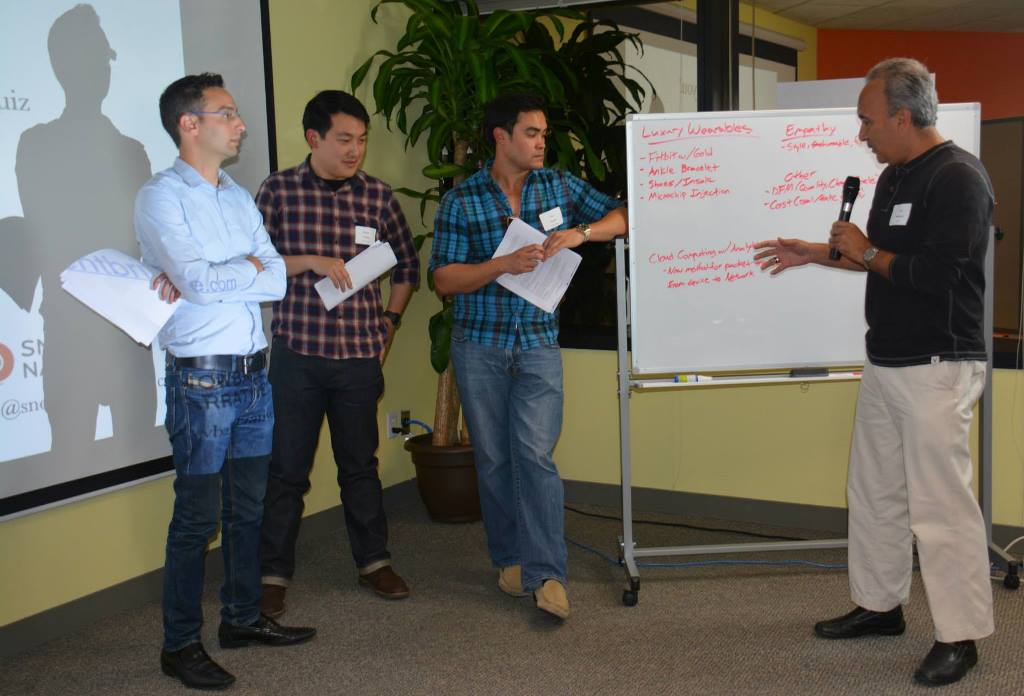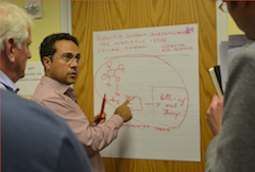 Participants will stretch their capabilities through a series of challenging exercises, games and design briefs. This team-centric interactive innovation laboratory is geared to give participants a deeper background and practical experience in the DNA of daily innovation, a skill set that includes the "fresh eyes" observation of The Anthropologist, the nimble quick-prototyping of The Experimenter, the open-minded international perspective of The Cross-Pollinator, and the critical business framing orientation of The Storyteller.
See photos and Watch video of previous seminar
SPEAKER: 
Jonathan Littman
Co-author of the bestseller, Ten Faces of Innovation
Professor of Innovation, University of San Francisco
Founder, Snowball Narrative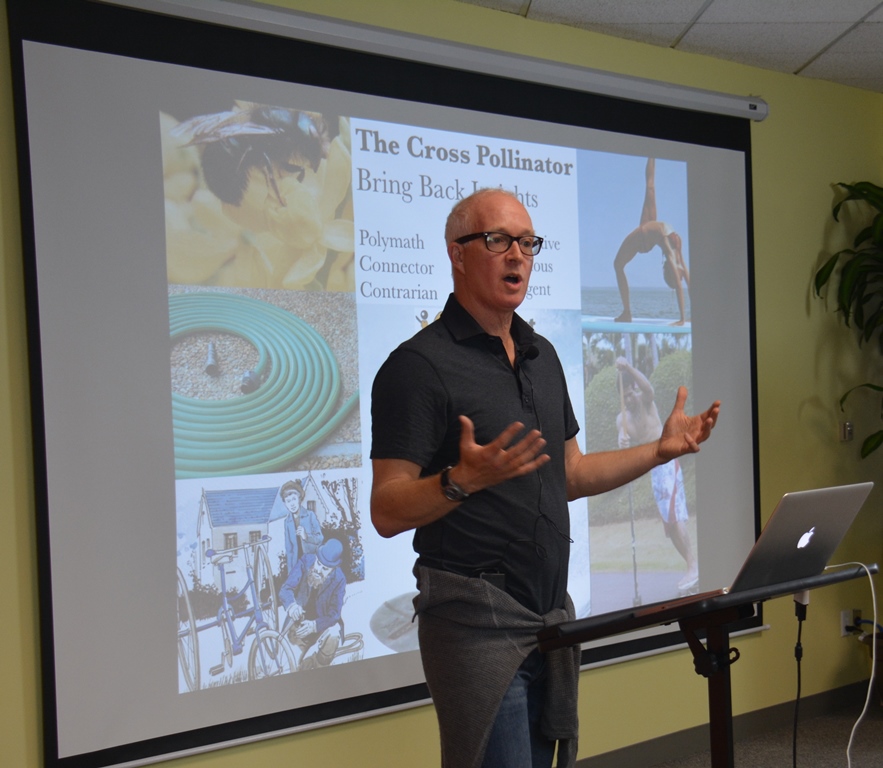 Jonathan Littman is a skilled lecturer and facilitator who has given dozens of keynotes and seminars throughout the U.S. and Canada. Founder of Snowball Narrative, the innovation and storytelling studio, his clients include Gillette, Estee Lauder, Sony, TrendHunter, Lululemon, Genentech, Gap, and Deckers Brands. Jonathan teaches Creativity, Innovation and Applied Design at the University of San Francisco, and has diverse experience as a consultant, educator and bestselling author. His long collaboration with IDEO produced two books, The Art of Innovation and The Ten Faces of Innovation, which have sold over 700,000 copies in 20 languages and are taught at business schools worldwide. 
The author and co-author of eight works of non-fiction, Jonathan's career began as a journalist, writing about technology and sports for Forbes, The Los Angeles Times and Playboy. A two-time winner of the Computer Press Awards, Jonathan is the winner of the Peter Lisagor Award for Exemplary Journalism and the New York Press Club Award for Best Sports Writing. Jonathan has a B.A. in Rhetoric from U.C. Berkeley.
SCHEDULE: 
8:30 a.m. to 9:00 a.m. - Breakfast and Coffee 
9:00 to 9:45 - Lecture on Innovation, Ten Faces
9:45 to 10:30 - Ten Faces Discovery: Participants discover and share their individual and company Innovation Faces though an interactive process. Participants take the Ten Faces self-assessment test and receive a copy of the book.
10:30 to 10:45 - Coffee Break
10:45 to 11:15 - IDEO and Leading Case Studies: Dynamic examples of companies innovating through the core roles of Anthropology, Cross-Pollination and Experimentation.
11:15 to 12:15 - Speed Innovation Play: Participants work in teams to use the key Faces to competitively tackle fun 5-minute Innovation challenges.
12:15 to 1:00 - Lunch
1:00 to 1:30 - Narrative Design: Snowball Narrative's method for framing ideas and projects through advanced storytelling and pitching techniques.
1:30 to 2:00 - Storytelling Identification: Participants identify and share their key personal and company storytelling and pitching opportunities.
2:00 to 2:15 - Coffee Break
2:15 to 2:45 - All The Faces: Teams brainstorm and list company innovation opportunities best attacked through 3 or more Faces.
2:45 to 3:15 - The Innovation Challenge: Group wide review and feedback to help teams select prime innovation opportunities.
3:15 to 4:00 - Cross Pollination, Brainstorming, Pitch!
4:00 pm to 4:30 pm - Innovation Faces Presentations: Team presentations and awards. Jonathan signs books and takes questions.
Drinks and food will be provided.
Register NOW on Eventbrite - Space is limited!
Refund Policy:
We cannot refund or exchange tickets for events that are less than 3 days away. However, if you are unable to attend the event you can reallocate the tickets into the name of somebody who would like to attend in your place by sending us a new name at info@svicenter.com
When & Where

Silicon Valley Innovation Center
1875 S Grant Street
Suite #520
San Mateo, CA 94402


Thursday, February 26, 2015 from 9:00 AM to 4:00 PM (PST)
Add to my calendar
Organizer
Silicon Valley Innovation Center
We help companies grow and innovate by educating them about disruptive technologies and innovation trends.
Intensive Seminar on IDEO's Strategies for Sparking Innovation & Creativity Throughout Your Organization