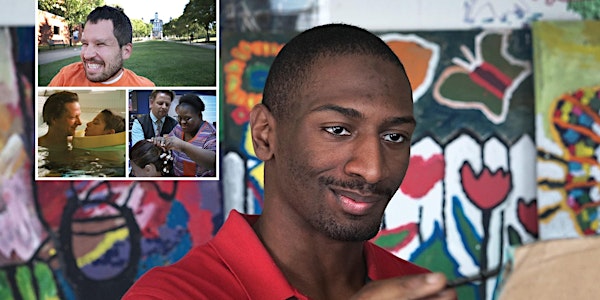 Intelligent Lives Film Screening
When and where
Location
Lexington Venue 1794 Massachusetts Avenue Lexington, MA 02420
Description
Please join the Lexington Special Education Parent Advisory Council (LexSEPTA/LexSEPAC), the Lexington Commission on Disability, the Lexington Human Rights Committee, the Cary Library, Temple Isaiah, TASH New England, the Medford Special Education Parent Advisory Council, and the Lexington Venue for a screening of the film:
"Intelligent Lives" with panel discussion after the film moderated by Melanie Perkins McLaughlin, M.Ed.

About the Film:
From award-winning filmmaker Dan Habib comes INTELLIGENT LIVES, a catalyst to transform the label of intellectual disability from a life sentence of isolation into a life of possibility for the most systematically segregated people in America. INTELLIGENT LIVES stars three pioneering young American adults with intellectual disabilities – Micah, Naieer, and Naomie – who challenge perceptions of intelligence as they navigate high school, college, and the workforce. Academy Award-winning actor and narrator Chris Cooper contextualizes the lives of these central characters through the emotional personal story of his son Jesse, as the film unpacks the shameful and ongoing track record of intelligence testing in the U.S. INTELLIGENT LIVES challenges what it means to be intelligent, and points to a future in which people of all abilities can fully participate in higher education, meaningful employment, and intimate relationships. Film Website: https://intelligentlives.org/ Trailer: https://intelligentlives.org/trailer
About the Panelists:
Melanie Perkins McLaughlin, M.Ed., is an Emmy award winning documentary film maker and was a Consulting Producer for "Intelligent Lives". She is a disability rights advocate, public speaker and the mother of three children, the youngest of whom has Down syndrome. Since her daughter's birth in 2007, she has become a spokesperson on disability and civil rights issues. She has been interviewed nationally by TIME magazine, CBS News, USA Today, HBO, ABC, Japanese Public Broadcasting (NHK), National Public Radio, Fox News and the BBC. She recently wrote an article chronicling the journey of parents as advocates, which was published as the cover story for the Harvard Education Magazine in 2017: https://www.gse.harvard.edu/news/ed/18/05/parents-advocates. Melanie is currently a graduate teaching fellow at the Harvard School of Education in Dr Tom Hehir's course "Implementing Inclusive Education". She was an inaugural Allen C. Crocker Fellow with Boston Children's Hospital and the Institute of Community Inclusion and is the co-chair of the Department of Elementary and Secondary Education Special Advisory Committee and a member of the Board of Directors of The Federation of Children with Special Needs. Melanie has a Masters degree in Education Policy and Management from Harvard University and a dual bachelor's degree in Communication / Media and Human Services from Fitchburg State University.
Emma Fialka-Feldman, sister of Micah, both of whom are featured in the film Intelligent Lives, is a second grade teacher in the Boston Public Schools. She has written and presented about the importance of inclusive education, the relationship between siblings with and without disabilities, and the role of individualized education plans.
Dina Traniello, Ed.D. consults with schools and families to support students with disabilities, learning differences, and challenging behaviors in general education settings. She is also a Visiting Professor at Fitchburg State University where she supervises teacher candidates in severe and moderate special needs and co-teaches a DESE-grant funded course for paraprofessionals and a course for school personnel on supporting positive behavior in the inclusive classroom. Dina's work focuses on utilizing evidence-based practices that support effective inclusion. Dina is Co-President of TASH New England and is the parent of two adult children, one whom has a significant disability. Both of her children attended Lexington Public Schools. Dina received an MPH and her Ed.D. in Special Education from Boston University.
Janet Sauer, Ed.D. draws on her own experiences teaching young children, adolescents, and adults in multiple contexts to prepare educators for inclusive education. Her scholarship is based in the interdisciplinary field of Disability Studies and focuses on family engagement. She believes advocacy for the inclusion of students with disabilities in community and educational contexts is a social justice issue and is necessary for a healthy democracy. Dr. Sauer is an Associate Professor at Lesley University; she has a B.A. from Emerson College, M.Ed. from Ohio University, and Ed.D. in Special Education from the University of Northern Iowa.