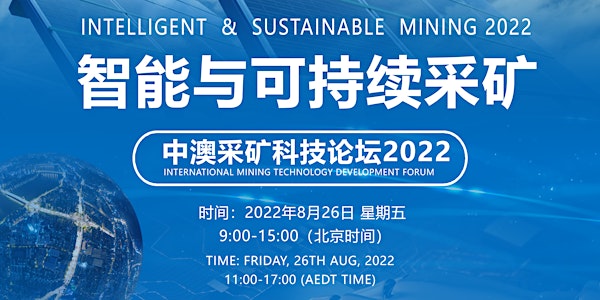 Intelligent and Sustainable Mining 2022
Intelligent and Sustainable Mining 2022
About this event
Welcome to Intelligent and Sustainable Mining 2022.
About this event
Welcome to the International Intelligent and Sustainable Mining 2022 online forum where you can experience the latest developments in area relevant to Health, Safety & Wellbeing, New Mining Frontiers, Decarbonisation, Environmental Sustainability.
This forum will include experts from both contingents and across all mining related operation, area and technology. We featured the live presentation showcase and simulatenous interpretation in both languages. The audience has the opportunity to present any questions to the speakers and experts in the subject of matter and experience the full interactive feature of the programme.
Join us for the Intelligent and Sustainable Mining 2022 live online forum. Take your stance and opportunity to network with researchers, engineers, peers and customers from across reputable Universities, Organisations and Insitutions in our first online conference taking place this November.
CCTEG is inviting you to a scheduled Zoom meeting.
Topic: Intelligent and Sustainable Mining 2022 智能与可持续采矿2022
Time: Aug 26, 2022 11:00– 17:30 Canberra, Melbourne, Sydney
Join Zoom Meeting
https://us06web.zoom.us/j/83254190627?pwd=Q21heUh4TzYrMkpDc29rTWV0Y215QT09
Meeting ID: 832 5419 0627
Passcode: 401323