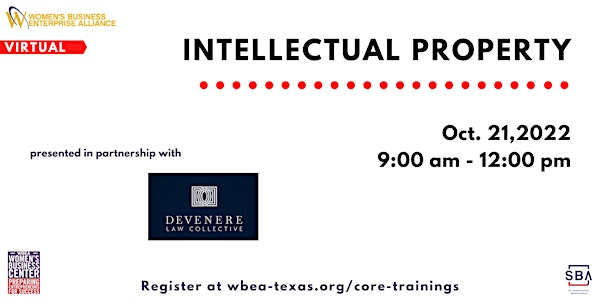 Intellectual Property
Is your intellectual property protected? Learn about protecting your creations, ideas, art, and products
Refund Policy
Contact the organizer to request a refund.
Eventbrite's fee is nonrefundable.
About this event
If you are asking "What?", you should not miss the Intellectual Property (IP) Law class! Otherwise, you won't know that it protects the rights of any person or business that creates artistic work. Artistic work can include music, literature, plays, discoveries, inventions, words, phrases, symbols, and designs. Intellectual property law aims to encourage new technologies, artistic expression, and inventions that all promote economic growth.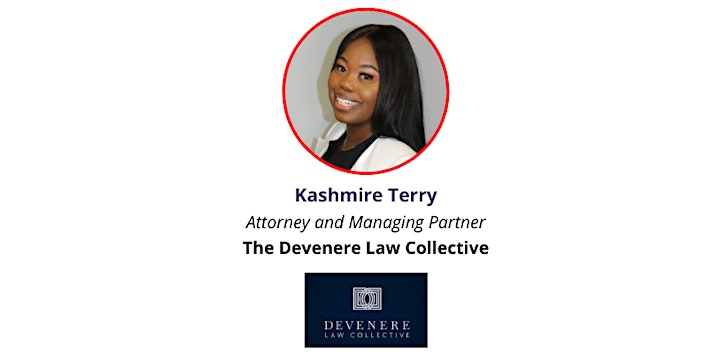 Presented by Attorney Kashmire L. Terry - Also known as The Industry Attorney.
Kashmire Terry is a Partner of Devenere Law Collective and a proud 2017 graduate of Texas Southern University Thurgood Marshall School of Law.
A native of California, Ms. Terry graduated with a Bachelor of Arts in Political Science from California State University Los Angeles in 2013. After receiving her degree, she clerked for the San Bernardino County Public Defender's Office in the Civil Commitment Department for Sexual Violent Crimes. Ms. Terry handled many cases involving abuse, sexual assaults, and the mentally handicapped. It was here where Ms. Terry, learned the true meaning of" justice".
A few years later, Ms. Terry's break into the entertainment industry came while she worked with the Law Offices of Glenn T. Litwak. Her work involved many multi-platinum recording artists and actors. From there, Ms. Terry made relationships with some of the industry's biggest names.
Main Practice Areas: Business Formation and Governance, Entertainment, Criminal, Intellectual Property, Contracts and Business Litigation.
About Devenere Law Collective
Devenere Law Collective is committed to creating and sustaining an environment of positive energy where team members and clients pursue excellence, develop meaningful relationships and commit to integrity. We lead with our heart and follow through on our promises because we believe our clients are family. Devenere Law Collective maintains the highest ethical standards by incorporating our core values in every decision we make and every action we take.