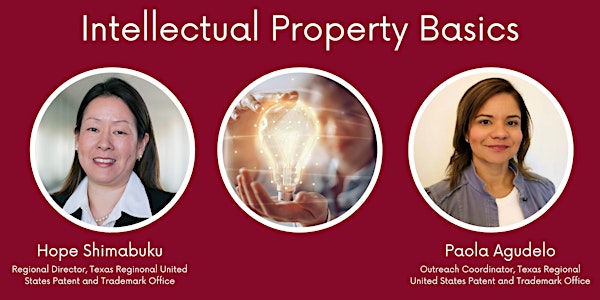 Intellectual Property Basics
Special Evening Event: Intellectual Property Basics
About this event
Join the Texas Regional United States Patent and Trademark Office and learn about the main areas of Intellectual Property (patents, trademarks, copyrights, and trade secrets).
Each Attendee will see how they are used to protect the services, products and brands of owners and businesses.
Speakers:
Hope Shimabuku, Regional Director
Hope Shimabuku carries out the strategic direction of the Under Secretary of Commerce for Intellectual Property and Director of the USPTO, and is responsible for leading the Texas regional office. Focusing on the region and actively engaging with the community, Ms. Shimabuku ensures the USPTO's initiatives and programs are tailored to the region's unique ecosystem of industries and stakeholders.
Paola Agudelo, Outreach Coordinator
Paola received her B.S. in Civil Engineering from the City College of New York and worked as a structural engineer for a consulting engineering firm in New York City. Moved to Alexandria, Virginia to join the USPTO in 2011 as a Patent Examiner in Art Unit 3633. Paola became a Primary Examiner in 2017 and moved to Austin, Texas that same year.