Description
Intellectual Fight Club V
Urban Amateur Chessboxing
A fresh new chessboxing season is about to start!


Join us for yet another unique and exciting night as we open the gates and present ordinary people giving their all in the most demanding competition on our planet: a chessboxing fight!
As always, three fights are scheduled. The fights are hard, the chess games are wild and, as always, the venue will be on fire! Feel free to stick around for some drinks after the fights, the bar will be open late!
---
Chessboxing is a rare blend of contrasting skills. The athlete combines a powerful body with a sharp mind and rises above mindless muscle. In the ring, the fighter is fuelled by testosterone, adrenaline and skill, three minutes later he changes battlegrounds. A fight consists of 11 alternating rounds of chess and boxing.
Each round lasts 3 minutes.

The 6 chess rounds comprise a total of 18 minutes, giving a total of 9 minutes on the clock for each player.

Fighters win: by knockout, by checkmate, by the judge's decision, or if the opponent exceeds the time limit.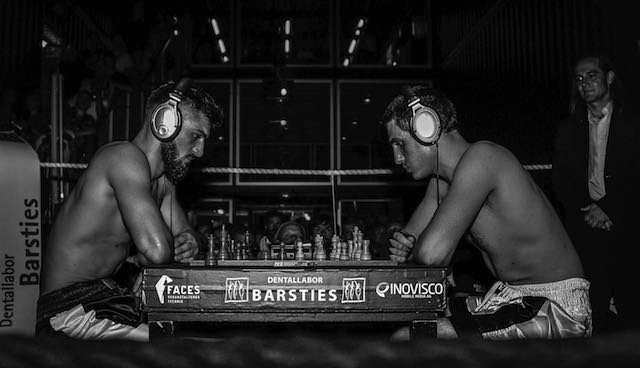 As always, online tickets will most likely sell out so make sure to be quick! Door tickets will be available for 25€. If you subscribe to our newsletter, you will have the chance to win free tickets!
---
Interested in training for chessboxing and/or taking part, as a fighter, at the next fight?
Please send us a message or talk to the ring announcer at the event! Anybody who has been seriously training for 6 months gets a chance to prove him or herself. Training takes place at the first and oldest chessboxing club in the world. www.chessboxingberlin.de
---
A big thanks to all of our amazing supporters:
Produced by: Chess Boxing Global
www.chessboxing-global.com
www.facebook.com/ChessBoxingGlobal
www.twitter.com/chessboxing

---
Die neue Schachbox Saison beginnt!
Am SAMSTAG, 23. April findet die erste Schachbox Veranstaltung dieses Jahres in der Platoon Kunsthalle statt : Intellectual Fight Club V
Drei Kämpfe sind angesetzt. Das Boxen wird hart, das Schachspiel wild und wie bei jedem unserer Events wird der Laden brennen! Wer später noch auf einen Drink bleiben will hat gute Karten, denn die Bar hat bis tief in der Nacht geöffnet!
---
CHESSBOXING (SCHACHBOXEN) ist eine außergewöhnliche Sportart, bestehend aus der Verbindung zweier Fähigkeiten, die unterschiedlicher kaum sein können. Der Athlet kombiniert seinen stählernen Körper mit einem scharfen Verstand. Während des Boxens schiessen Testosteron und Adrenalin durch seinen Körper. In der nächsten Runde wechselt er das Schlachtfeld und muss sich am Schachbrett mit höchster Konzentration beweisen.
Die Regeln sind:
11 Runden

Abwechselnd 6 Runden Schach und 5 Runden Boxen.

Jede Runde hat 3 Minuten

Jeder Kämpfer hat 9 Minuten auf seiner Schachuhr.
Der Kampf wird entweder durch K.O., Schachmatt, Ermessen des Schiedsrichters oder durch Ablaufen der Bedenkzeit auf einer der beiden Schachuhren entschieden.
---
Hast du Lust bekommen selber Schachboxen zu trainieren?!
Weitere Informationen zum Schachboxen erhält du während der Veranstaltung oder auf www.chessboxingberlin.de
Ob nur zum Training oder als potenzieller Kämpfer bei einer der nächsten Veranstaltungen, wir freuen uns auf dich!