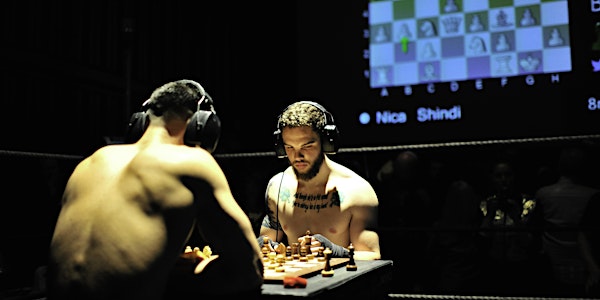 Intellectual Fight Club IV - CHESSBOXING
Date and time
Saturday, December 12, 2015 · 8 - 11:30pm CET
Location
PLATOON KUNSTHALLE Schönhauser Allee 9 10119 Berlin Germany
Refund Policy
Contact the organizer to request a refund.
Description
IFC is back with a special winter event!
Join us on Saturday, December 12th for the 4th time, as we open the gates and present ordinary people giving their all in the most demanding competition on our planet: a chessboxing fight! It's the last event of the year, so you don't want to miss it! We've got something big to celebrate. Chess Boxing Global CEO and Founder, Iepe Rubingh, is offering 1% equity of the company to any serious investor willing to fight him. And it could happen then and there!
---
Chessboxing is a rare blend of contrasting skills. The athlete combines a powerful body with a sharp mind and rises above mindless muscle. In the ring, the fighter is fuelled by testosterone, adrenaline and skill, three minutes later he changes battlegrounds. Once again, 3 fights are scheduled. The fights are hard, the chess games are wild and, as always, the venue will be on fire! The bar will be open during and after the event.
Make sure to get your tickets here and save money! Door tickets will be available for 20€. But if you subscribe to our Newsletter, you will have the chance to win free tickets! We will be raffling off tickets over the next coming weeks. Also make sure to join our FB EVENT. We'll be posting updates about the event though out the next weeks.

---
We are now in the soft launch phase of our equity crowdfunding campaign and are so excited for chessboxing fans to have the opportunity to join us on our quest for the smartest and toughest on the planet. This is better than owning a T-Shirt. You can actually own a piece of the chessboxing league! And that for as little as €10. If you are interested in investing, check out our site for more information. When you become an investor, not only will you share our future profits and potential exit, but you will have access to discounted tickets, merchandise and special future events!
---
A big thanks to all of our amazing supporters:
Main Supporter: Rakuten www.rakuten.de
Inovisco Mobile Media AG www.inovisco.com
Faces VT www.facesvt.de
Chess.com www.chess.com
BENLEE www.benlee.de
REALGESTALT www.realgestalt.de
PLATOON www.platoon.org
Produced by: Chess Boxing Global
www.facebook.com/ChessBoxingGlobal
---
Interested in training for chessboxing and/or taking part, as a fighter, at the next fight?
Please send us a message or talk to the ring announcer at the event! Anybody who has been seriously training for 6 months gets a chance to prove him or herself. Training takes place at the first and oldest chessboxing club in the world. www.chessboxingberlin.de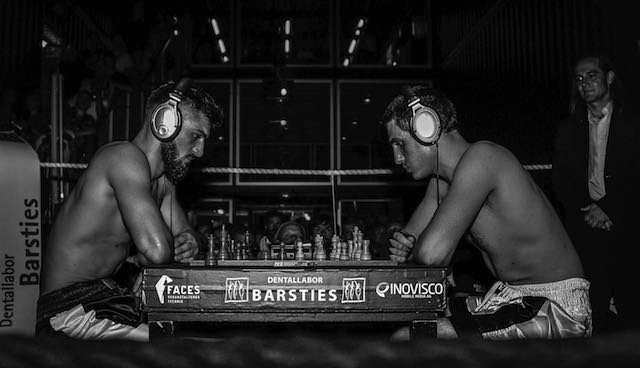 IFC ist zurück mit einem speziellen Winter-Event!
Am SAMSTAG, 12. DEZEMBER findet in der Platoon Kunsthalle der vierte Intellectual Fight Club statt und es könnte ein ganz besonderer Abend werden. Gesucht wird derzeit ein potentieller professioneller Investor der gegen Iepe Rubingh, den Gründer von Chess Boxing Global kämpft. Gewinnt er stehen im 1% des Unternehmens zu, verliert er muss er den Gegenwert von 38.000 Euro bezahlen. Wir sind gespannt mit welchem Gegner es Rubingh zu tun bekommen könnte!
---
CHESSBOXING (SCHACHBOXEN) ist eine außergewöhnliche Sportart bestehend aus der Verbindung zweier unterschiedlicher Fähigkeiten. Der Athlet kombiniert seinen stählernen Körper mit einem scharfen Verstand. Während des Boxens schiessen Testosteron und Adrenalin durch seinen Körper. Drei Minuten später wechselt er das Schlachtfeld und muss sich am Schachbrett mit höchster Konzentration beweisen.
Drei Kämpfe werden den Zuschauern geboten. Dein Ticket bekommst du online (12-15€) unter. Karten sind an der Tür für 20 € erhältlich. Solltest du unseren Newsletter abonniert haben hast du zudem die Möglichkeit Freikarten zu gewinnen. Wir werden in den nächsten Wochen immer wieder welche verlosen.
---
Um in Zukunft Schachboxen auf dem höchsten Niveau anzubieten sind wir gerade dabei eine internationale Profiliga zu gründen, die sich über eine Equity Crowdfunding Kampagne finanziert. Diese befindet sich jetzt in der Launch Phase. Unter folgendem Link kannst du dir deinen Anteil an der Liga sichern. Das ist ähnlich, als hätte man sich vor 70 Jahren ein Stück der NBA oder vor 60 Jahre einen Teil der Champions League gesichert (http://www.chessboxing-global.com/invest). Irgendwie besser als ein T-Shirt, oder?
Interessierst du dich für Schachboxen Training und / oder die Teilnahme als Kämpfer beim nächsten Kampf dabei zu sein?
Weitere Informationen zum Schachboxen erhält du während der Veranstaltung oder auf www.chessboxingberlin.de. Egal ob Training und / oder die Teilnahme als Kämpfer bei einer der nächsten Veranstaltungen. Wir freuen uns auf dich!
http://www.chessboxing-global.com/