Description
You are cordially invited to celebrate the success of our second cohort of Intelak. Our 4 startups will be pitching at our demo day on 13 December 2017 at the Youth Hub. Their 60 days of acceleration has come to an end, and it is time to showcase and celebrate their journey with you as valued partners in the startup ecosystem.
Over the last 2 months, under the partnership of the Emirates Group, General Electric and Etisalat Digital, Intelak's Incubation program has come a long way. Through the support of both local and global partners who have acted as key enablers in the growth of our startups, they have ignited the startups' business models to radically transform aviation and travel in our region. We would lke to take this opportunity to appreciate support from the entire ecosystem in developing our early stage startups included providing them with mentorship, collaboration opportunities, and access to capital.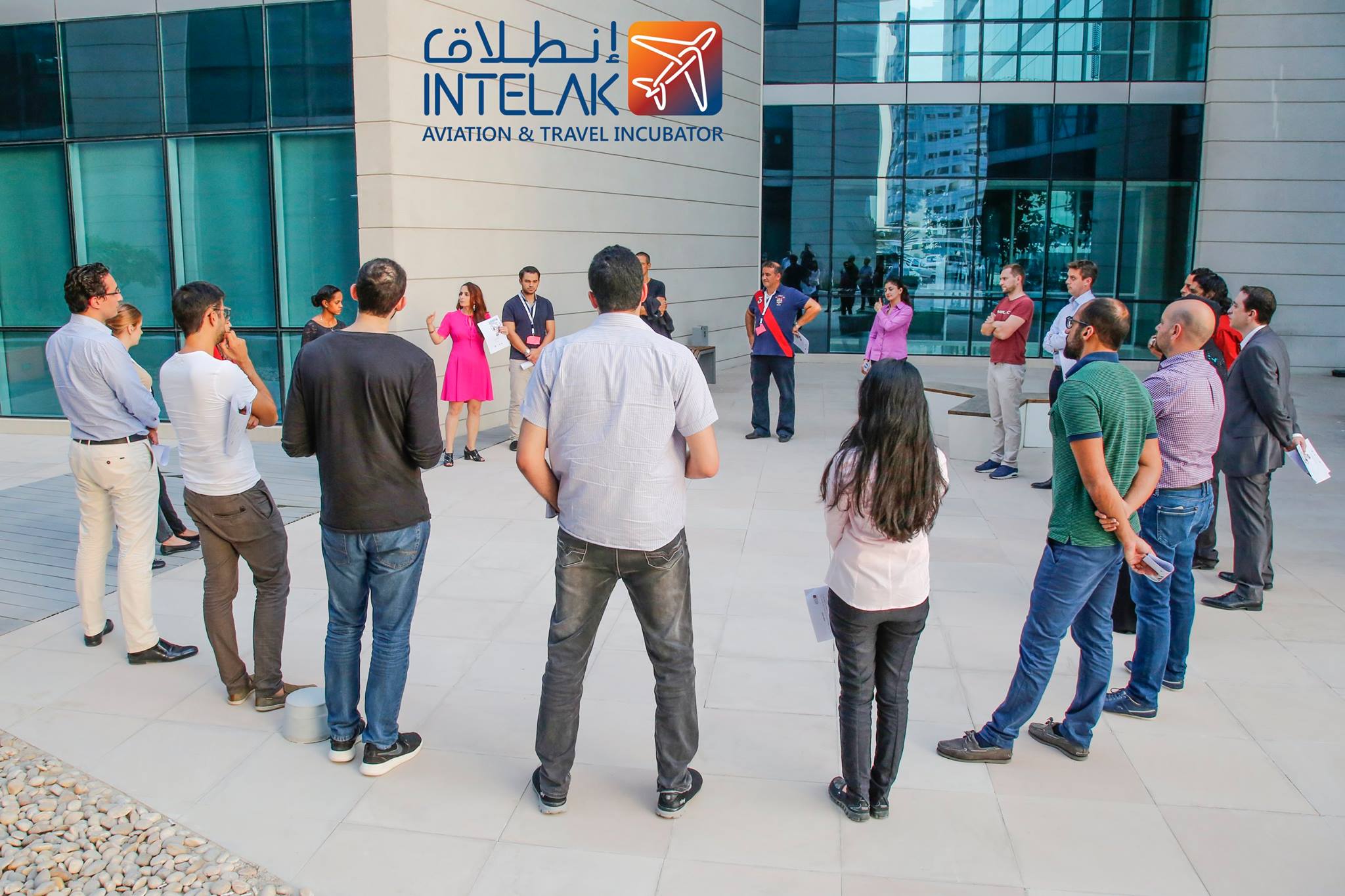 The Startups Pitching:
Airborne
Airborne aims to enable and empower people of determination to independently navigate airports. Airborne facilitates this through the development of a mobile application. Their solution, Link, targets three categories, people with visual and hearing impairments as well as people who are mobility impaired. The navigation system leverages low-energy Bluetooth beacons positioned across the indoor space of the airport, which transmit data to the user's mobile device. The beacons locate the user's position and help navigate them to the final destination, without requiring an internet connection.
SmartZone
Smartzone design smart automated devices which are capable of autonomously detecting & clearing Foreign Object Debris (FOD) at the airport's ramp area. This enables airports to reduce their labour force currently deployed to do the ramp inspection duty as well as reducing the time taken for such operations. Moreover, this will help airports provide a safer environment for planes and reduce the maintenance cost of damaged planes due to FOD.
.
Deliver2Mum
The startup is developing a platform to lease baby products to travelers with young children. Using a sharing econonmy business model, Deliver2Mum enable travellers to rent strollers, car seats and/or carriers to and from their travel distanation.
We would be honored with your presence at Intelak's second cohort demo day. We look forward to having you join us for a delicious buffet, networking and to give your valued support, guidance and potential partnership to our 4 startups.
Innovation Hub
Innovation Hub is a start-up that provides Light fidelity (LiFi) to enable travelers to connect wirelessly to the smart devices using LED lights. Li-Fi-enabled lightbulb to transmit data at speeds as fast as 50 megabit per second (Mbps), which is about 10 times faster than current Wi-Fi technology. The progressive replacement of the 14 billion light points in the world by LEDs makes LiFi a strong candidate to become the 3rd generation communication network (after the wired network and the radio network).