Description
BAY AREA GIRL GEEK DINNER #138: HOSTED BY INTEL
You are invited to join Intel & Bay Area Girl Geek Dinners on Thursday, August 3rd, 2017 for an Intel Girl Geek Dinner! Come enjoy an evening full of networking, food, drinks, ignite talks, demos & more at Intel's Robert Noyce Building in Santa Clara, California!
Learn how you can win the future with new technologies! Intel speakers will share what is the latest and greatest in the world of artificial intelligence, autonomous driving, 5G, AR/VR and more. Come join us and hundreds of fellow girl geeks for this awesome evening -- We're excited to meet you!
SPEAKERS:
• BRIAN M. KRZANICH, Intel CEO & Board Member
• PAULA TOLLIVER, Intel VP & CIO
• SANDRA LOPEZ, Intel VP, Sports
• ISAURA GAETA, Intel VP & GM, Platform Engineering
• FIAZ MOHAMED, Intel Business Development, Artificial Intelligence
• LAKECIA GUNTER, Intel CoS
• JILL SCIARAPPO, Intel Strategic Marketing Director, Autonomous Driving
• YIN YIN LIU, Intel Head of Data Science, Artificial Intelligence
• JOANNIE FU, Intel CoS, Programmable Solutions
Check out full speaker bios on Bay Area Girl Geek Dinners website!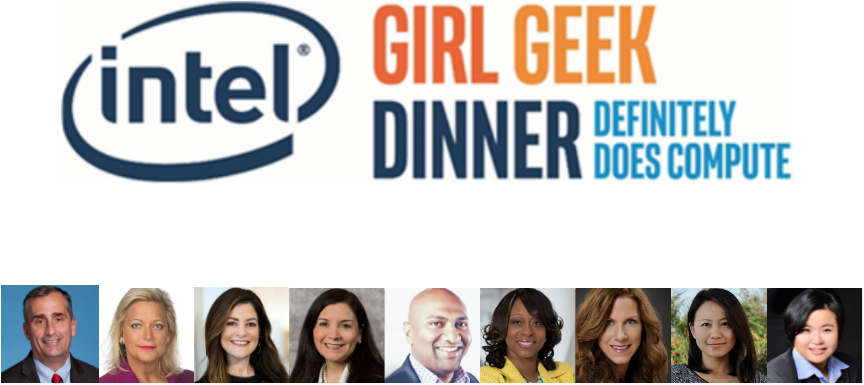 AGENDA:
5:15pm - 6:30pm: Check-in, Networking, Food & Drinks, Demos!
6:30pm - 8:00pm: Ignite Talks & "Win The Future With New Technologies" Panel Discussion
8:00pm - 8:30pm: Networking, Demos & Refreshments!
*As a courtesy to our speakers, check-in will close at 6:30pm.
TICKETS:
Eventbrite will begin ticket sales at 12pm NOON on Thursday, July 20th, 2017.
Intel employees interested in attending the Girl Geek Dinner should only register through the Women at Intel Network (WIN-SC) – this is an invite-only event for Intel employees.
Eventbrite sign-up is for non-Intel participants.

Government-issued ID is required at check-in at the Intel Girl Geek Dinner.

DISCLAIMER:
We may take photographs and/or video activities at the Girl Geek Dinner event for many purposes. By attending the Intel Girl Geek Dinner, you consent to your image being used in all Intel marketing collateral and communications.