Description
Network Function Virtualization has moved from idea to POC to implementation stage. The challenge still remains to get bare metal performance from virtual machines. In this one day deep-dive session, experts from Intel and Berkeley talk about various options developers have to virtualize network functions using open source Data Plane Development Kit (DPDK), SR-IOV, VT-D, virtio and software switches such as OvSwitch and BESS. Experts from relevant teams at Intel will talk about how to use these technologies and squeeze the max out of your bare metal. The day will end with a demo-mixer featuring demos from Brocade, Sandvine, Ineoquest, 6Wind and GoLang, who will show how they are implementing their NFVs to achieve line rates from 40Gbps up to Terabits.
Check-in will open at 7:30am, and we will kick off at 8:00am. This is a full day event, so of course we will serve food and drinks all day! Check out the schedule below.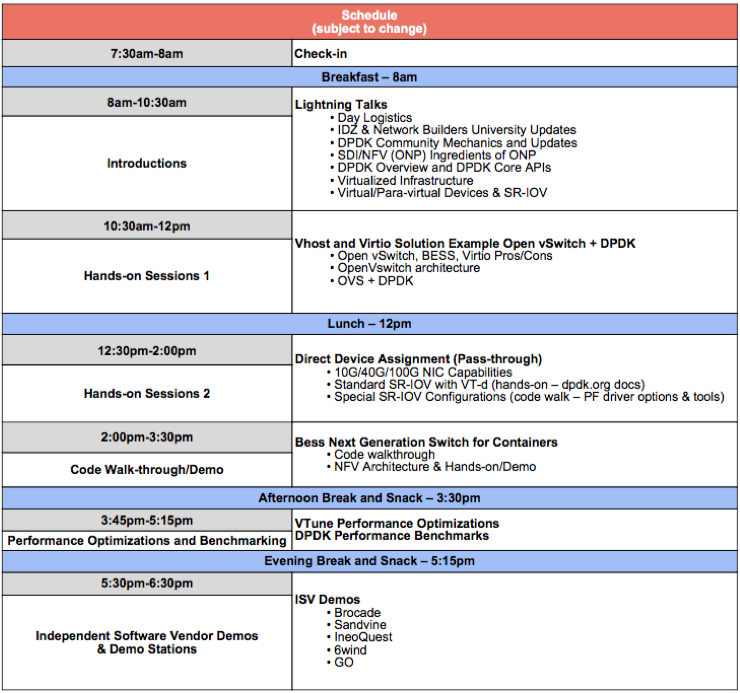 Registration for the event is now closed due to an overwhelming amount of good applicants! Please email andy@bemyapp.com if you have any questions!