Intel® Buzz Workshop for Game Developers: Be Mobile

Wednesday, July 16, 2014 from 11:00 AM to 9:00 PM (PDT)
Who's Going

Loading your connections...
3 of your friends are going.
Share it to get more people on board!
Share

Sara Haughty
San Francisco, California

Luke Picard
London, United Kingdom

Rick Vespucio
Florence, Italy
Event Details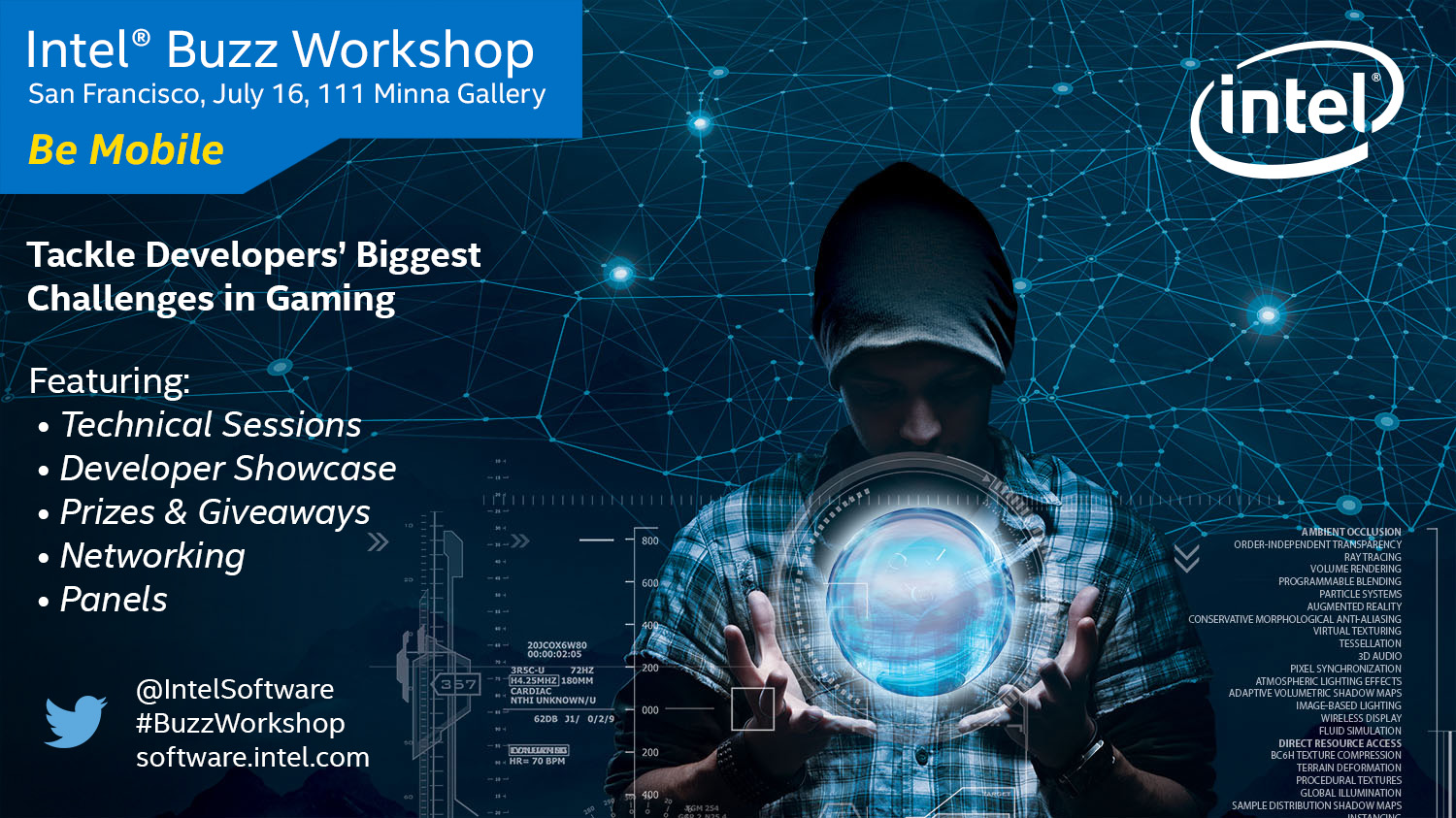 Event Description:
The Intel Buzz Workshop series is back by popular demand! Coming to San Francisco on Wednesday, July 16, 2014, this series of community workshops, brought to you by Intel, is designed to help professional game developers tackle the industry's biggest problems in gaming.
Join us at the San Francisco event for technical sessions, panels, networking, the opportunity to troubleshoot your creations with our gaming gurus in the Intel Help Lounge, a chance to feature your games in our Developer Showcase, prizes & giveaways, and more.
We'll keep you refueled throughout the day with lunch, dinner, and a happy hour cocktail reception. Just sign up, and we'll do the rest.
We can't wait to see you there! #BuzzWorkshop
Prizes & Giveaways: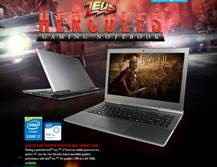 Register now to be entered into a drawing for a brand new laptop! By registering to attend, you are automatically added into the drawing. The winner of the laptop will be announced during the dinner reception. Arrive early, as the first 92 attendees will receive an external rechargeable battery!
Other giveaways throughout the during the day include:
Tablets

Gigabyte Brix Pro ultra-compact PC

Solid State Drives and more!
Event Information:
Date: Wednesday, July 16, 2014 
Time: 11 a.m. – 9 p.m.
Location: 111 Minna Gallery | 111 Minna St, San Francisco, CA 94105
Agenda
When

What

10:45

Registration / Coffee

11:00 - 11:10

Welcome & Intro

11:10 - 11:45

Talk #1 - The Multi-Platform Paradigm: Games Anytime, Anyplace, Anywhere.

Speaker: David Cole (DFC Intelligence)

11:45- 12:30

Talk #2 - Fireside chat: How to win globally.

Speakers: David Cole - DFC Intelligence | Jeff Hilbert - DDM | Shirley Lin - YeahMobi

12:30 - 1:00

LUNCH, DEMOs and Ask an Expert

LUNCH, DEMOs and Ask an Expert

1:00 – 1:30

Talk #3- Brown Bag Lunch - Project Anarchy Introduction: First Steps in Creating a Mobile Game with Havok's Free Mobile Engine.

Speaker: Ryan Monday, Technical Art Director - Havok

1:30 - 2:00

Talk #4 - Accelerate your game development.

Speaker: Gayathri Murali - Intel

2:00– 2:15

Break

2:15- 2:45

Talk #5 – Objective-C Cross Platform Game Development.

Speaker: Collin Jackson, CEO- Apportable

2:45 – 3:15

Talk #6 – Sega Fireside Chat: The State of the Gaming Industry.

Speakers: Frank Hom, Senior Producer, SEGA of America, Inc. | Joel Brodie - Gamezebo

3:15 – 3:45

Talk #7 – Practical advice on top Android engines, including Unity and Unreal Engine.

Speakers: Chris Kirkpatrick and Kiefer Kuah - Intel

3:45 - 4:15

Talk #8 – Future Gaming Technology Trends.

Speaker: Kim Pallister- Intel

4:15– 4:30

Break

4:30- 5:10

Talk #9 - Panel Discussion- What are the most challenging aspects of game development today?

Speakers: Sean Levatino - Anki | Lincoln Silver - WGT Media | CJ Wolf - iWin | Christian Svensson - Svensson Consulting

5:10 - 6:10

Developer Showcase- Face-off against other game developers by featuring their game trailer and demo at the event.

6:10 - 7:00

Dinner

7:00 - 9:00

Cocktail Reception, Gameplay and Networking – Evening Entertainment Provided by Anki DRIVE and Sixense!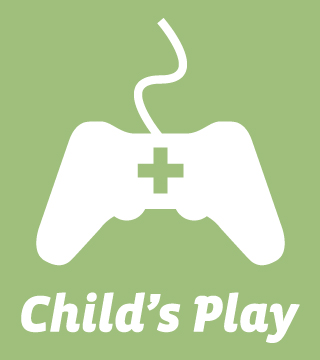 All proceeds from your registration will go to Child's Play, a game industry charity dedicated to improving the lives of children with toys and games at local hospitals.
Developer Showcase:
Face-off against your peers by featuring your game trailer and demo in the Developer Showcase, our competition to find the best game of the show. Compete to win a hardware prize and a profile article on Intel's Developer Zone to shine the spotlight on your creation. Here's how to enter:
Purchase a Game Developer Admission Ticket

Develop a two-minute trailer or introduction to your game/demo

Email

peter.lo@zenogroup.com

a link to where we can download your trailer as well as a download code for your game/demo and we will email you a confirmation with additional details

Attend Intel Buzz Workshop San Francisco

During the developer showcase competition, you'll be able to give a 2 minute elevator pitch on why your game deserves to win the showcase

Winners will be selected by attendee feedback at the end of the showcase competition

The winner will score a hardware prize (Laptop, Tablet and SSD Hard Drive) and a profile article on

Intel's Developer Zone

We'll also have a Developer Showcase Lounge, so be sure to bring your game loaded up on your smartphone or tablet so that you can let attendees go hands-on with your creation during the cocktail reception

 
To showcase your game for The Developer Showcase participants must contact Peter Lo (peter.lo@zenogroup.com) over email who will confirm your slot.
Contact: If you have any questions regarding your submission, please email Peter Lo at peter.lo@zenogroup.com.
Speakers: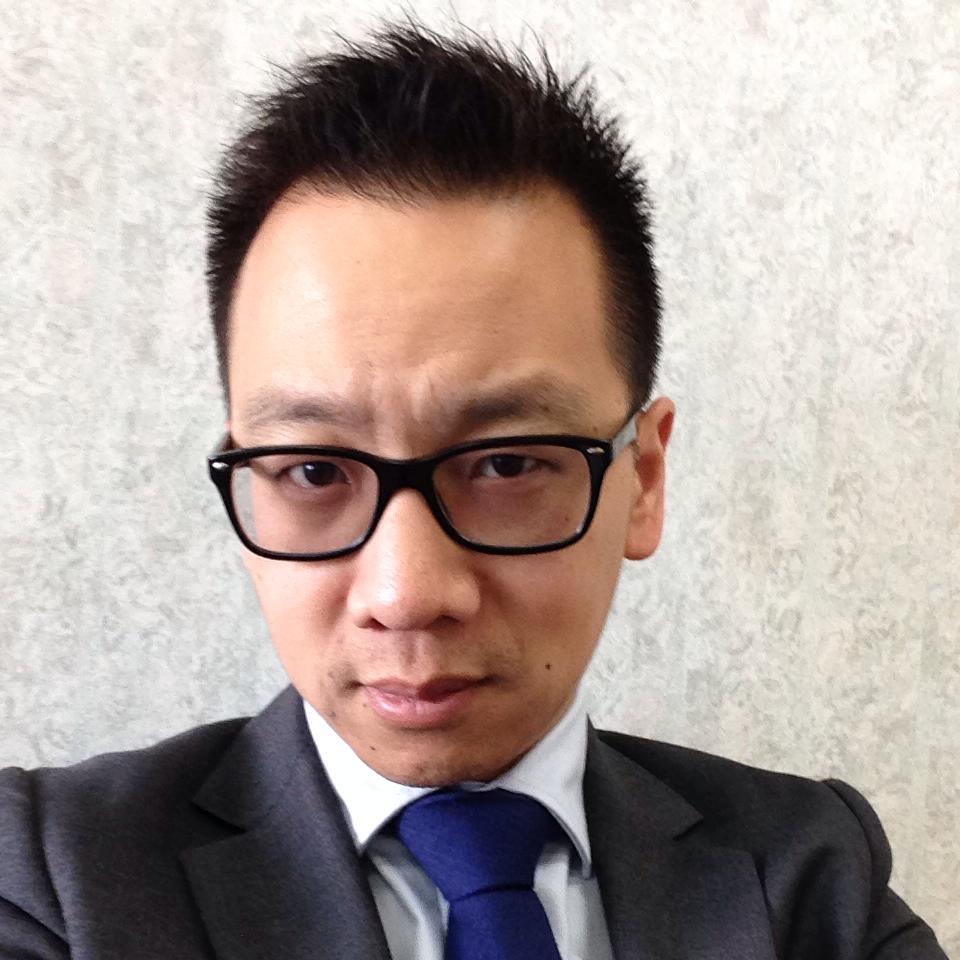 Frank Hom is a native San Franciscan who got hooked on video games the moment he put that 1st quarter into a Pong machine. He is a 20 year veteran who worked for and with various gaming companies, including Eidos, Ubisoft and currently a Senior Producer at SEGA Networks.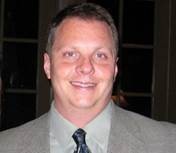 David Cole is the founder of DFC Intelligence (http://www.dfcint.com/), a research firm focused on tracking digital entertainment.  Since 1994, he has authored numerous reports on the digital entertainment and video game industry, spoken at leading conferences and consulted with top companies in the entertainment, telecommunications, and consumer electronics industries.  Starting in 2001, Mr. Cole was one of the first analysts to start tracking emerging business models in Asia and the growth of markets such as Korea and China.  Mr. Cole has a BA in economics and industrial relations, and a JD from the University of North Carolina.
Jeff Hilbert, the founder of DDM is widely recognized as one of the industry's leading agents, with over 22 years of business development and management experience in the gaming space. Since his first client, Virgin Interactive, Jeff has secured deals worth hundreds of millions of dollars worldwide. Jeff's experience spans initiating new properties, working with some of the largest existing entertainment IP's, transitioning in-progress games out of troubled situations and assisting publishers in portfolio rebalancing and navigating emerging business models.
Jeff, with his partner and Co-CEO, Joe Minton, have grown DDM into the top Game Agency in the world with offices in California; Massachusetts; Amsterdam, Netherlands; Manchester, United Kingdom; Osaka Japan and Hong Kong; PRC. Companies have come to rely on Jeff's advice as they enter new markets, move into new market and explore new platforms.
Collin Jackson is co-founder and CEO of Apportable, a Y Combinator startup that helps developers build cross-platform apps in Objective-C and Swift. Collin is a faculty member in the Electrical and Computer Engineering department of Carnegie Mellon University. Previously, Collin built cross-platform software for Google and Cooliris, consulted for companies including Betable, Yahoo! and Microsoft, and served as head judge for international Magic: The Gathering pro tournaments. Collin received a B.S. in Computer Science from Yale and a Ph.D. in Computer Science from Stanford.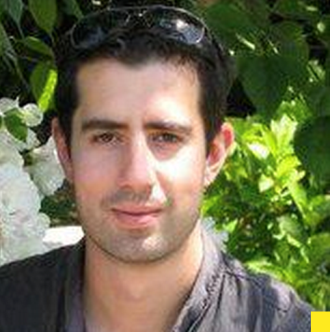 Sean Levatino is the Lead Game Designer at Anki, where he heads system and user experience design for Anki Drive. Sean comes from a Computer Science background and left full-time programming to pursue Technical Design at High Moon Studios. At Zindagi Games, Sean was introduced to motion control through his work on Sports Champions and Medieval Moves, where he got his first experience of having to account for real world considerations in game design. At Anki, Sean is continuing to explore the ways physical objects can interact with virtual rules systems to create unique, tangible experiences. He is also an active gamer with a deep fascination for complex, emergent experiences that grow from simple designs.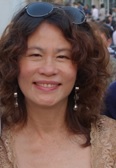 Shirley Lin is the VP, Global Business Development, YeahMobi, responsible for the international expansion including US, Europe and South America. YeahMobi is a mobile advertizing network. She also serves as VP, Business Development at iConsole.tv, building the next generation of Android game console as a multi-functional device designed for the high performance chips and deliver superior quality to the consumers. She is also the Executive Managing Director of 800 Birds, a platform to connect resources for early stage technology startups, based in Silicon Valley.  Previously, she was the Executive VP, Business Development at Beintoo, an Italy based mobile advertizing platform for mobile games. Shirley has been advising various startups in China, Israel, Greece and Italy.  She is a mentor at Pitme.com, a startup accelerator in San Francisco focused in facilitating the Africa and Mid-Eastern startups.
She used to work as an aerospace programmer on the Space Shuttle program at NASA in Houston and also a developer/manager in the Non-stop OS group at HP.  She holds a M.S. in Computer Science/Math/Statistic from Texas A&M and a B.A. in History from National Taiwan University.
Ryan Monday has 12 years of experience in the games industry. As Community /Technical Art Director at Havok, Ryan is responsible for building Project Anarchy's community and works closely with mobile game developers and educational institutes to help improve the user experience and tools in Project Anarchy. Ryan has presented at various developer events across the world including industry leading events like GDC. Prior to joining Havok, Ryan has filled a number of different roles in the areas of evangelism, training and support, art outsourcing, art creation and game scripting. His work has been credited in 10+ console titles.

Lincoln Silver joined WGT Media in 2008 and serves as the company's VP of Business Development where he is responsible for partnerships and licensing deals for the company's various sports games.  Some of Lincoln's accomplishments in this role include exclusive partnerships with the USGA for the annual Virtual U.S. Open, the PGA of America for the annual Virtual PGA Championship, The Golf Channel for the first-ever Virtual Tour, and the inclusion of some of the world's best golf courses in the WGT platform including Pebble Beach, Merion, Pinehurst No. 2, Bandon Dunes, St Andrews, and many more.  WGT Media operates the world's most successful golf game both on the Web and on iOS, as well as the most popular MLB-licensed baseball game on Facebook.  Over ten million people have signed up for WGT's sports games and the company continues to grow rapidly on multiple platforms. Prior to WGT Media, Lincoln held senior marketing, sales, and business development roles at Wal-Mart.com, Wine.com, and Flycast Communications Corp.  Lincoln has a bachelor's degree from Princeton University and lives in Piedmont, CA.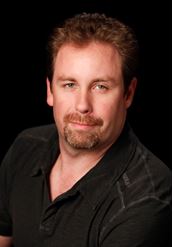 Christian Svensson is the head of Svensson Consulting, which provides assistance to developers and publishers in all areas of mobile, console, PC and VR gaming businesses.
In the past, Christian Svensson was the Corporate Officer and Senior Vice-President of consumer software at Capcom USA. He was responsible for all of Capcom's publishing efforts in North and South America on all platforms. He actively participates on the board of Directors  of the Academy of Interactive Arts and Sciences and in the past was an active member of the Board of Directors for the PC Gaming Alliance.  Historically he has also been Vice-President of Entertainment Publishing at Midway Games, CEO of Xion Solutions, Inc., CEO of MCV USA, Inc. and Editor-in-Chief of Next Generation Online. He is a graduate of Bucknell University.

CJ Wolf is a specialized serial entrepreneur in the online games space. CJ founded iWin in 2001 and as the company's CEO, he has successfully navigated the company through various business model transformations as well as platform changes from PC, to social to mobile. Before iWin, CJ founded Bigprizes.com, a game sweepstakes site that was sold to Vendare Media, now Connexus, in 2001. CJ also acquired VirtualStockExchange.com in 2001 and managed the company for two years before selling it to CBS MarketWatch in 2003. Prior to gaming, Mr. Wolf worked in finance and public accounting. CJ Wolf is a CPA and holds a BS in Accounting from Georgetown University.
Intel Speakers: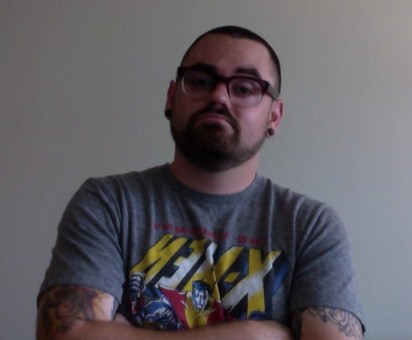 John Hartwig is a Software Engineer in Intel's Developer Relations Division. John's focus is on enabling developers in the Android mobile and PC client space by providing optimizations and information about Intel hardware features. John has worked at Intel since 2010 where he began as a graphics driver developer for GPGPU and media drivers. He makes DIY art toys and received his bachelors in Game Development from DePaul University.
Kiefer Kuah optimizes games for Intel processors. He enables them to run well on the broad range of processors, extending their playability to encompass low power devices. He's excited to be working with game developers to help them get the most bang for the buck out of the processors.
Rob McNair has been in the computer technology industry for over 28yrs. His expertise includes embedded devices, mobile phone, server platforms and more. He has experience in silicon manufacturing, product design, platform architecture, and marketing and system design. In 1985, he joined Intel as a new college graduate from UC Davis with a BS in computer engineering. He managed the technical marketing group for Intel's first PC chipsets from 1990-2002. Rob moved up to Intel's platform engineering director for Intel's x86 application engineering team. In 2002, Rob shifted his focus from PC technology to mobile cell phones as the marketing director for Intel Handheld graphics. He was also Marvell's technical lead for new embedded markets, and Intel's platform engineering manager for Intel's first x86 China-based phones. Since 2010, Rob has combined his work and his personal passion for PC gaming by joining Intel's Software Solutions Group (SSG) where he manages applications engineers focusing on optimizing and enabling new software technologies for PC gaming.
Gayathri Murali is a software developer particularly passionate about Android programming. Recently she has been experimenting with Glass programming.  She loves to help developers solve their everyday mobile development problems. Over the past 5 years at Intel she has worked on topics spanning Enterprise servers, Intel Cloud Service Platform APIs, Augmented Reality and Android on x86.
Kim Pallister works at Intel doing game industry forecasting and graphics requirements planning. He has contributed to the Game Programming Gems series of books and has written for Gamasutra and Game Developer Magazine.
Talk #1 – David Cole (DFC): The Multi-Platform Paradigm: Games Anytime, Anyplace, Anywhere.
Speaker: David Cole- DFC Intelligence
Abstract: DFC Intelligence recently forecasted the global game software market would reach $100 billion by 2018. The game market is growing on all fronts including PC, mobile and console systems. This is of course good news, but it also presents new challenges. In today's game market, products need to be released across multiple platforms in multiple markets. This requires a close understanding of what and where consumers are playing. David Cole of DFC Intelligence will provide an overview of key market segments in an effort to size the global market and understand where opportunities exist.
Talk #2 - Fireside chat with David Cole, Jeff Hilbert and Shirley Lin: How to win globally.
Speakers: David Cole- DFC Intelligence, Jeff Hilbert- DDM and Shirley- YeahMobi
Talk #3- Brown Bag Lunch - Project Anarchy Introduction: First Steps in Creating a Mobile Game with Havok's Free Mobile Engine.
Speaker: Ryan Monday, Technical Art Director- Havok
Abstract: Project Anarchy Introduction: First Steps in Creating a Mobile Game with Havok's Free Mobile Engine In this session, Havok's industry experts will walk through the features available in Project Anarchy that empower developers to make exciting, graphically rich games for mobile platforms. They will also discuss some of the common challenges in mobile game development and how the Havok toolset helps solve them using features like the asset management system, LUA scripting, remote input system, file serving, and so much more. Creating games can be hard, but they will show you how Project Anarchy makes it easy and even fun!
Talk #4 - Accelerate your game development
Speaker: Gayathri Murali- Intel
Abstract: One of the key aspects of game development is the smooth and immersive user experience. Game developers are looking to extract every ounce of performance there is from a device to give this experience to their users. This session will focus on some tools and libraries that will help in developing, profiling and debugging games effectively.
Talk #5 – Objective-C Cross Platform Game Development
Speaker: Collin Jackson, CEO- Apportable
Abstract: The team behind the open source mobile game development IDE SpriteBuilder and the Apportable SDK will discuss how top studios such as Wooga and Pocket Gems build their Objective-C games for iOS and Android. The main focus will be a walkthrough of compiling a basic example project in Cocos2D for multiple Android architectures. We'll also analyze the tradeoffs of fat binaries versus architecture-specific builds and show how to call Android APIs from Objective-C.
Talk #6 – Fireside Chat: The State of the Gaming Industry
Speaker: Frank Hom, Senior Producer, SEGA of America, Inc.
Talk #7 – Practical advice on top Android engines, including Unity and Unreal Engine
Speaker: Chris Kirkpatrick and Kiefer Kuah- Intel
Abstract: Come get an overview of best practices for optimizing performance of games targeting Android with Unity and Unreal Engine. Learn how texture resolution and shadow distance in Unity effect game performance, and how you can reduce draw overhead with level-of-detail, occlusion, and static batching.
Talk #8 – Future Gaming Technology Trends
Speaker: Kim Pallister
Abstract: This talk will look at some of the trends in technology and platforms that will impact gaming. It'll cover some background behind the trends, what they mean for games, and what opportunities they provide and impact they may have on developers' businesses.
Talk #9 - Panel Discussion- What are the most challenging aspects of game development today?
Speakers: Sean Levatino- Anki, Lincoln Silver- WGT Media
---
INTEL
(RANDOM DRAWING – HELD AT AN EVENT)
BUZZ Workshop San Francisco
SWEEPSTAKES RULES
No Purchase Necessary.  A Purchase Or Payment Will Not Increase Your Chances Of Winning.   Winners Must Be Present to Win.   Prize Winners Will Be Chosen in Random Drawings Held During Buzz Workshop San Francisco
1.                Eligibility
The Developer Showcase ("Sweepstakes") is open only to legal residents of the fifty (50) United States and the District of Columbia who have reached the age of majority in their state of residence at the time of entry and who are attendees at the Buzz Workshop SF employees of Sponsor and its parent companies, affiliates, subsidiaries, distributors, advertising and promotion agencies, and other vendors or independent contractors providing services to Sponsor in connection with the Buzz Workshop San Francisco and/or the administration of this Sweepstakes,  and members of the immediate family (defined as spouse, parent, sibling, child and respective spouses regardless of where they reside) and/or those living in the same household of such employees are NOT ELIGIBLE to enter.
2.                     How to Enter
Attendees who wish to participate in the Developer Showcase must complete an official entry form and purchase a Game Developer Admission Ticket.  Send Intel a link to where we may download their trailer as well as a download code for their game/demo in order to be considered for the competition. Intel will select 10 finalists to participate in the Developer Showcase and during the event, these attendees will be given the opportunity to screen their trailers and give a two minute elevator pitch on why they deserve to win the competition. At the end of the Developer Showcase, the audience will vote on the best game of the competition. Intel will tally the votes and announce the winners. All participants in the competition may also bring a copy of their game loaded on a smartphone or tablet and allow attendees to go hands-on during the cocktail reception.
No responsibility is assumed for lost, late, mutilated, misdirected, incomplete, inaccurate or postage due entries. Entries become the property of the Sponsor and will not be returned.
All entries must be received by Wednesday, July 15th at 8:00 am PST. Limit one entry per person.  To be eligible to win, registration must be received prior to the scheduled Developer Showcase time.
3.                     Electronic Transmissions
Sponsor is not responsible for electronic transmission errors resulting in omission, interruption, deletion, defect, delay in operations or transmission, theft or destruction or unauthorized access to or alterations of entry materials, or for technical, network, telephone equipment, electronic, computer, hardware or software malfunctions or limitations of any kind, or inaccurate transmissions of or failure to receive entry information by Sponsor or presenter on account of technical problems or traffic congestion on the Internet or at any Web site or any combination thereof.  If for any reason the Internet portion of the program is not capable of running as planned, including infection by computer virus, bugs, tampering, unauthorized intervention, fraud, technical failures, or any other causes which corrupt or affect the administration, security, fairness, integrity, or proper conduct of this Sweepstakes, Sponsor reserves the right at its sole discretion to cancel, terminate, modify or suspend the Sweepstakes.  Sponsor reserves the right to select winners from eligible entries received as of the termination date.  Sponsors further reserve the right to disqualify any individual who tampers with the entry process.  Sponsor may prohibit an entrant from participating in the Sweepstakes if it determines that said entrant is attempting to undermine the legitimate operation of the Sweepstakes by cheating, hacking, deception or other unfair playing practices or intending to abuse, threaten or harass other entrants.  Caution: Any attempt by a participant to deliberately damage any Web site or undermine the legitimate operation of the Sweepstakes is a violation of criminal and civil laws and should such an attempt be made, Sponsor reserves the right to seek damages from any such participant to the fullest extent of the law.
4.                     Prize Drawings
 Prize Drawings will be held from among all eligible entries received by July 15th, 8am PST, by Intel representatives whose decisions on all matters relating to this Sweepstakes are final and binding.  Winners will be notified in person the day of the event. Winners need to be present to win.   
5.                     Prizes/Retail Values and Odds of Winning
*1st Prize Winner: The presenter of the game with the most votes will receive one Cyber Power Laptop and a profile article on Intel's Developer Zone. (Estimated retail price - $1400.00)
*2nd and 3rd Prize Winners: The presenters with the second and third highest vote tallies will each receive a Gigabyte Brix Pro system. (ERP $479.00)
*4th and 5th Prize Winners: The presenters with the fourth and fifth highest vote tallies will each receive an Android tablet. (ERP $150.00)
*6th, 7th, 8th, 9th and 10th Prize Winners: The presenters with the sixth, seventh, eighth, ninth and tenth highest vote tallies will each receive a SSD Hard Drive for participating. (ERP $250)
*Prize first prize winner (Cyber Power Laptop) must provide social security numbers for legal tax requirements.
Odds of winning depending on the total number of eligible entries received.
Prize consists of only those items specifically listed as part of the prize.  All prizes are awarded "as is" with no warranties, representations or guarantees, including but not limited to, quality, condition, merchantability or fitness for a particular purpose.  Winners must look to the manufacturer for any warranties or guarantees.  No transfer or substitution of prizes, except by Sponsor in the event an advertised prize is not available.  In such cases, Sponsor may substitute a prize of equal or greater value.  Taxes on prize are the sole responsibility of the winners.
6.                     Conditions of Participation
Entrants agree to be bound by the terms of these Official Rules and by the decisions of Sponsor which are final and binding on all matters pertaining to this Sweepstakes.  Winners may be required to sign and return an Affidavit of Eligibility, a Liability Release, a W-9 and, where legally permissible, a Publicity Release within 7 days following the date of first attempted notification.  Failure to comply with this deadline may result in forfeiture of the prize and selection of an alternate winner.  Return of any prize/prize notification as undeliverable may result in disqualification and selection of an alternate winner.  Acceptance of the prize constitutes permission for Sponsor and its agencies to use winner's name and/or likeness, biographical material and/or entry (including an altered form of the entry) for advertising and promotional purposes in any media without geographic or time limitation, and without additional compensation, unless prohibited by law.  By participating in the Sweepstakes, entrants agree to hold Sponsor, its advertising and promotion agencies and their respective parent companies, subsidiaries, affiliates, partners, representative agents, successors, assigns, officers, directors, and employees harmless for any injury or damage caused or claimed to be caused by participation in the Sweepstakes and/or acceptance or use of any prize.  Sponsor is not responsible for any printing, typographical, mechanical or other error in the printing of the offer, administration of the Sweepstakes or in the announcement of the prize.  Sponsor will be collecting personal information in accordance with its privacy policy.  See Sponsor's privacy policy at http://www.intel.com/sites/corporate/privacy.htm?iid=ftr+privacy for details regarding Sponsor's information collection practices in connection with a Sweepstakes.
Intel is committed to compliance with all applicable laws, regulations, policies and ethics rules. This notice is intended to ensure that your participation in this Sweepstakes will not violate any such laws, regulations, policies or rules. Intel seeks no promises or favoritism for itself or any of its affiliates in exchange for the opportunity to participate in the Sweepstakes.  By entering the Sweepstakes, (i) you agree that your participation in the Sweepstakes – including your acceptance of any potential prize – will not violate any law, regulation, policy or rule of your country, state or government agency; and (ii) you certify that any potential prize is not in exchange for an agreement to influence a recent, pending or anticipated act or decision that may result in Intel obtaining or retaining business or a business advantage.
7.                     Disputes /Choice of Law
Except where prohibited, each entrant agrees that: (1) any and all disputes, claims and causes of action arising out of or connected with this Sweepstakes or any prize awarded shall be resolved individually, without resort to any form of class action, and exclusively by state or federal courts situated in Santa Clara, CA, (2) any and all claims, judgments and awards shall be limited to actual out-of-pocket costs incurred, but in no event attorneys' fees; and (3) no punitive, incidental, special, consequential or other damages, including without limitation lost profits may be awarded (collectively, "Special Damages"), and (4) entrant hereby waives all rights to claim Special Damages and all rights to have such damages multiplied or increased.  Delaware law, without reference to California choice of law rules, governs the Sweepstakes and all aspects related thereto. 
8.                     Sponsor
The Sponsor of this Sweepstakes is Intel Corporation.
9.                     Winners List
Can be found on the Buzz Workshop website page within 24 hours of the sweepstakes.
Intel Seeding Agreement
Subject to terms and conditions of this agreement, Intel Americas, Inc., a Delaware corporation, having its principal place of business at 2200 Mission College Boulevard, Santa Clara, California 95052, USA ("Intel")may loan to you ("Recipient") a development system (the "Device") and related Software and documentation.
1. Intel and Recipient (the "Parties") agree as follows:
2. LOAN PERIOD: The "Loan Period" begins on the day the Device is delivered by Intel to Recipient. Unless terminated earlier, the loan period will expire three (3) years after delivery of the Device. Intel may, at any time: (a) cease loaning Device to Recipient without liability or obligation: and/or (b) request the return or destruction of all or part of its Device during the Loan Period. Recipient will promptly comply with such requests.
3. OWNERSHIP: Ownership and title to Device will remain with Intel or its suppliers. Recipient will not represent or assert any ownership interests in the Device. Recipient will not deface, remove or alter any marking, ownership labels or notices.
4. FEEDBACK: By accepting this loan and using the Device and related Software and documentation, the Recipient agrees to provide Intel with suggestions, comments, or other information regarding its use of the Device upon written request.
5. RESTRICTED USE: Recipient will not offer for sale, sell, transfer or distribute the device to any third party without prior written consent from Intel.
6. SOFTWARE LICENSE: Device may be provided with related software from Intel or its suppliers ("Software). Software or portions thereof shall be governed by the express license terms that accompany such Software. Some third party software and some of the software components may be subject to open source license provisions and installations or use by Recipient of such third party software and software components are subject to the respective open source license under which it is provided. In the absence of an express Software license and subject to the terms and conditions of this Agreement, Intel grants Recipient a non-exclusive, non-transferable copyright license (without the right to sublicense) to reproduce Software solely for the Restricted use. Recipient is not licensed to modify, rent, sell or distribute Software. Recipient may make one back-up copy of the
When & Where

111 Minna Gallery
111 Minna St
San Francisco, CA 94105


Wednesday, July 16, 2014 from 11:00 AM to 9:00 PM (PDT)
Add to my calendar
Organizer
Intel Buzz Workshop
Intel is a world leader in computing innovation. The company designs and builds the essential technologies that serve as the foundation for the world's computing devices. Additional information about Intel is available at software.intel.com.
Intel® Buzz Workshop for Game Developers: Be Mobile