Actions and Detail Panel
Intel Artificial Intelligence Meetup
Thu, December 15, 2016, 6:00 PM – 8:30 PM PST
Description
Machine Learning chapter of the Intel Artificial Intelligence Meetup
Agenda:
6:00 p.m.: Check-in, Networking, and Refreshments
6:25 p.m.: Welcome Message
6:30 p.m.: Artificial Intelligence, a paradigm shift in product design and management by Audrey Duet, xBrain
7.15 p.m.: "Getting the most out of IA using the Caffe Deep Learning Framework" by Vadim Karpusenko, Intel Corp
8.00 p.m. - 8.30 p.m.: Open Discussions and Networking
8:30 p.m.: Wrap up
Presentation Details
Title: Artificial Intelligence, a paradigm shift in product design and management.
In this talk Audrey, VP Product XBrain, will discuss how product life cycles and engineering teams are evolving to integrate AI, Machine Learning, and Deep Learning into their products and services.
Title: Getting the most out of IA using the Caffe Deep Learning Framework.
Abstract: During this talk, we will discuss methods applied by Intel engineers to optimize Caffe (one of the popular Deep Learning frameworks) for better computational performance on Intel Architectures – Xeon and Xeon Phi CPUs. Provided code snippets will demonstrate basic principles of Modern Code techniques used for optimizations. At the end, we will look at Intel's roadmap and plans to help developers with Machine Learning, Deep Learning, and Artificial Intelligence applications.
About the Speakers
Vadim Karpusenko, PhD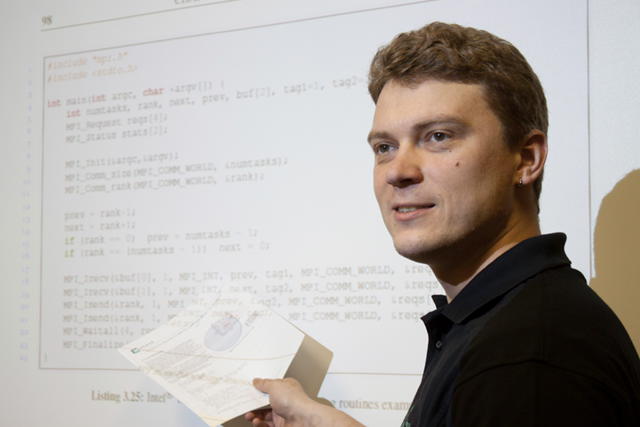 Before joining Intel Corporation as Developer Evangelist, Vadim was working as Principal HPC Research and Consulting Engineer at Colfax International involved in training and consultancy projects on data mining, software development and statistical analysis of complex systems. His research interests are in the area of physical modeling with HPC clusters, highly parallel architectures, code optimization, machine learning, and deep learning. Vadim holds a PhD in computational biophysics from North Carolina State University for his research on the free energy and stability of helical secondary structures of proteins. He is co-author of the book "Parallel Programming and Optimization with Intel® Xeon Phi™ Coprocessors", and also a lead instructor of a developer training course of the same.
Audrey Duet, VP Product xBrain
Audrey is fervent believer in solving real world problems using pioneering technologies with a focus on creating Artificial Intelligence based product design. With her technical team at xBrain, she is busy creating proof of concepts, MVPs, and go-to market products using xBrain cloud based AI platform that supports natural communication between any object or device enabling applications to model human communications and intelligence. For over five years, Audrey has focused on bringing Bots and Virtual Assistants to the corporate world in the Automobile, Customer Services, Robotics, e-commerce, and IoT industry. Audrey is an accomplished entrepreneur and team leader having led and grown multiple successful tech companies in the Silicon Valley. Before joining xBrain, she co-founded InfinIT Consulting, one of the first IT "Support as Service" business model company with a cloud managed service.
#IntelAI