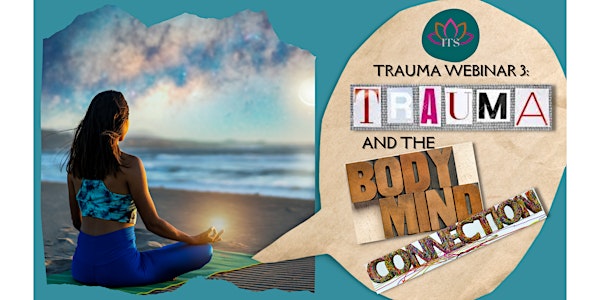 Integrative Therapeutic Trauma Work: Somatic and Holistic Approaches
Refund policy
Contact the organiser to request a refund.
Eventbrite's fee is nonrefundable.
An in-depth exploration of working integratively and holistically with trauma in counselling therapy and mental health care.
About this event
Introduction
Following on from our successful introduction and further trauma workshops. This is a comprehensive, interactive, online workshop that will give you meaningful insight into how trauma affects the body and mind, and how you may be able to work with counselling, psychotherapy and mental health clients in an individual, holistic way.
Trauma as a result of past abuse and one-off events, affects 1 in 5 adults in the UK, which equates to approximately 8.5 million people (NAPAC 2022). This doesn't include people who experience trauma as a result of physical injury, loss and bereavement, war and terrorism and other everyday life events.
Therefore, as counsellors, psychotherapists, doctors, mental health workers, nurses and other health professionals, the chances of you being in a position to provide support for a trauma sufferer, is extremely high!! Trauma comes in many forms, presents in a myriad of ways and displays itself with a vast array of reactions, behaviours and triggers. As such, it is extremely important for anyone working with clients / patients in this way to engage in learning and understanding the complexities involved, to offer the best possible care and support.
Course Content
This online interactive course workshop will provide you with a strong and highly informative foundation of knowledge and skills, to understand and work with the body-mind connection in trauma , somatic aspects of therapeutic practice and holistic tools and techniques that can support clients with physical symptoms of trauma, and chronic illness issues. The session will cover:
Bodywork meditation
Primal responses to trauma, and early theorists
The mind-body connection in the experience of trauma
Modern theories and approaches to bodywork in trauma
Somatic interventions when working with trauma
Trauma and chronic illness
Fragmentation and separation from self
Course Structure:
The workshop is a 4 hour overview of bodywork / somatic issues in trauma. It takes place on Saturday 16th July between 10am and 2pm, with a 15 minute break in the middle.
The session will comprise of interactive small and large group discussions / groupwork, powerpoint presentations, lecture-style teaching, creative activities and individual reflective work. It is important that participants are willing to engage in groups, discussions and activities in order to gain the most learning and development out of the course.
Course Facilitators
The course will be facilitated by Shelley Lamprell-Josephs, with over 30 years experience working with trauma in NHS, Local Authority, Voluntary Sector and private psychotherapy practice settings. Shelley is highly qualified and skilled, currently a manager in a domestic and sexual abuse counselling service and a counselling lecturer.
Raff Knight, who is co-facilitator, is highly qualified and skilled in counselling and psychotherapy practice, with extensive specialism in abuse trauma. She has worked for 35 years in therapeutic roles such as voluntary sector counselling services, a forensic psychiatry unit, and currently a counselling lecturer and private psychotherapist.
Both course facilitators have extensive experience in integrative therapeutic work, teaching and consultancy work.
Course Cost
The cost of the course is £40 per person. Unfortunately there are no discounts / concessions available for this course.
Tickets are only available via Eventbrite.
Booking and Access
This course is strictly advanced booking only. Places are very limited due to the nature and content of the course and tickets need to be booked and paid for to secure a place. Unfortunately, as the course is significantly discounted already, we are unable to offer further discounts.
Access will be via Zoom, and a link will be available once tickets have been purchased. If you have any problems accessing Zoom, please contact: info@intuitivetherapyschool.org.
Further Contact Information
Please feel free to also contact us via our Facebook Page for further queries / information: https://www.facebook.com/transform1self or via WhatsApp / Mobile: 07482 206139.