Integrative Carbon Building for a Changing Climate
Description
Join the Vermont Green Building Network (VGBN) and Burlington 2030 District for our summer networking event at the Vermont Energy Investment Corporation (VEIC) in Burlington on Thursday, June 21st. This event will include a networking reception with appetizers, cash bar, and a presentation by Ace McArleton and Jacob Racusin of New Frameworks entitled "Integrative Carbon Building: Embodied Carbon, Net Positive Carbon, and the New Carbon Architecture." Learn about the climate impacts of green building and how to minimize your project's contribution to climate change. Attendees are eligible to receive 1.25 Learning Units (HSW).
Free for VGBN, Burlington 2030 District and AIAVT members***. $10 for non-members.
***Find more information about membership posted below.
Limited space. Please RSVP by June 18th!
Agenda:
5:00-5:30pm: Arrival

5:30-6:45pm: "Integrative Carbon Building: Embodied Carbon, Net Positive Carbon and the New Carbon Architecture" presentation by Ace McArleton and Jacob Racusin, followed by Q+A

6:45-7:30pm: Networking with appetizers and cash bar
Integrative Carbon Building: Embodied Carbon, Net Positive Carbon, and the New Carbon Architecture
Our current framework for net-zero buildings doesn't account for embodied carbon – that is, carbon pollution created during material manufacturing and distribution. In this session, we will show how systems thinking about carbon and an integrated design approach can change building practices from a problem to a solution. We will present data on the embodied carbon impact of green buildings; address how to quantify embodied carbon in design/build practices; and discuss present-day carbon-positive construction materials and assemblies, which can reduce the carbon load in the atmosphere. This effectively uses buildings as carbon-sequestering reservoirs, which can mitigate and even reverse climate change effects. Understanding the carbon cycle, and how we as design/build practitioners can make beneficial choices, is the next horizon for integrative green building.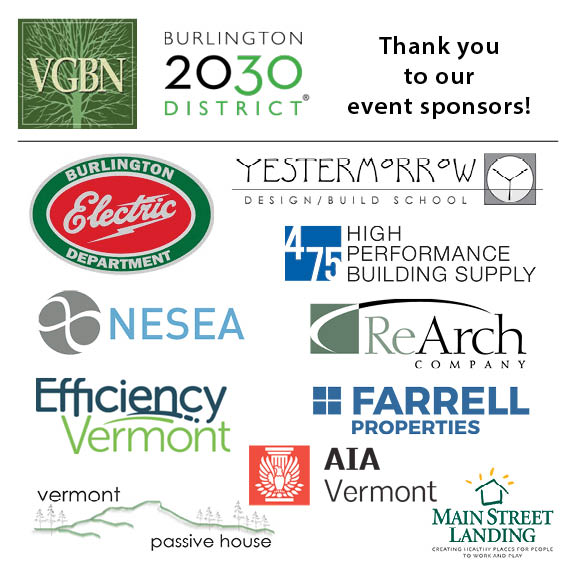 Burlington Electric Department | Efficiency Vermont | Farrell Properties | Main Street Landing | NESEA | ReArch Company | Yestermorrow Design/Build School | 475 High Performance Building Supply | Vermont Passive House | AIAVT
Ace McArleton's Bio:
Ace founded New Frameworks in 2006, blending natural building materials and methods with high performance designs. Ace instructs in the Natural Building Certificate Program at Yestermorrow Design/Build School and is the author of The Natural Building Companion (Chelsea Green 2012).
Jacob Racusin's Bio:
Jacob Deva Racusin is co-owner of New Frameworks Natural Design/Build, offering services in green remodeling, new construction, consultation, and education featuring high-performance natural building technologies. Through his work as a BPI-certified contractor, consultant, and educator, Jacob is able to merge his passions for fine craft, ecological stewardship, relationship to place, and social justice. Jacob directs the Certificate in Building Science and Net Zero Design at the Yestermorrow Design/Build School, and his most recent book, Essential Building Science, was published by New Society Publishers in 2016. Jacob lives on a small farm with his family in the mountains of northern Vermont.
Event Details:
Date: Thursday, June 21 from 5:00 to 7:30pm
Location: Town Center room at VEIC in Burlington
Directions + parking information:
At 128 Lakeside Avenue, enter the Innovation Center driveway on the east side of the building (closest to Pine St) and park in the lot to your right (east) before reaching the employee-only barrier gate. Walk around to the north side of the building and come through the main entrance of the Innovation Center building and take the elevator to the 4th floor. Go through two glass doors and follow the hallway (with the red/orange floor) to the right of the reception desk. Continue along the hall/orange path to the middle of the building where you will see a 2-story open area with a railing and stairway down into the Town Center space where the event will be held.
Image courtesy of New Frameworks "A Happy Ranch" project
***Membership information:
To learn more about becoming a VGBN member, please visit: http://www.vtgreenbuildingnetwork.org/community/become-a-member/
To learn more about becoming a member of the Burlington 2030 District, please visit: http://www.2030districts.org/burlington/join-district
To learn more about becoming a member of AIAVT, please visit: https://www.aiavt.org/membership/join/