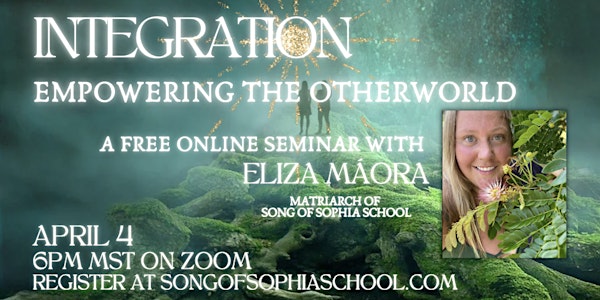 INTEGRATION: Empowering the Otherworld
Integration is emergence of imaginal realm into ordinary reality. How we integrate entheogenic experience is how we integrate fae & human.
Date and time
Tuesday, April 4 · 5 - 6:30pm PDT
About this event
1 hour 30 minutes

Mobile eTicket
THE OTHERWORLD ||
a vast and multidimensional realm of the primordial imaginal dream.
In this seminar we will dip into the FAERIE and illuminate how we merge into the faerie during communion with plants and entheogenic medicine. The otherworld / the faerie holds the power of our fae and elven ancestry. It restores genetic integrity, the purity of the grail, and magic of sacred union into our very blood and bones.
~*~*~*~*~*~
Please join Eliza Máora for a free online seminar on returning plant medicine integration to the sacred realms of our ancestral kin, the otherwordly elders, and the light of our soul.
The practicalities of integration are necessary to focus upon: rest and taking sufficient time off of work before and after journey; mineralization; hydration; support in childcare; good meals; somatic integration and embodiment practices... etc
However, tending to the care and health of the otherworld is necessary as well. The otherworld is our primordial hertiage but it is carrying the pure and innocent codex for our future as well.
The otherworld is asking me to speak. On the day of the seminar, the channel will be clear, open, and offering starlight for creation. However, some inspiration now informing the seminar regards:
Keeping the flame of primordial otherworld integrating within ourselves
Recognizing and nurturing the faerie DNA re-awakened inside of us
How do we ensure that the otherworld is not harmed as she tries to land in our bodies?
How do we fortify the integrity of the dream and not attempt to degrade the dimensional coherence?
TICKET: YOU MUST REGISTER HERE ON EVENTBRITE.
PLEASE UNDERSTAND THAT THE EMAIL YOU USE FOR REGISTER WILL BE WHERE YOUR INFORMATION IS SENT - THIS IS NOT NECESSARILY YOUR EVENTBRITE LOGIN EMAIL. YOUR REGISTRATION EMAIL WILL BE PUT INTO OUR MAILING LIST.
STRUCTURE: WE BEGIN AT 6PM MST ON ZOOM
THERE WILL BE ONE-HOUR OF TRANSMISSION WITH OPPORTUNITY FOR QUESTIONS & COUNCIL.
COST: FREE
SONG OF SOPHIA GIFTING TREE IS ACCEPTING DONATIONS UNDER THE TICKETING OPTIONS. THE GIFTING TREE IS PROVIDES FOR THOSE IN NEED OF FINANCIAL CONTRIBUTION. ALL DONATIONS ARE FOR SERVICE AND GIFTED SUPPORT, HEALING, AND CARE FOR INDIVIDUALS IN NEED. THANK YOU FOR CONSIDERING. IF YOU DO DONATE, PLEASE TAKE INTO CONSIDERATION THE FEES THAT EVENTBRITE REMOVES FROM TOTALS.
ATTENDANCE: OPEN
ALL WITH RESPECTFUL INTENTIONS AND MOTIVATIONS ARE INVITED TO ATTEND THIS SEMINAR. ELIZA HAS NOTHING TO PROVE IN OFFERING THIS SEMINAR AND IS UNAVAILABLE FOR PROVOCATION.
EMAIL WITH LINK TO ATTEND WILL BE PROVIDED ON DAY OF SEMINAR
ALL QUESTIONS DIRECTED TO ADMIN@SONGOFSOPHIASCHOOL.COM