Description
Brenda Hartman, Beverly Bushyhead, and Michael Bischoff will each tell stories from their experiences of drawing on both sacred and medical sources of healing. After their stories, there will be opportunities for everyone to reflect on and share your own experiences of healing and the sacred. How do you draw upon ceremony, ritual, prayer, and other practices for connecting with our deepest sources of life? How does that relate to your health and wellbeing?
Brenda Hartman is a licensed therapist, author, and 2017 Bush Fellow. When Brenda was diagnosed with stage 4 ovarian cancer she was told to prepare to die. Facing her death provided Brenda with the opportunity to find her sacred healing path. Now, a 30-year survivor, Brenda has a passion for working with individuals, families, health care providers and speaks publicly about death, grief, healing and dying. We all will die, we can all heal our lives and changing the conversation about death and healing is Brenda's life work and mission.
Beverly Bushyhead is an enrolled member of the Eastern Band of Cherokee Indians. She grew up with her tribe in the mountains of North Carolina. Bev thrives on opportunities to work toward positive social change. Beverly lives in St. Paul. She kills at karaoke and enjoys spinning some vinyl! Beverly is a 15 year cancer survivor and has much to share about mystery, belief and resilience of the human spirit.
Michael Bischoff was diagnosed with aggressive brain cancer in 2015. When his medical treatment ended in 2016, his prognosis was still poor. Since then he has gone to the Mississippi River, community, and prayer for healing. Michael works with Health Story Collaborative, supporting people living with illness, and their care providers, to tell and listen to stories in ways that are healing.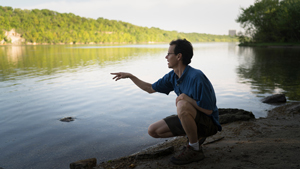 Outreach Partners: