Description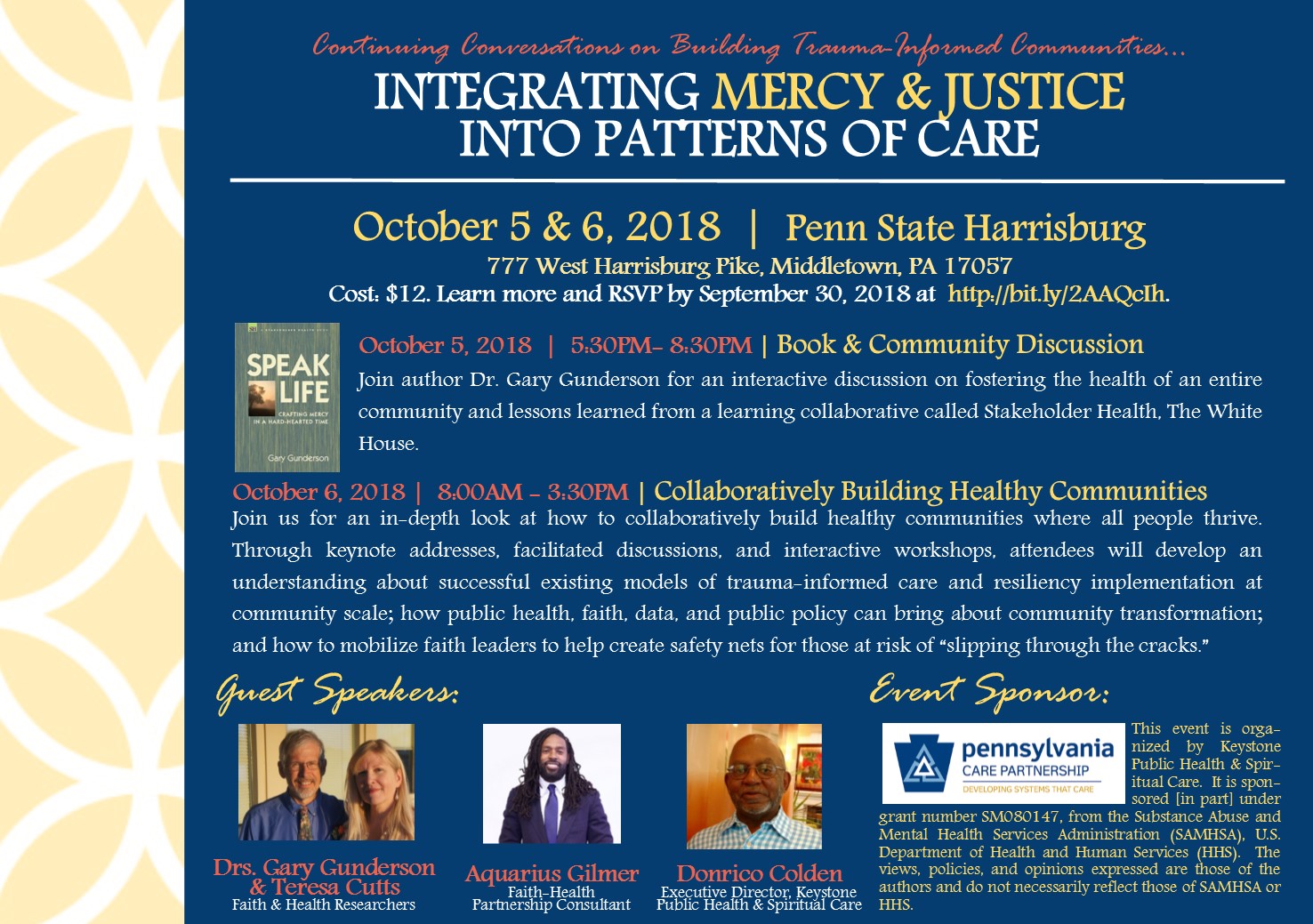 **Note: Registration is required for each attendee regardless of whether they plan to attend both events. The registration fee covers event attendance on both days.
SCHEDULE OF ACTIVITIES
FRIDAY EVENING (5:30-8:30PM): BOOK & COMMUNITY DISCUSSION
All are welcome to join us on Friday night for a book and community discussion with author Dr. Gary Gunderson in advance of the Saturday forum. Join Dr. Gunderson for an interactive discussion on fostering the health of an entire community and lessons learned from a learning collaborative called Stakeholder Health, The White House.
SATURDAY (8:00AM-3:30PM): COLLABORATIVELY BUILDING HEALTHY COMMUNITIES
Join us for an in-depth look at how to collaboratively build healthy communities where all people thrive. Through keynote addresses, facilitated discussions, and interactive workshops, attendees will develop an understanding about successful existing models of trauma-informed care and resiliency implementation at community scale; how public health, faith, data, and public policy can bring about community transformation; and how to mobilize faith leaders to help create safety nets for those at risk of "slipping through the cracks."
AGENDA
8:00am Welcome & Overview of the Event
8:35am Keynote Address (Dr. Gary Gunderson)
10:15am Morning Concurrent Workshops
"An Overview of the Family Member Roadmap" (Crystal Karenchak, Family Policy Engagement Consultant)

"Trauma 101: An Overview of Trauma-Informed Care" (Cathleen Stith-Watkins & Pamela Turner-Bunyon)
12:15pm LUNCH
1:00pm Afternoon Concurrent Workshops
"Hope & Possibilities: Exploring Faith-Based Private-Public Partnerships" (Rev. Aquarius Gilmer)
"Trauma 102: Basic Skills of Trauma-Informed Care" (Cathleen Stith-Watkins & Pamela Turner-Bunyon)
3:00pm Reconvening of Participants, Wrap Up & Charge
3:30pm Adjournment