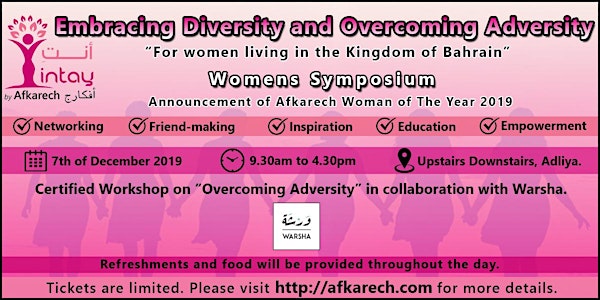 Intay by Afkarech - Womens' Symposium
Womens' Symposium - Intay by Afkarech
By Afkarech Female Network & Think Tank
Date and time
Saturday, December 7, 2019 · 9:30am - 4:30pm +03
Location
Upstairs Downstairs Restaurant Upsairs Downstairs Manama, Bahrain 338 Bahrain
About this event
This year the topic is "Embracing Diversity and Overcoming Adversity". Each year Afkarech picks a unique theme with content especially curated for women living in The Kingdom of Bahrain. This year we have focused on the importance of diversity in our community and celebrating the melting-pot of nationalities, cultures and religions in the Kingdom making it a phenomenal place to live! We also wish to spread the message about overcoming adversity. It does not matter what has happened in your past you can still light up your future and that is really want we want to come across. The event has something for everybody.
Afkarech is a Female Network & Think Tank established in Bahrain in 2017. Our purpose is to support the success of women in Bahrain. We are committed to strive to provide opportunities for women to connect with and support each other. We provide workshops that contribute to the professional development of our members, meeting their needs at the right time and in the right way. We hold social events for like-minded women to meet and socialise. We promote female entrepreneurs and female-driven projects in the community.
Be Part of Something Extraordinary – We invite you to attend Enty by Afkarech on the 7th of December 2019 from 9.30am to 4.30pm. Venue; Upstairs Downstairs, Adliya. We have a day filled with tantalizing discussion, activities, spotlighting female entrepreneurs, networking opportunities and ending the day with a certified workshop that will leave you feeling inspired and powerful! We will be serving food and refreshments throughout the day. Your presence is important and we want you to be part of the Afkarech Movement. The Kingdom of Bahrain is a perfect example of the beauty in diversity. Entay by Afkarech is a celebration of this beauty and bringing women of different nationalities together to share knowledge, education and support one another.
Why you won't want to miss this event?
Announcement of Afkarech Woman of The Year 2019
Networking
Friend-making
Inspiration
Education
Empowerment
Certified Workshop in collaboration with Warsha. Warsha (arabic for workshop) is a Bahrain based social enterprise that aims at empowering and developing youth and women in communities and companies of the MENA region and help them achieve personal growth. The theme of the workshop will be overcoming adversity.