InsurTech NY and InsurTech Hartford Joint Conference (100% Virtual)
About this Event
Summary
InsurTech NY and InsurTech Hartford are hosting a joint Spring Conference to bring together the insurance innovators and InsurTech leaders across the globe. The conference will feature speakers from insurance carriers and brokers making strides in innovation InsurTech startups that have impacted the industry. The conference will focus on the following major themes:
Catering to the Customer of 2025
User Experience and The Mobile Experience
Insurance Role in Climate Change
Digital Transformation & Cloud
Talent: Diversity & Inclusion
Speakers will look ahead five years beyond the pandemic to understand how macroeconomic and psychographic forces are shaping the way consumers buy from and interact with insurance brands. Industry leaders and innovators will lead the discussion around the future of insurance
The conference will also host the largest global InsurTech competition. Top startups from a pool of 100+ applicants will pitch in front of investors and insurance executives. Attendees will also hear from emerging startups and have the opportunity to connect with budding entrepreneurs and new tech solutions.
Agenda Overview
Day 1: Catering to the Customer of 2025 and Global Insurtech Competition
Presented by: InsurTech NY
08:45 AM Welcome & Introductions
09:00 AM Panel: Distribution Channel to sell to the Consumer of 2025
09:30 AM Panel: Design a User Experience that Drives Renewals
10:00 AM Virtual Networking | Flash Forward: Economic Forecast 2025
10:30 AM Automated Life Underwriting Solution for Everyone
11:00 AM Building a Perennial Core System
11:30 PM Virtual Network | Lunch
12:30 PM Startup Pitch Sessions: Global InsurTech Competition
01:30 PM Building a Mobile-First Insurance Experience
01:45 PM Becoming an Unicorn InsurTech
02:00 PM Ted Talks: Forces for Change: Regulators, Rating Agencies, & Climate
02:25 PM Virtual Networking | Flash Forward: Social Experience in Insurance
02:55 PM Panel: Investing for the InsurTech Unicorn Crop of 2025
03:25 PM Ted Talks: Customized Insurance: On-Demand, UBI, & Parametric
03:50 PM Flash Forward: Gamification of Insurance
04:20 PM Panel: Regulatory Trends for AI and Algorithm Bias
04:50 PM Close
Day 2: Digital Distribution and the Forces Transforming the Industry
Presented by: InsurTech Hartford
08:45 AM Welcome & Introductions
09:00 AM Emerging Trends in Digital Distribution
09:30 AM InsurTech's Role In Responding to Climate Change
10:00 AM Virtual Networking
10:30 AM He Said, She Said – The Pandemic Version!
11:00 AM Startup Pitch Sessions
12:00 PM Virtual Networking | Lunch
01:00 PM Growing an API Ecosystem
01:15 PM Diversity and Inclusion - It's More Than Statistics
01:30 PM TED Talk
02:00 PM The Value Levers of IoT
02:30 PM Virtual Networking
03:00 PM Using AI To Improve Underwriting
03:25 PM The Regulatory Perspective on InsurTech
03:45 PM Cloud Transformation in Insurance
04:15 PM InsurTech Feud - The First InsurTech Game Show
04:45 PM Awards & Recognition
05:00 PM Close
Featured Speakers
We are bringing together an expert line up of insurance carrier leaders, InsurTech founders, and solution provider leaders. This page will be continuously updated with new speakers.
Vymo - CEO - Yamini Bhat
Marsh - Senior VP, Client Executive - Dennis Campbell
Insurance Evolution Partners - Managing Partner - Bryan Falchuk
ClarionDoor - CEO - Michael DeGustaBritecore - CEO - Phil Reynolds
Iosis Consulting - Manaing Partner - David Bradford
Anthemis - Principal - Matt JonesInsurTech NY - Managing Director - David Gritz
NAIC - Commisioner of Innovation and Tech Taskforce - Jonathan Godfread
Pivot Global - CEO - Cynthia Hardy
Locke Lord - Partner - Ben Sykes
Microsoft - Director, Insurance Industry Solutions - Jonathan Silverman
Clover Health - CEO - Vivek Garipalli
Breathe Life - CEO - Ian Jeffrey
Amica - AVP Digital Experience & Innovation - Jill Rasmussen
Chub - SVP - Sashi Aiyathurai
Rikor - Founder - Wade Millward
Innoveo - VP & Global Sales - Innoveo
CT Insurance Department - Deputy Commissioner - Josh Hershman
Swiss Re - SVP Underwriting Propositions - Nichole Myers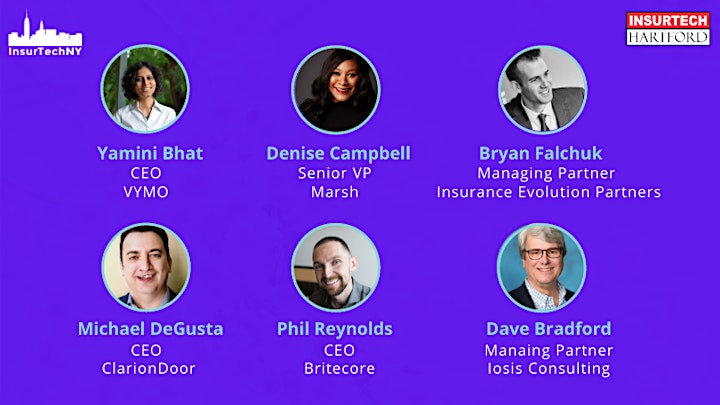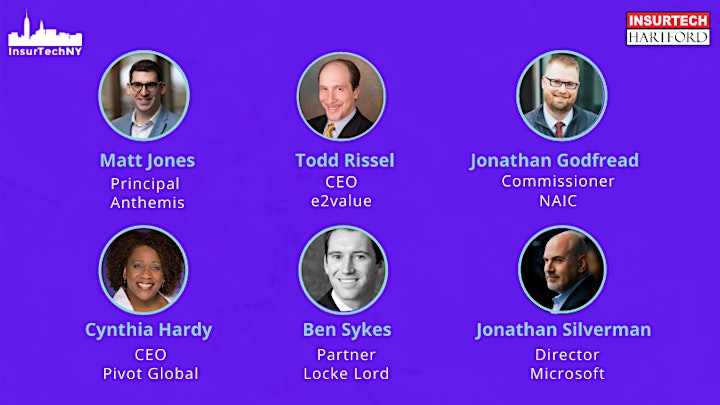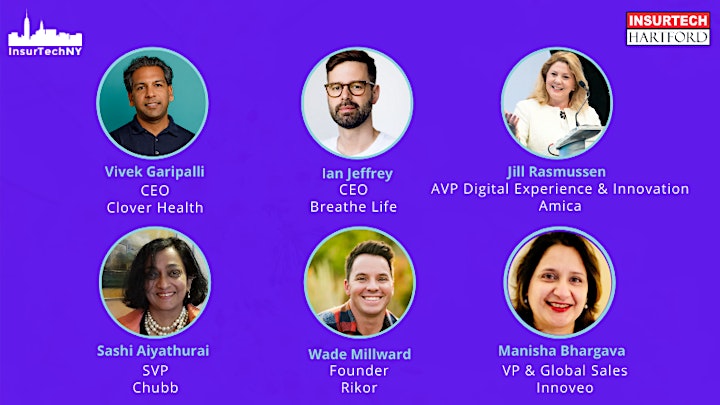 Our Sponsors
Thank you to our sponsors for supporting the event: e2Value, EY, ClarionDoor, Locke Lord, Britecore, Guidewire, EIS, Vymo, Breathe Life, Microsoft, Launch Hartford, Appian, Duck Creek, Innoveo
InsurTech Early Stage Competition
InsurTech NY will be hosting its Global InsurTech competition during the conference. The top ten startups from the competition will present at the conference. Below is a list of top 10 InsurTechs who presented in the 2020 Global Competition.
For InsurTechs interested in applying to the competition, please check out: https://www.insurtechny.com/competition
Enhanced Virtual Experience
1-on-1 networking app You will be able to schedule 1-on-1 meetings with other attendees through the GRIP networking web app
Virtual expo open networking You can visit the virtual expo and meet other attendees through an open networking area through the REMO web app
State of the art conferencing software You will have audio, video, and presentation screens through REMO web app
Full access to the content recording All of the sessions will be recorded and shared with the attendees for future review.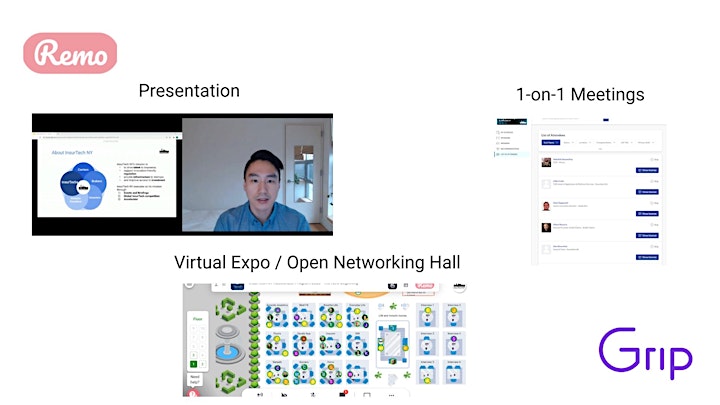 About InsurTech NY
InsurTechNY's mission is to bring together carriers, brokers, startups, and investors to help accelerate digital transformation of the Insurance Industry in greater New York region. We do this by facilitating new relationships and sharing insights from influencers within the industry through hosting 6 educational and networking events a year (est. every 2 months). Please visit our website, www.InsurTechNY.com for more details.
About InsurTech Hartford
InsurTech Hartford is founded and run by local insurance professionals. The continuously develops and matures a robust InsurTech ecosystem by bringing people together, educating, and promoting startup growth in the region. InsurTech Hartford is known for its unique content and engagement through high-impact events leveraging a deep insurance network. Please visit our website, www.insurtechhartford.com for more details.
Date and Time
Location
Refund Policy