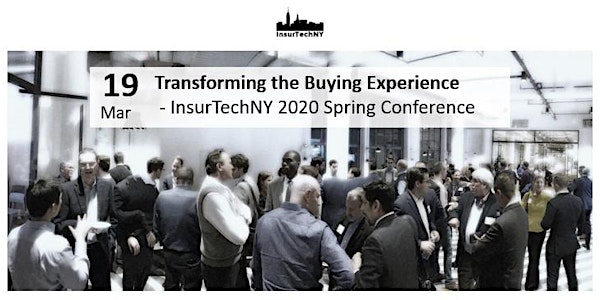 InsurTech NY Spring 2020 Conference: Transforming the Buying Experience
Transforming the Buying Experience - InsurTech NY Spring 2020 Conference
About this event
Note: Presentations and networking will be 100% virtual. The speakers, sessions, and session timing will all remain the same. Go to Enhanced Virtual Experience section to learn more
InsurTech NY Event Details
InsurTech NY is hosting its annual spring conference to bring together the insurance innovators and InsurTech leaders to NYC. The conference will feature speakers from insurance carriers and brokers making strides in innovation and InsurTech startups that have shook up the industry.
The conference will focus on topics related to transforming the buying experience. Speakers will discuss how demographics, automated underwriting, and the gig economy are changing the products being sold and how they are sold. In addition, Speakers will also discuss how core systems innovations, emerging technologies, and the regulatory environment are shaping internal change.
The conference will also host the largest InsurTech competition in the East Coast. Top startups from pool of 200+ applicants will pitch in front investors and insurance executives.
Agenda Overview
08:00 AM Breakfast & Networking
08:45 AM Welcome & Introductions
09:00 AM Panel: Selling Insurance to the Millennial Consumer
09:30 AM Panel: The Race to 10 Mins to Quote and Bind
10:00 AM Break and Networking
10:30 AM Panel: InsurTech Legal & Regulatory Environment
11:00 AM Seed Stage Pitch Competition
12:00 PM Lunch
01:00 PM Panel: New Business Models for the Gig Economy
01:30 PM Panel: Replacing Core Systems Mid-flight
02:00 PM TED Talk: Talk 1,2,3 - Topics TBD
02:25 PM Break and Networking
02:55 PM Panel: Emerging Technologies: AI, Analytics, & RPA
03:25 PM Growth Stage Demo Competition
04:25 PM TED Talk: Talk 4,5,6 - Topics TBD
04:50 PM Break and Networking
05:05 PM Panel: Negotiation terms - CVC & InsurTech Debate
05:35 PM InsurTech Pitch Competition Awards and Closing
06:00 PM Close
Featured Speakers
We are bringing together an expert line up of insurance carrier leaders, insurtech founders, and solution provider leaders. This page will be continuously updated with new speakers.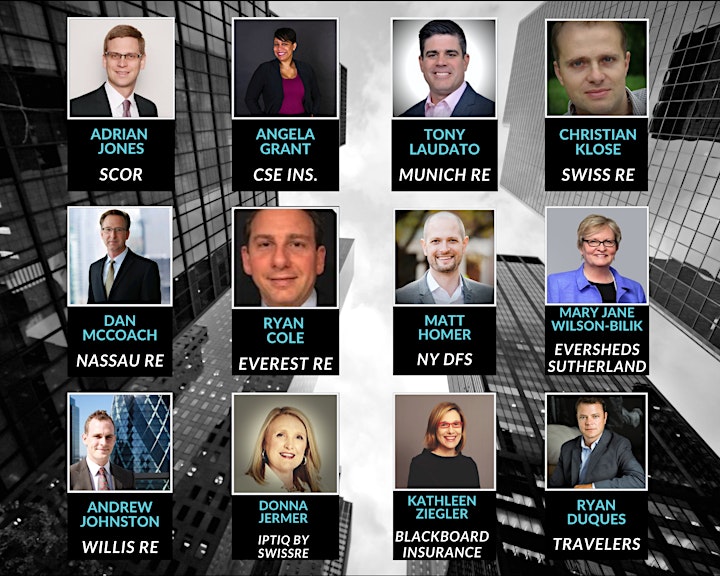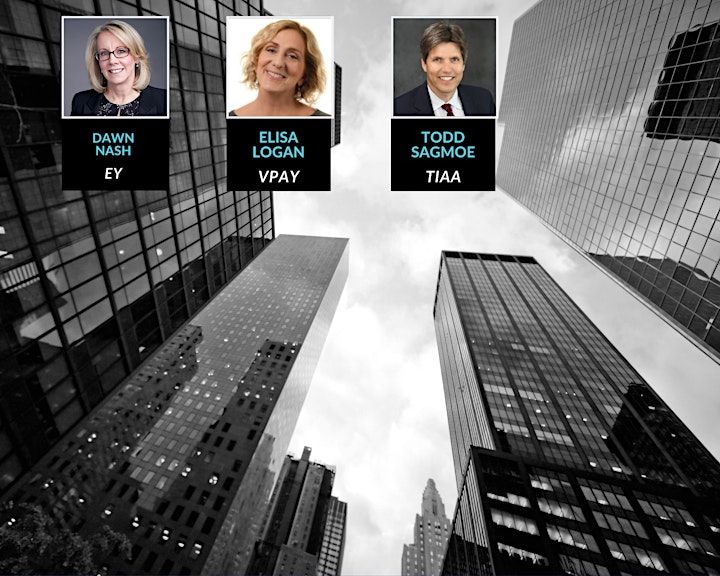 Travelers / Traverse - Lead Entrepreneur - Ryan Duques
Munich Re - VP of Market Strategy - Tony Laudato
Pivot Global - CEO - Cynthia Young
Everest Re - Vice President, Head of eIQ™ Innovation Team - Ryan Cole
Swiss Re - VP of Analytics - Christian Klose
CSE Insurance - Chief Legal and Innovation Officer - Angela Grant
NY DFS - Deputy Super Intendent - Matt Homer
IPTIQ by Swiss Re - SVP Marketing - Donna Jermer
SCOR - Head of investments - Adrian Jones
AM Best - Director - Maura McGuigan
Hippo - VP Marketing - Andrea Collins
OnRamp Risk - CEO & CoFounder - Audrey Rampinelli
Eversheds Sutherland - Partner - Mary Jane Wilson-Bilik
Hippo - Sr. Director Underwriting & Customer Support - Mike Gulla
Novarica - VP Research & Consulting - Eric Weisburg
ClarionDoor - CEO - Michael DeGusta
AIG - AVP National Accounts - Denise Campbell
e2value - CEO - Todd Rissel
Lemonade - Co-founder - Ty Sagalow
Willis Re - Global Head of InsurTech - Andrew Johnston
Nassau Re - CIO - Dan McCoach
Locke Lord - Partner - Ben Sykes
VPay - VP Growth - Elisa Logan
EY - Managing Director - Dawn Nash
Two Sigma IQ - SVP Engineering - Jeff Tyler
Blackboard Insurance - Head of Distribution - Kathleen Ziegler
TIAA - VP of Product - Todd Sagmoe
Enhanced Virtual Experience
Virtual networking app We have partnered with Grip, the ITC networking app. You can use the app during the conference to set up 15 minute 1-on-1 virtual meetings. You will be amazed at how effective it is.
State of the art conferencing software You will have audio, video, and presentation screens. You will also be able to interact with the speakers.
Full access to the content recording All of the sessions will be recorded and shared with the attendees for future review
Featured Judges
We have brought together the best InsurTech investors and the best carrier/broker innovation leaders and corporate investors to judge the winners of our 2-track InsurTech NY startup competition. The finalists will pitch at the conference in front of these judges.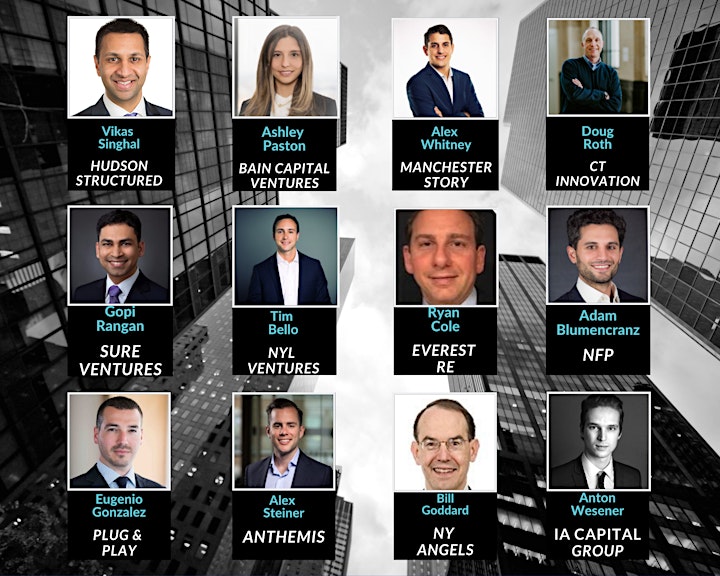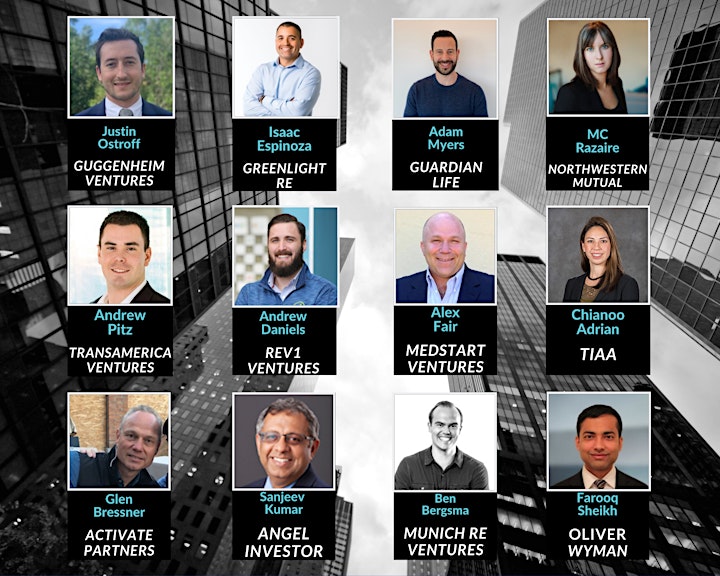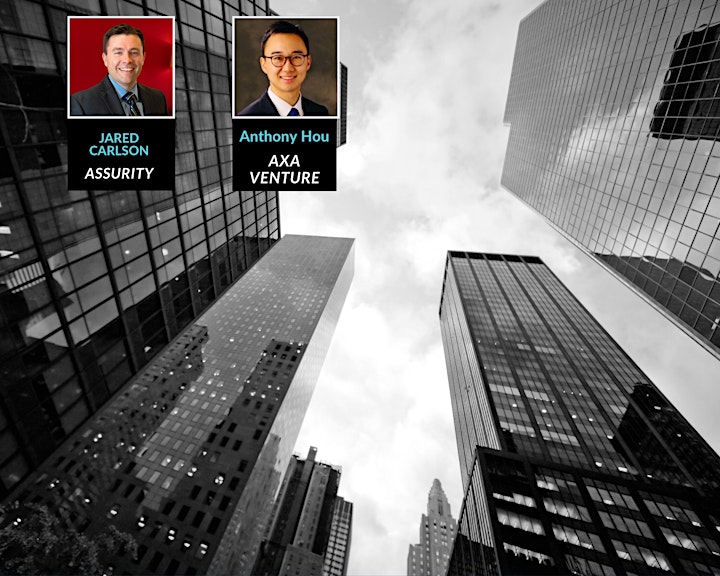 Hudson Structured - Partner - Vikas Singhal
Bain Capital Ventures - Investor - Ashley Paston
Manchester Story - Senior Analyst - Alex Whitney
CT Innovation - Managing Director - Doug Roth
Sure Ventures - Investor - Gopi Rangan
NY Life Venture - Director of Investments - Tim Del Bello
Everest Re - Vice President, Head of eIQ™ Innovation Team - Ryan Cole
NFP Ventures - Vice President - Adam Blumencranz
Plug and Play - Associate - Eugenio Gonzalez
Anthemis - Investor - Alex Steiner
NY Angels - Investor - Bill Goddard
IA Capital Group - Associate - Anton Wesener
Guggenheim - VP - Justin Ostroff
GreenlightRe - Innovations - Isaac Espinoza
Guardian Life - Senior Director, Strategic Ventures - Adam Myers
Northwestern Mutual - Associate - MC Razaire
Transamerica Ventures - Investment Manager - Andrew Pitz
Rev1 Ventures - Director, Venture Acceleration - Andrew Daniels
MedStartr Ventures - Managing Partner - Alex Fair
TIAA - Chianoo Adrian - Sr. Product Director
Activate Partners - Managing Partner - Glen Bressner
Angel Investor - Sanjeev Kumar
Munich Re Ventures - Investor - Ben Bergsma
Oliver Wyman - Partner - Farooq Sheikh
Assuirty - Vice President of Ventures and Individual Sales - Jared Carlson
AXA Venture Partners - Investor - Anthony Hou
Session Details
8:45 am - Introduction
Introduction and Welcome
9:00 am - Selling Insurance to the Millennial Consumer
Discover how the largest generation wants to buy insurance. See what brokers and InsurTechs are doing to target millennials.
9:30 am - The Race to 10 Mins to Quote and Bind
Automated underwriting can be the single best differentiator to win new business. Find out how you can do it.
`10:30 am - InsurTech Legal & Regulatory Environment
Panel discussion between regulators and insurer counsel on the major challenges in the regulatory environment for insurers and InsurTech
11:00 am - Early Stage Pitch Competition
Watch the top selected seed stage startups pitch
1:00 pm - New Business Models for the Gig Economy
More than 1/3 of the workforce participates in the Gig Economy. Learn how to create products to gig worker's needs.
1:30 pm - Replacing Core Systems Mid-flight
Most carrier core systems were built more than a decade ago. They are not adapted for IoT, APIs, or microservices. Learn how to balance the upgrade.
2:55 pm - Emerging Technologies: AI, Blockchain, & RPA
Leading innovators discuss how emerging technologies will be able great exponential growth and breakthrough long time industry challenges.
3:25 pm - Growth Stage Demo Competition
Watch demos by top selected growth stage startups
5:05 pm - Negotiation terms: CVC & InsurTech Debate
Finding fair terms is a difficult exercise in an inflated market. Discover how CVCs and InsurTechs are finding a balance
5:35 PM - InsurTech Pitch Competition Awards and Closing
Top 3 winners from each track (Early Stage, Growth Stage) will be announced
Our Sponsors
Thank you to our sponsors for making this conference possible: Eversheds Sutherland, clariondoor, EY, Two Sigma IQ, Guidewire, Locke Lord, e2value, Rippling, AKUR8, vpay, Brex, ACORD, Assurity, UK Department of International Trade, and Spencer Fund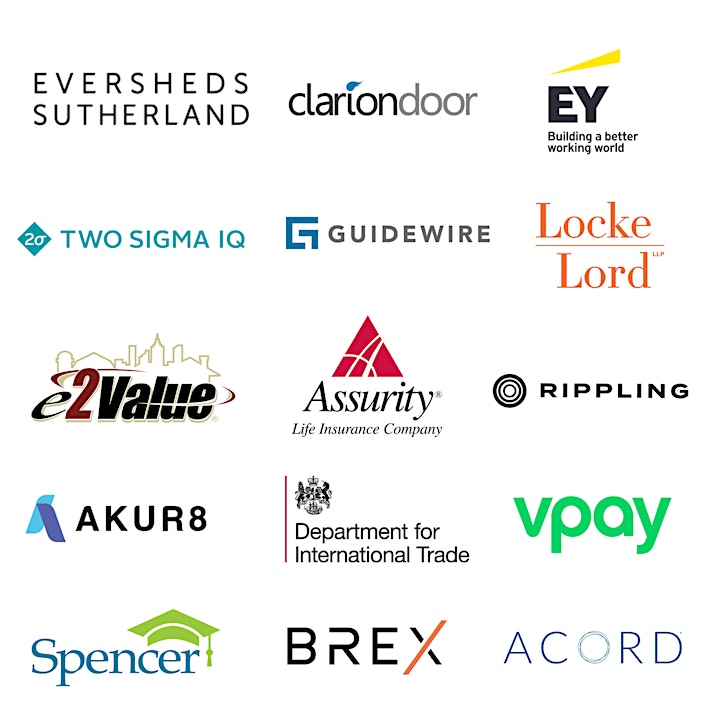 Competition Finalists
Finalists from the InsurTech competition will pitch at the conference. Please congratulate all of the awesome InsurTechs who made the finals!
Early Stage: JAUNTIN'​, Sigo, Micruity, Atidot, Agilius, WOOP!, Protosure, Adapt Ready, Saive and Kiwi Insure.
Growth Stage: Zelros, WeatherCheck, Planck, DeadHappy, Pharm3r, Matterport, INSHUR, Wenalyze, EasySend and QuickInsured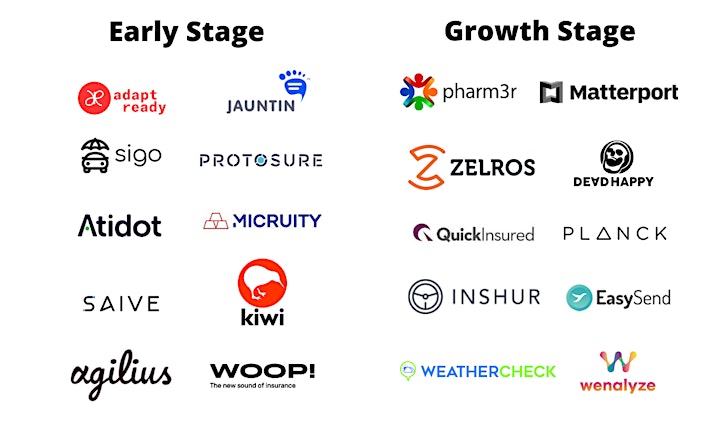 In-Kind Prize Providers
Thanks to all the providers who provide the prizes for the competition winners: Prince Communications, CH&Co, VIRTUALFORCE, MS Marketing Services, Locke Lord, STANTON, McCarter & English, LLP, RBM Consulting, Scorecard Bliss, ROI Consulting Incorporated, Microsoft, Fusion PR, Kiwi Tech, Startup Owl, Success Performance Systems, BCP Tec and Amazon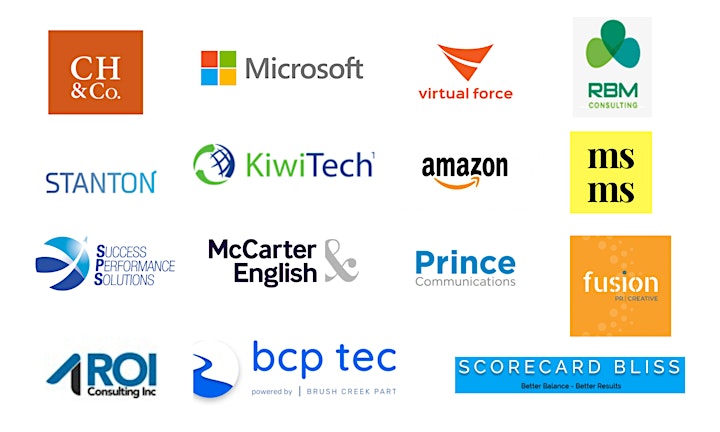 InsurTechNY's mission is to bring together carriers, brokers, startups, and investors to help accelerate digital transformation of the Insurance industry in greater New York region. We do this by facilitating new relationships and sharing insights from influencers within the industry through hosting 6 educational and networking events a year (est. every 2 months). Please visit our website, www.InsurTechNY.com for more details.
Last InsurTech NY event
Our last InsurTechNY event was on Dec 5th, and we hosted over 120 people for a sold-out event on War Stories working with InsurTech Startups. Influencers from Carriers/Brokers such as NY Life, Prudential, and Everest Re and InsurTech startups such as Hyper Science and Livegenic and investors from Finvenstudio and Overlook Rock attended the event from the greater NY region and beyond.
Video and pictures from the event below:
Video: Full event on Youtube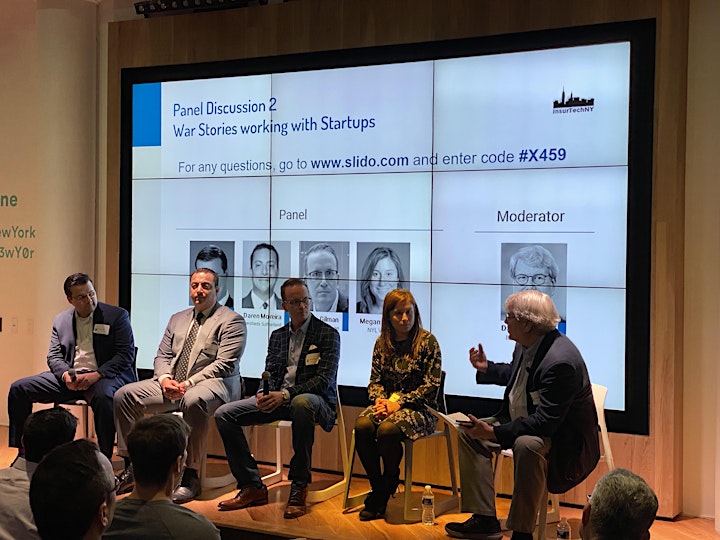 Follow us on social media.
Linkedin: https://www.linkedin.com/company/insurtechny
Twitter: https://twitter.com/InsurTechNY
Meetup: https://www.meetup.com/insurtechNewYork/
Privacy note: InsurTech NY collects your email and phone number at registration. We use your information to share news and updates about this event and future events. We also reserve the option to share your information with our event sponsors. If you wish to opt-out, please email contact@insurtechny.com.