Event Information
Refund policy
Refunds up to 30 days before event
Eventbrite's fee is nonrefundable.
InsurTech NY: InsurTech Investment Summit
About this event
Note: Presentations and networking will be 100% virtual. Go to Enhanced Virtual Experience section to learn more
InsurTech NY Event Details
In 2020, InsurTech investment reached an all-time high of $7.1 billion with over 370 deals (WTW Q4 Report). The trend of increasing investment continued even during one of the darkest periods for insurers who were facing Covid liability, record natural disasters, and low interest rates.
While this number is significant, it still pales in comparison to the overall FinTech investment of $106 billion in 2020 (KMPG Pulse of FinTech).While investment increased, 2020 was a breakout year for InsurTechs to join the public markets. Lemonade, Root, Clover Health, Hippo, Metromile, and States Title, and others went public through the traditional process or Special Purpose Acquisitions Companies (SPACs). Early VCs and Corporate VCs realized 10x+ returns on many of these companies.
With the red-hot market, the question remains for many insurers and venture capitalists, how can they start investing in InsurTechs or support their existing portfolios. This event will explore early-stage, growth-stage, and mature InsurTech investing. It will also include networking opportunities with influential InsurTech investors.
Agenda Overview
1:00 PM EST - Welcome & Introductions
1:05 PM EST - Panel 1: Making Early-Stage Investments Work
1:35 PM EST - Fireside Chat: What it Takes to Raise your Series A
1:45 PM EST - Panel 2: Raising Money from a Corporate VC
2:25 PM EST - Panel 3: Getting to the Public Markets: SPACs, IPOs, and Acquisitions
3:05 PM EST - Training on Virtual Networking
3:10 PM EST - Virtual Networking
5:00 PM EST - Wrap-Up and Raffles
5:05 PM EST - End
Featured Speakers
We are bringing together an expert line up of insurance carrier leaders, InsurTech founders, and solution provider leaders. This section will be continuously updated with new speakers.
Andrew Johnston - Insurtech - Willis Towers Watson
NFP Ventures - Vice President - Adam Blumencranz
Greenlight Re - Sr. Principal - Brian O'Reilly
Angel Investor - Angel Investor - Rashad Haque
Nayya - CEO - Sina Chehrazi
Transverse – CEO – Erik Matson
CNO Financial Group - Vice President - Adam Auvil
Avanta Ventures – Principal – David Li
SCOR - Head of P&C Ventures -Will Thorne
InsurTech – Strategic Advisor – Erick Pereda
Locke Lord - Partner - Brett Pritchard
Edoc Acquisition Corp – Chairman and CEO – Kevin Chen
Munich Re Ventures - Principal - Ben Bergsma
Allstate Identity Protection - President - Emily Snell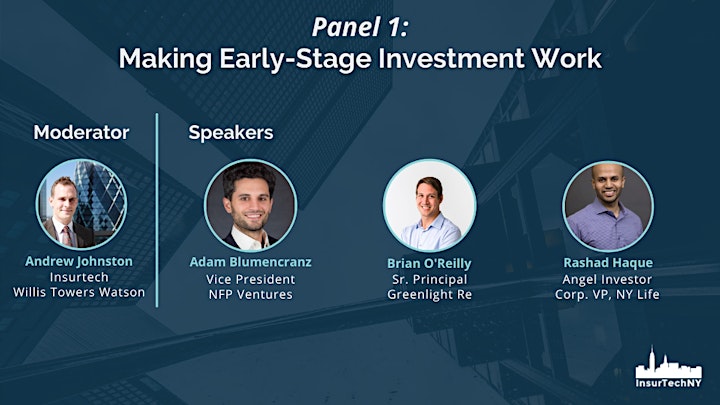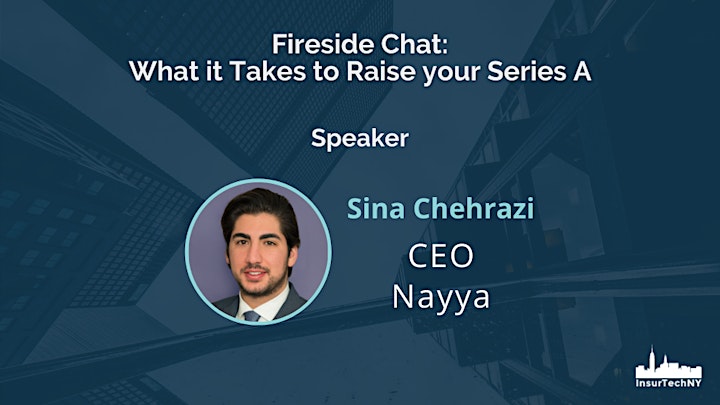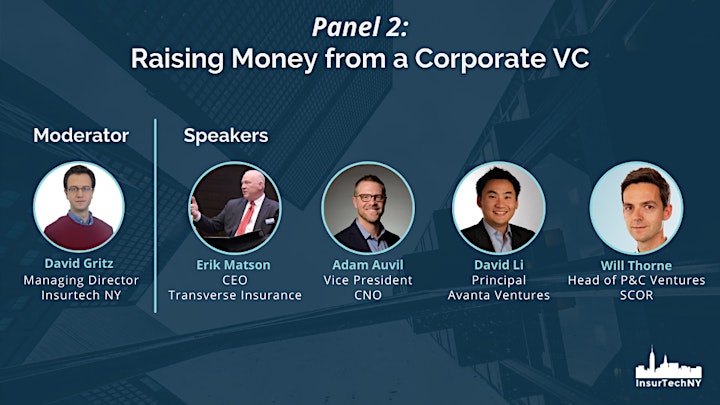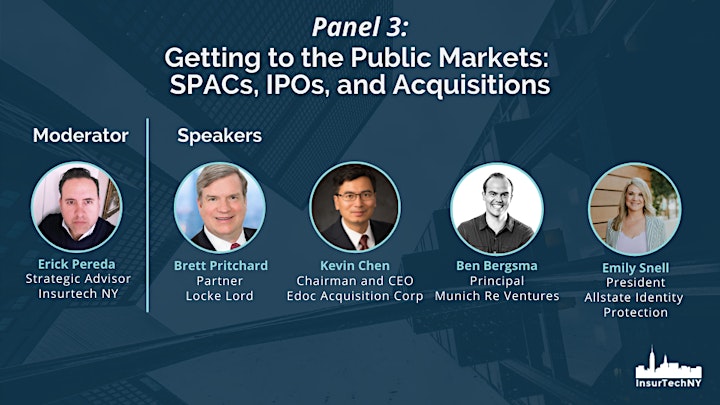 Ask Investors Anything
During networking time, the investors from the following Corporate Venture Capital companies will be available for you to ask them questions!
CVCs participating are Avanta, CNO, Greenlight Re, Transverse, CFMG, QBE, Aflac, AXA VP, Assurity, Guardian, Liberty Mutual, NFP, SCOR, Unum and more.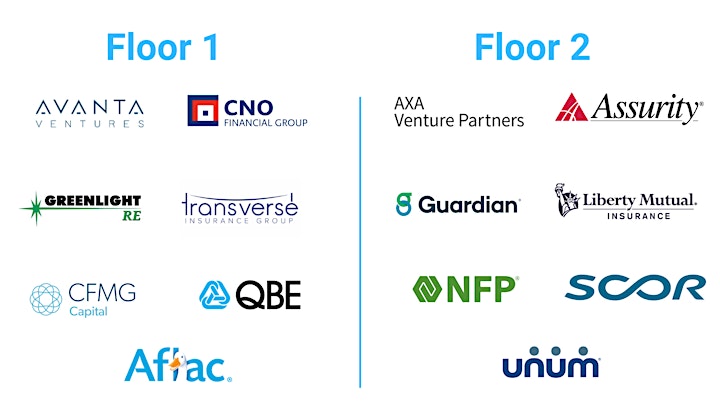 Our Sponsors
Thank you to our sponsors for making this event possible: Thompson & Prince, Locke Lord, Avanta Ventures

Enhanced Virtual Experience
Virtual networking app We have partnered with Grip. You can use the app during the networking time to set up 15 minute 1-on-1 virtual meetings. You will be amazed at how effective it is.
State of the art conferencing software You will have audio, video, and presentation screens. You will also be able to interact with the speakers.
Full access to the content recording All of the sessions will be recorded and shared with the attendees for future review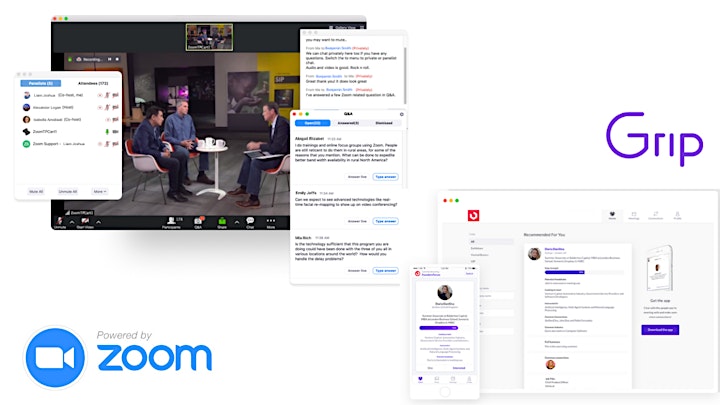 Who Should Attend
InsurTech Founders and Executives
Innovation Leaders: VPs, Directors, and Managers of Innovation
Corporate Ventures: Managing Directors, Principals, and Associates in Corporate Ventures Capital
VCs and Angel Investors
Corporate IT: CIOs, VPs, Directors, and Managers of IT and Technology
Analytics: VPs, Directors, and Managers in Analytics
Data Science and Architects: VPs, Directors, and Managers of Data Science and Enterprise Architecture
Underwriting: CUOs, VPs, Directors, and Managers of Underwriting
Policy Admin: VPs, Directors, and Mangers of Policy Administration
InsurTechNY's mission is to bring together carriers, brokers, startups, and investors to help accelerate the digital transformation of the Insurance industry in the greater New York region. We do this by facilitating new relationships and sharing insights from influencers within the industry through hosting 6 educational and networking events a year (est. every 2 months). Please visit our website, www.InsurTechNY.com for more details.
A Previous InsurTech NY Event
Below is an example of one of our bi-monthly events (Dec 5). Influencers from Carriers/Brokers such as NY Life, Prudential, and Everest Re and InsurTech startups such as Hyper Science and Livegenic and investors from IA Capital and Overlook Rock attended the event from the greater NY region and beyond.
Video: Full event on Youtube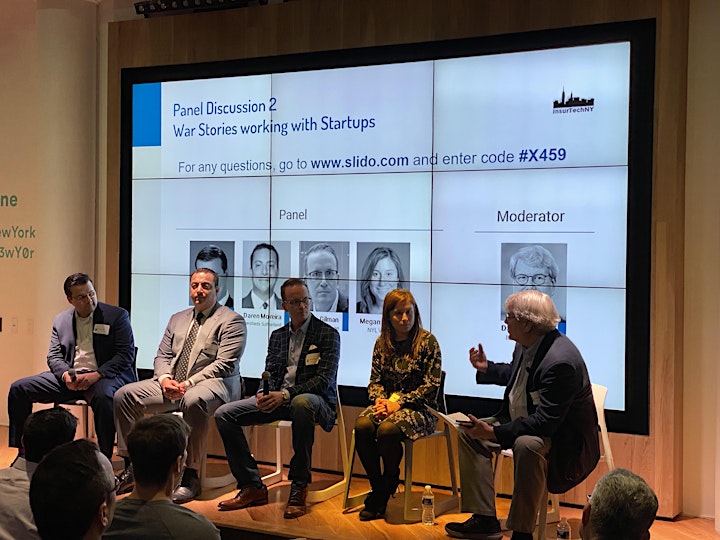 Follow us on social media.
Linkedin: https://www.linkedin.com/company/insurtechny
Twitter: https://twitter.com/InsurTechNY
Meetup: https://www.meetup.com/insurtechNewYork/
Youtube: https://www.youtube.com/channel/UC5VDD9uyFajGZsa-5u_2_ZQ
Privacy note: InsurTech NY collects your email and phone number at registration. We use your information to share news and updates about this event and future events. We also reserve the option to share your information with our event sponsors. If you wish to opt-out, please email contact@insurtechny.com.
Date and time
Location
Refund policy
Refunds up to 30 days before event
Eventbrite's fee is nonrefundable.