Event Information
Refund policy
Refunds up to 30 days before event
Eventbrite's fee is nonrefundable.
InsurTech NY: Emerging Technologies - AI, RPA and IoT
About this event
Note: Presentations and networking will be 100% virtual. Go to Enhanced Virtual Experience section to learn more
InsurTech NY Event Details
The distribution of technology is not equal. COVID has brought to light how the distribution of technology can quickly compound into changes in market share and ultimately wealth. Industries that are predominantly connected to physical interactions were immediately penalized as the world moved digital nearly a month.
The insurance industry falls somewhere in the middle of the distribution of technology scale. Most life insurers still rely on medical exams and blood samples to bind a policy. Most commercial insurers require in-person inspections on new policies and in-person adjusters to adjudicate claims. However, some personal lines carriers and startups like Lemonade have advanced to the point they complete the entire customer lifecycle in a digital world.
Insurers that take the cue from COVID as a warning sign of the impact of emerging technology on their industry, they will have a unique opportunity to improve efficiency, reduce combine ratios, and win more market share. Low hanging fruit exists across the value chain from quoting to underwriting to claims.
Learn through this event how to build the business case for emerging technologies and integrate them into your existing systems to stay ahead of the curve. See how carriers and brokers are using RPA, IoT, and AI to improve their business.
Agenda Overview
1:00 PM EST - Welcome & Introductions
1:05 PM EST - TED Talk 1
1:20 PM EST - Panel 1: Building the Business Case for Upgrading Workflows with Emerging Technologies
2:00 PM EST - TED Talk 2
2:15 PM EST - Panel 2: Integrating Core Systems with Emerging Technologies: Artificial Intelligence and Internet of Things (IoT)
2:55 PM EST - Training on Virtual Networking
3:00 PM EST - Virtual Networking
5:00 PM EST - Wrap-Up and Raffles
5:15 PM EST - End
Featured Speakers
We are bringing together an expert line up of insurance carrier leaders, InsurTech founders, and solution provider leaders. This section will be continuously updated with new speakers.
e2value - Todd Rissel - CEO
Allstate Insurance Company - Lynne Clemens - RPA Leader
EIS - Joel Yarde - Technology Marketing Lead
Eversheds Sutherland - Mary Jane Wilson-Bilik - Partner
Guardian Life - Tejash Patel - Chief Architect
RCI / Bridgei2i - Roi Hansraj - Executive Director
Pivot Global - Cynthia Hardy - CEO
Safekeep - Jeff To - CEO
Kelly McLaughlin - Neural Metrics - Chief Product Officer
Sorcero - Richard Graves - Chief Commercial Officer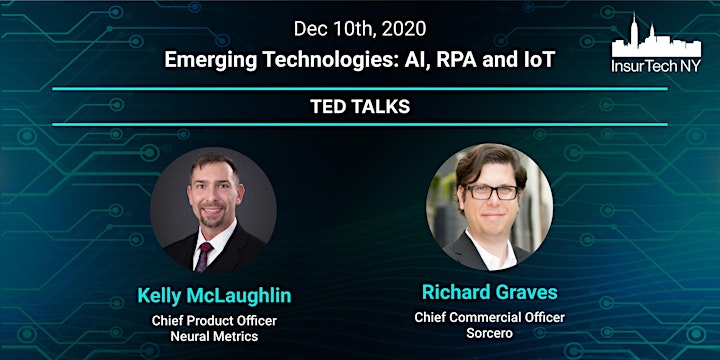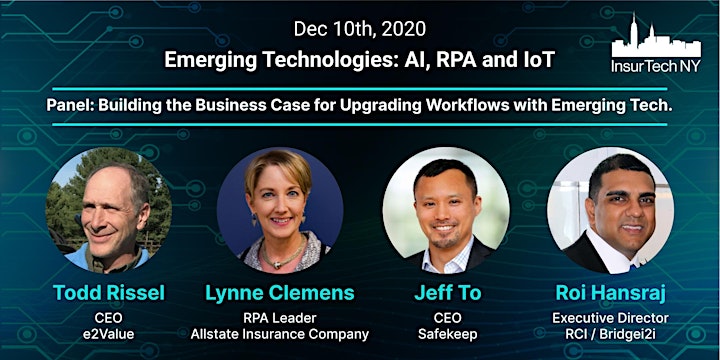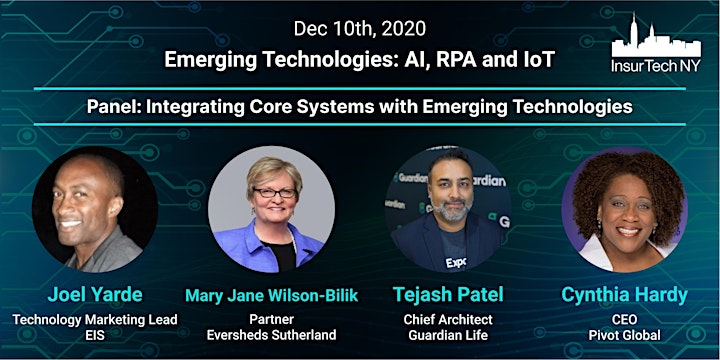 Enhanced Virtual Experience
Virtual networking app We have partnered with Grip. You can use the app during the networking time to set up 15 minute 1-on-1 virtual meetings. You will be amazed at how effective it is.
State of the art conferencing software You will have audio, video, and presentation screens. You will also be able to interact with the speakers.
Full access to the content recording All of the sessions will be recorded and shared with the attendees for future review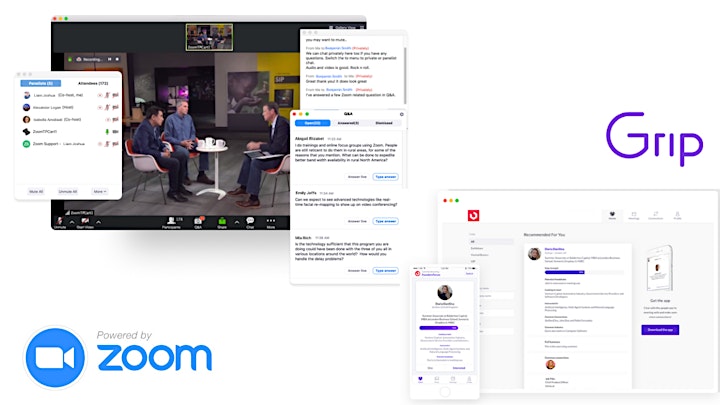 Our Sponsors
Thank you to our sponsors for making this event possible: EIS, e2Value, Eversheds Sutherland, and EY
If you would like to have to learn more about sponsoring our events, please email contact@insurtechny.com.

Who Should Attend
Corporate IT: CIOs, VPs, Directors, and Managers of IT and Technology
Analytics: VPs, Directors, and Managers in Analytics
Data Science and Architects: VPs, Directors, and Managers of Data Science and Enterprise Architecture
Underwriting: CUOs, VPs, Directors, and Managers of Underwriting
Policy Admin: VPs, Directors, and Mangers of Policy Administration
InsurTech Founders and Executives
Innovation Leaders: VPs, Directors, and Managers of Innovation
Corporate Ventures: Managing Directors, Principals, and Associates in Corporate Ventures Capital
VCs and Angel Investors
InsurTechNY's mission is to bring together carriers, brokers, startups, and investors to help accelerate the digital transformation of the Insurance industry in the greater New York region. We do this by facilitating new relationships and sharing insights from influencers within the industry through hosting 6 educational and networking events a year (est. every 2 months). Please visit our website, www.InsurTechNY.com for more details.
A Previous InsurTech NY Event
Below is an example of one of our bi-monthly events (Dec 5). Influencers from Carriers/Brokers such as NY Life, Prudential, and Everest Re and InsurTech startups such as Hyper Science and Livegenic and investors from IA Capital and Overlook Rock attended the event from the greater NY region and beyond.
Video: Full event on Youtube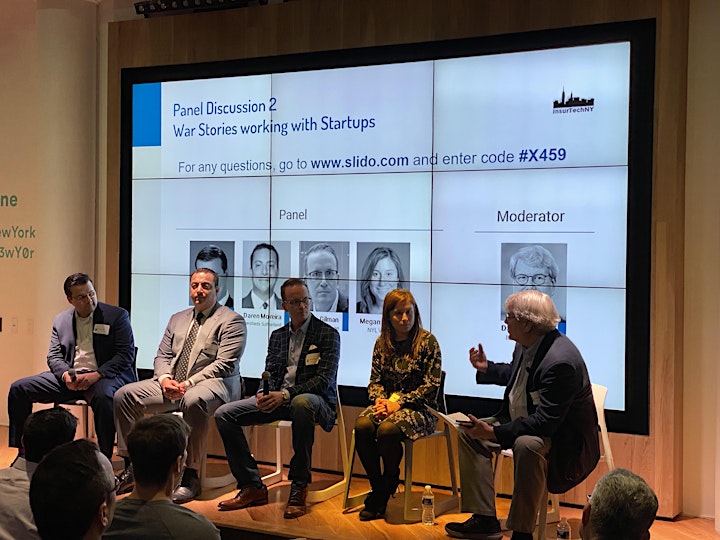 Follow us on social media.
Linkedin: https://www.linkedin.com/company/insurtechny
Twitter: https://twitter.com/InsurTechNY
Meetup: https://www.meetup.com/insurtechNewYork/
Youtube: https://www.youtube.com/channel/UC5VDD9uyFajGZsa-5u_2_ZQ
Privacy note: InsurTech NY collects your email and phone number at registration. We use your information to share news and updates about this event and future events. We also reserve the option to share your information with our event sponsors. If you wish to opt-out, please email contact@insurtechny.com.
Date and time
Location
Refund policy
Refunds up to 30 days before event
Eventbrite's fee is nonrefundable.