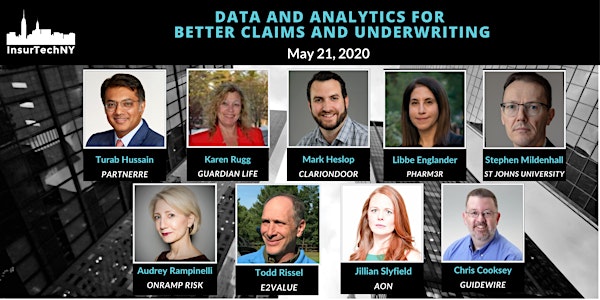 InsurTech NY: Data and Analytics for Better Claims and Underwriting
InsurTech NY: Data and Analytics for Better Claims and Underwriting
Refund Policy
Refunds up to 30 days before event
About this event
Note: Presentations and networking will be 100% virtual. Go to Enhanced Virtual Experience section to learn more
InsurTech NY Event Details
Advanced data and analytics capabilities hold the promise to change the way carriers and brokers do business. New data sources from the Internet of Things, aggregators, and third parties can provide a rich data set for making better predictions and identifying potential fraud. However, most legacy systems are not built to readily integrate with the new data sources. This event will feature an underwriting and a claims focused panel.
Learn how underwriters are balancing the costs of adding new data sources with the predictive benefits. Panelists will also discuss the potential ramification of using analytics and AI for improved predictive capability and the potential for over-fitting the data.
Also, learn how claims leaders are leveraging advanced data capabilities to augment the workflow of adjusters, cut the time necessary to adjust claims, and predict and prevent fraud early in the process. Panelists will also discuss the challenges of implementing new claims solutions across business lines and downstream with adjusters, TPAs, and IAs.
Agenda Overview
12:00 PM Networking App Opens
04:30 PM Welcome & Introductions
04:35 PM Ted-style Talk 1: Frontline Intelligence - It's about time!
04:45 PM Panel 1: Data and Analytics in Underwriting
05:15 PM Ted-style Talk 2: AI: Better for Claims Than Underwriting
05:25 PM Panel 2: Data and Analytics in Claims
05:55 PM Event Close
Featured Speakers
We are bringing together an expert line up of insurance carrier leaders, InsurTech founders, and solution provider leaders. This page will be continuously updated with new speakers.
PartnerRe - Turab Hussain - Chief Risk & Actuarial Officer
Guardian Life - Karen Rugg - 2nd VP Disability Underwriting
ClaironDoor - Mark Heslop - Head of Data & Analytics
Pharm3r - Libbe Englander - CEO
St John's University - Stepehn Mildenhall - Assistant Professor
OnRamp Risk - Audrey Rampinelli - CEO
E2Value - Todd Rissel - CEO
Aon - Jillian Slyfield - Digital Economy Practice Leader
Guidewire - Chris Cooksey - Head Actuary, Data and Analytics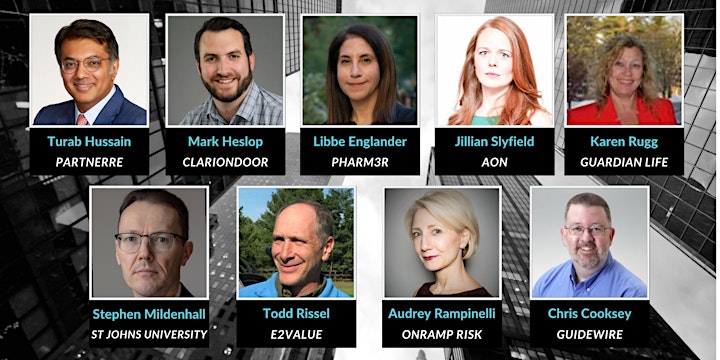 Enhanced Virtual Experience
Virtual networking app We have partnered with Grip. You can use the app during the networking time to set up 15 minute 1-on-1 virtual meetings. You will be amazed at how effective it is.
State of the art conferencing software You will have audio, video, and presentation screens. You will also be able to interact with the speakers.
Full access to the content recording All of the sessions will be recorded and shared with the attendees for future review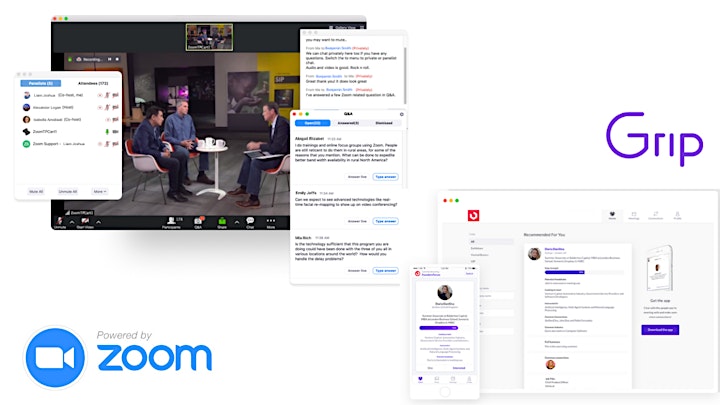 Our Sponsors
Thank you to our sponsors for making this conference possible: ClarionDoor, Evolvor, Guidewire, & e2Value
If you would like to have to learn more about sponsoring our events, please email contact@insurtechny.com.

Who Should Attend
Underwriters: VPs, Directors, and Managers in Underwriting
Claims: VPs, Directors, and Managers in Claims
Analytics: VPs, Directors, and Managers in Analytics
Data Science and Architects: VPs, Directors, and Managers of Data Science and Enterprise Architecture
Technology: VPs, Directors, and Managers, of Technology
InsurTech Founders and Executives
Innovation Leaders: VPs, Directors, and Managers of Innovation
Corporate Ventures: Managing Directors, Principals, and Associates in Corporate Ventures Capital
VCs and Angel Investors
InsurTechNY's mission is to bring together carriers, brokers, startups, and investors to help accelerate the digital transformation of the Insurance industry in the greater New York region. We do this by facilitating new relationships and sharing insights from influencers within the industry through hosting 6 educational and networking events a year (est. every 2 months). Please visit our website, www.InsurTechNY.com for more details.
A Previous InsurTech NY Event
Below is an example of one of our bi-monthly events (Dec 5). Influencers from Carriers/Brokers such as NY Life, Prudential, and Everest Re and InsurTech startups such as Hyper Science and Livegenic and investors from IA Capital and Overlook Rock attended the event from the greater NY region and beyond.
Video: Full event on Youtube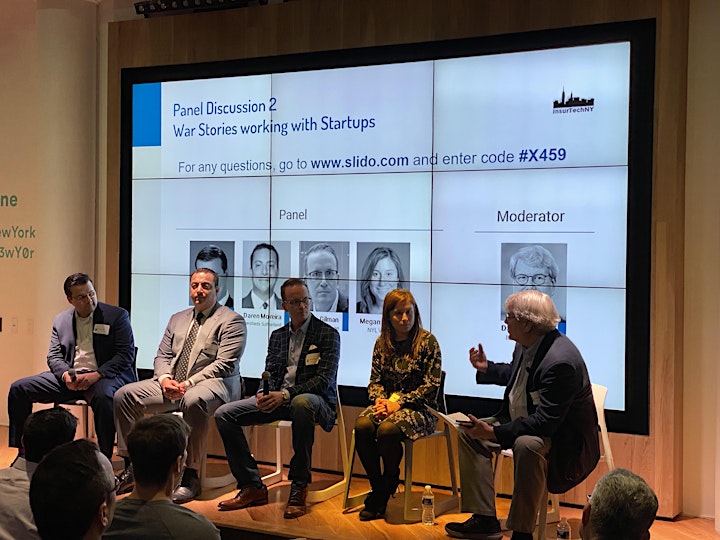 Follow us on social media.
Linkedin: https://www.linkedin.com/company/insurtechny
Twitter: https://twitter.com/InsurTechNY
Meetup: https://www.meetup.com/insurtechNewYork/
Privacy note: InsurTech NY collects your email and phone number at registration. We use your information to share news and updates about this event and future events. We also reserve the option to share your information with our event sponsors. If you wish to opt-out, please email contact@insurtechny.com.