InsurTech NY: The New InsurTech Distribution Channel
About this event
Note: Presentations and networking will be done in-person in NYC. There will be virtual live-stream option for those who cannot join in-person.
COVID-19 Information: Per NYC rules, proof of vaccination will be required to attend in-person.
InsurTech NY Event Details
The insurance industry has one of the highest customer acquisition costs of any industry. It can cost more than seven times as much to acquire a new customer as maintaining an existing one. (ITL). However, the global protection gap is nearly $1.2 trillion. (Risk & Insurance). This means there is a lot of opportunity on the table across all lines of business for insurers.
Insurers now are seeking ways to acquire new customers that rewrite the existing rules and drive down the cost of acquisition. With affinity groups no longer in vogue, InsurTechs now represent the dominant strategy for insurers to reach new customers. Some carriers are focusing on building those innovations internally through special projects often called internal InsurTechs. Other carriers are seeking help from external InsurTechs.
Hear from the carriers that are doing it. Learn how to leverage internal and external InsurTechs to drive down the cost of acquisition and spur growth.
Agenda Overview
1:00 PM EST - Registration and Networking
1:15 PM EST - Opening Announcements
1:25 PM EST - Keynote
1:45 PM EST - Panel 1: Best Practices in Selling via InsurTech Marketplaces, Platforms, and MGAs
2:20 PM EST - Panel 2: Internal Innovation and InsurTech
2:55 PM EST - Break & Networking
3:25 PM EST - TED Talk 1: Building an 100% Digital Subsidary
3:34PM EST - TED Talk 2: Reinvent Your Insurance Portfolio with Protection for the Digital Age
3:43 PM EST - TED Talk 3: Making Auto Insurance Smarter and Fairer through Embedded Experiences
3:55PM EST - Panel 3: Building the Right Book of Business for Sustainability
4:25 PM EST - Panel 4: Accelerating the Digital Workflow for Distributors
5:00 PM EST - Break/Networking
6:00 PM EST - End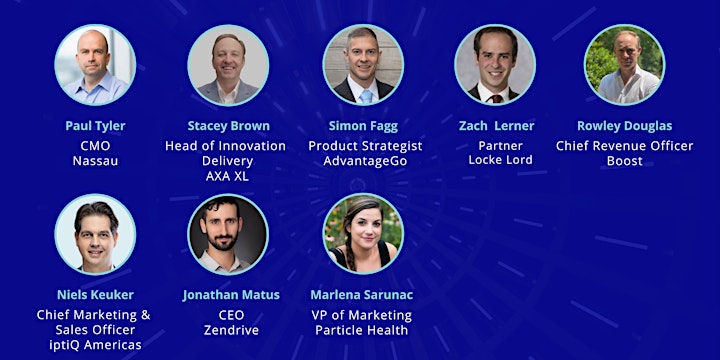 Featured Speakers
We are bringing together an expert line up of insurance carrier leaders, InsurTech founders, and solution provider leaders. This section will be continuously updated with new speakers.
Kin Insurance - Co Founder - Sean Harper
Particle Health - VP of Marketing - Marlena Sarunac
Eversheds Sutherland – Partner – Daren Moreira
Amplify - CEO - Hanna Wu
Boost - CRO - Rowley Douglas
Nassau - CMO - Paul Tyler
EY - Managing Director, Business Consulting - Laura Hollerich
AXA XL - Head of Innovation Delivery - Stacey Brown
iptiQ Americas / Swiss Re - Chief Marketing & Sales Officer- Niels Keuker
Unit - COO - Camilo Cruz
F-Secure - Head of Consumer Security Ecosystem - Dmitri Vellikok
Zendrive - CEO - Jonathan Matus
Advantage Go - Product Strategist - Simon Fagg
e2Value - SVP - Skip Coan
Hippo - Chief Underwriting Officer - Chris Donahue
Endava - Principal Architect - Robert Anderson
Holmes Murphy - CMO - Susan Hatten
Locke Lord - Partner - Zach Lerner
Who Should Attend
Distribution: CRO, Managing Directors, and VPs
Analytics: VPs, Directors, and Managers in Analytics
Data Science and Architects: VPs, Directors, and Managers of Data Science and Enterprise Architecture
Underwriting: CUOs, VPs, Directors, and Managers of Underwriting
Policy Admin: VPs, Directors, and Mangers of Policy Administration
InsurTech Founders and Executives
Innovation Leaders: VPs, Directors, and Managers of Innovation
Corporate Ventures: Managing Directors, Principals, and Associates in Corporate Ventures Capital
VCs and Angel Investors
InsurTechNY's mission is to bring together carriers, brokers, startups, and investors to help accelerate the digital transformation of the Insurance industry in the greater New York region. We do this by facilitating new relationships and sharing insights from influencers within the industry through hosting 6 educational and networking events a year (est. every 2 months). Please visit our website, www.InsurTechNY.com for more details.
A Previous InsurTech NY Event
Below is an example of one of our bi-monthly events (Dec 5). Influencers from Carriers/Brokers such as NY Life, Prudential, and Everest Re and InsurTech startups such as Hyper Science and Livegenic and investors from IA Capital and Overlook Rock attended the event from the greater NY region and beyond.
Video: Full event on Youtube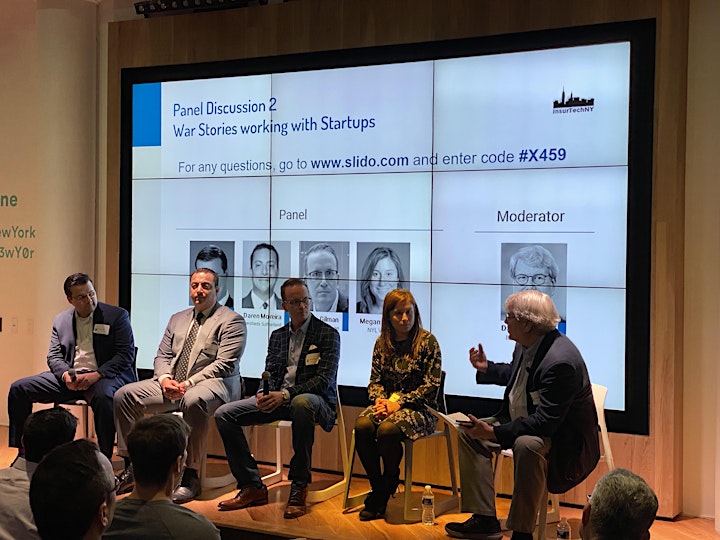 Follow us on social media.
Linkedin: https://www.linkedin.com/company/insurtechny
Twitter: https://twitter.com/InsurTechNY
Meetup: https://www.meetup.com/insurtechNewYork/
Youtube: https://www.youtube.com/channel/UC5VDD9uyFajGZsa-5u_2_ZQ
Privacy note: InsurTech NY collects your email and phone number at registration. We use your information to share news and updates about this event and future events. We also reserve the option to share your information with our event sponsors. If you wish to opt-out, please email contact@insurtechny.com.