Insurgency from Below and the Future of American Democracy Conference
When and where
Location
The Graduate Center, CUNY 365 5th Avenue New York, NY 10016
Description
Insurgency from Below and the Future of American Democracy
The election of Donald J. Trump, an inexperienced and unpredictable billionaire real estate mogul endorsed by the Ku Klux Klan, stunned the world. Within hours of Hillary Clinton conceding the election to Trump, thousands took to the streets in protest against the victory of a candidate who lost the popular vote by the largest margin of an Electoral College winner in the nation's history – nearly three million votes. Trump is a right-wing populist whose message against trade deals that have hurt American workers strongly resonated in white communities where the declining power of trade unions has left people vulnerable to his bigoted and xenophobic appeals. The complex dynamics of our social movement and populist era, the intricate (and poorly understood) connections between movements and electoral politics, and what the Trump presidency means for American democracy are the themes of our conference. The conference will be held from 9am to 5pm in the Elebash Recital Hall. Admission is free, but you must register for the conference; please visit: www.pivenconference.eventbrite.com
After the conference, we will continue the conversation at 6:30pm with an evening plenary in the Proshansky Auditorium (C200). The Panelists include Barbara Ehrenreich, author, Nickel and Dimed; Ai-jen Poo, director, National Domestic Workers Alliance; Kimberlé Williams Crenshaw, professor of law, Columbia and UCLA; and Frances Fox Piven, distinguished professor of political science and sociology, emerita, at the GC, and moderated by Laura Flander, journalist and host of The Laura Flanders Show/GRITtv.
Limited standby seating may be available — the line starts at 6 pm; first-come, first-served. There will also be an overflow room with a live video feed.
The conference and keynote event are co-sponsored by the CUNY Graduate Center's Ph.D./MA Program in Political Science, the Sociology Program, and the Rosa Luxemburg Stiftung-NY Office; additional support from the Advanced Research Collaborative, the Office of the Provost, and the JCF/Helenia Fund at the recommendation of Craig Kaplan.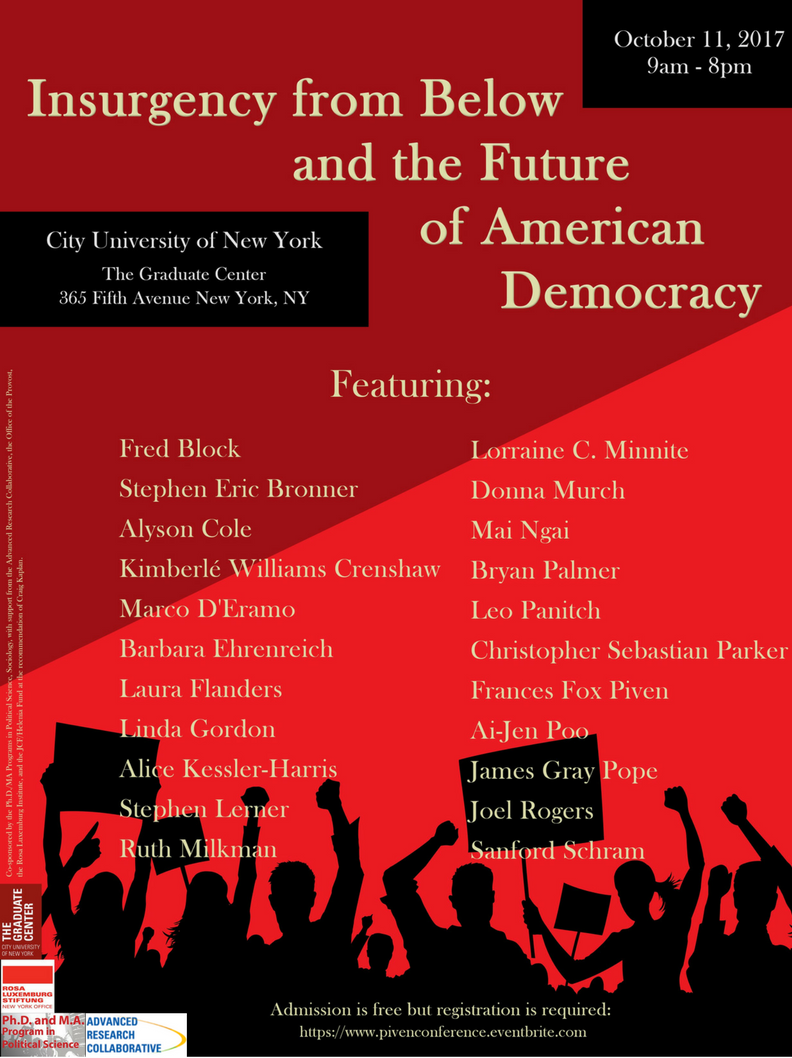 .