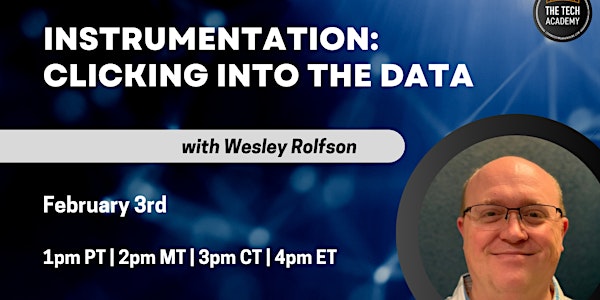 Instrumentation: Clicking Into the Data with Wesley Rolfson
Join us on Friday at 1 pm pacific, 2 pm Mountain to network and discuss working in tech!
About this event
Wesley Rolfson will be joining us to discuss Instrumentation.
Data Instrumentation is the process of connecting things like output (from sensors, actions taken by a user, or feedback from a user action) and forming them into Events/messages which are then stored/translated into data structures.
In this Talk Wesley will cover:
What Data Instrumentation is
How it is applied by organizations
Where it fits in most data pipelines
What analytics should pay attention to
What graphic interface/ product owners should consider
Walkthrough 2 examples (website and application)
Join us Friday, February 3rd at 1 pm Pacific Time (2p MT, 3p CT, 4p ET) in our Google Meet room.
Can't make it live? We will be posting the recording to our Tech Talks playlist on our YouTube Channel: https://bit.ly/TTA-techtalks
Don't miss this great opportunity to learn and network!