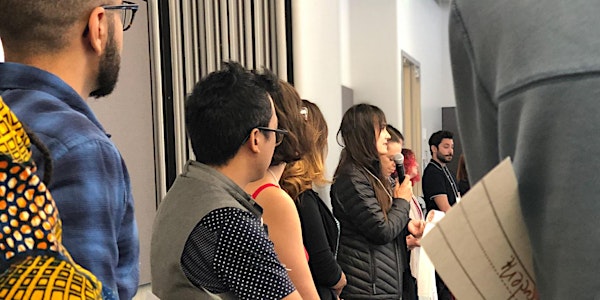 Instructional Growth for Equity
Experience a community of practice and a cycle of instructional rounds!
When and where
Location
Crystal Springs Uplands School - Middle School 10 Davis Drive Belmont, CA 94002
Refund Policy
Contact the organizer to request a refund.
About this event
In this year-long learning experience, teachers will engage in a research-based process to promote instructional growth and equity in the classroom. Educators will have an opportunity to reflect on their practice, generate questions regarding efficacy, gather data through observations, and receive feedback to promote new understandings and new practices. A version of instructional rounds, this model centers our students who are most marginalized, be it due to access, ethnicity, gender, or other dimensions of identity or experience, in pursuit of greater equity in our practice.
LEARNING GOALS
Participants will:
Explore their unique learning environment in a new way that helps generate salient questions that promote growth
Understand how to identify their most marginalized learners in pursuit of greater equity in the classroom
Practice refining questions to elevate teaching using tools and data
Experience a community of practice and a cycle of instructional rounds, including gathering, providing and receiving feedback
Learn strategies for processing and utilizing non-evaluative peer feedback to highlight one's strengths as a teacher and develop new strategies for classroom teaching that center students
AUDIENCE
Teachers who seek a growth experience in a community of practice to operationalize equity work and allow it to take root in measurable ways
Small cohorts (rather than single participants) from participating schools are encouraged, but not required
DATES
WELCOME SESSION: October 14, 2022 | 9:00am - 12:00pm
SESSION 1: November 15, 2021 | 1:00pm - 3:00pm
SESSION 2: January 12, 2023 | 9:00am - 11:00am
SESSION 3: February 15, 2023 | 1:00pm - 3:00pm
SESSION 4: March 17, 2023 | 9:00am - 11:00am
SESSION 5: May 10, 2023 | 1:00pm - 3:00pm
COVID-19 SAFETY PROTOCOLS
CATDC and Crystal Springs Uplands School will be working together to do all we can to ensure your health and safety over the course of our six sessions, monitoring closely nationwide, state, and local updates and recommendations. We ask that you do not attend if you are infected with Covid, have  Covid symptoms, or have had close contact with someone who is infected in the last 10 days. 
All participants in this program need to be up to date with their COVID-19 vaccines and show a copy of their COVID-19 vaccination card (with booster or boosters) before attending. You are up to date with your COVID-19 vaccines when you have received all doses in the primary series and all boosters recommended for you, when eligible.
CANCELLATION POLICY
Life happens. We understand that there will be times when you cannot attend a workshop that you have registered and paid for. Below we have outlined our cancellation and refund policy, which we have in place to ensure the most accurate numbers when we secure well in advance locations, catering, and facilitators. Thank you for understanding.
For this in-person workshops refunds are available up to 14 days before the scheduled starting date. We are unable to provide refunds for cancellations made 13 days or less prior to the workshop.
Please contact us by email as soon as you know you cannot attend a workshop.
You will receive a full refund if CATDC chooses to cancel this event.