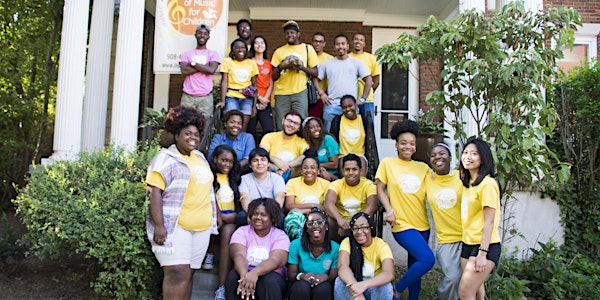 Institute of Music Summer Youth Leader Job Fair
When and where
Location
The Institute of Music for Children 780 Salem Ave Elizabeth, NJ 07208
Description
Are you between the ages of 16-23? Do you love children? Do you have a special artistic talent? Do you think you have what it takes to be youth leader at The Institute of Music for Children? Well join us on May 6th, 2017 for our first ever Summer Youth Leader Job Fair. Youth Leaders are a vital and important part of what we do at The Institute of Music for Children. This job fair will include workshops, information about our program, and trainings on how to be a youth leader. Youth Leaders are high-achieving, arts-centered young people who are committed to providing the best possible learning environment for children.
This compensated position will require unpaid training sessions before and during the summer program. Youth Leaders must also volunteer and fundraise for our Spring Fling Fundraiser, which includes a 5K Walk for the Arts and a Music and Games Festival being held Saturday, June 3, 2017. Each Youth Leader is expected to raise a minimum of $75 in pledges. All proceeds go towards the continuation of programs and to support the Institute's Harmony Scholarship Fund & the Youth Leadership Institute; one of IMC's major initiatives engaging 20+ young adults to serve as assistant teachers and role models during IMC's summer & school year programs.
The Institute of Music hosts a five-week day camp for 200 students which focuses on various areas of arts education. Students can participate in a range of courses including:
Creative writing

Art

Drama

Dance

Video production

Public speaking

Instrumental music
Summer Camp 2017 will run from June 26 - July 28. Monday through Friday 7:30 am - 5:30 pm.
The camp will culminate in final performances on Thursday, July 27 at 5:00 pm, Friday, July 28 from 7:00 pm-10:00 pm, and Saturday, July 29 from 9:30 am - 5:00 pm.
Trainings will be scheduled for dates in May and June. Please fill out an application and bring it with you on May 6th which will be available at the link below.
http://www.instituteofmusic.org/about-us/work-with-us
Participation in the Job Fair does not guarantee a job offer or acceptance as a Youth Leader for the Institute of Music for Children.