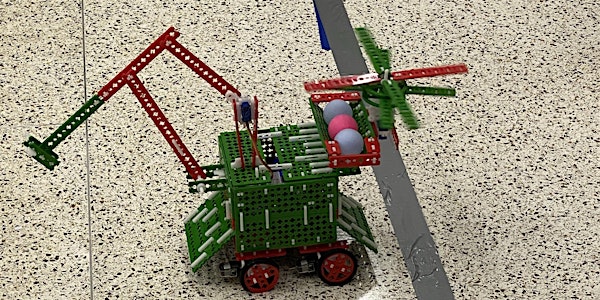 Institute of MERIT Robotics Engineering Class for 2023-2024
This is an intense program designed for students serious about learning about robotics engineering. Homework will be assigned.
Date and time
September 9 · 9am - December 16 · 11:30am EDT
Location
SUNY College at Old Westbury 223 Store Hill Road Old Westbury, NY 11568
About this event
The Institute of MERIT (http://instituteofmerit.com) initiated a Robotics Engineering Program for ICPS Graduates in September 2019. The program consists of 12 Saturday morning sessions from 9:00 to 11:30 starting in September and ending before the winter vacation.
The objective of the program is to introduce students to the fundamentals of robotics including practical electronics, mechanism design, and programming to build problem solving skills, advance critical thinking, broaden creative and innovative reasoning and to encourage a love of mathematics. Students work in small groups to allow for more personal instruction by the instructors and to enable collaboration in a comfortable environment. No prior experience is required. To see a detailed description, eligibility requirements, sample constructions, and our expectations, visit us at: https://sites.google.com/view/icps-robotics/home.
To be eligible to participate in the program you must have successfully completed one year of the Institute of Creative Problem Solving for Gifted and Talented Students program (ICPS). You can learn about that program at http://institutecreativeproblemsolving.org/index.htm). You must be a Long Island resident living in Nassau County, Suffolk County, Queens, or Brooklyn and entering either 8th or 9th grade.
The cost of the program is $500 which includes the complete SnappyXO Robot kit which consists of 2 sub kits:
(1) Mechatronics kit: contains components, such as motors, sensors, wires, LEDs, switches, Arduino Uno, etc.
(2) Hardware kit: contains plastic components, such as connectors, clips, mounts, beams, plates, gears, etc.
In addition to the SnappyXO Robotics kit, each student will also get access to a web-based software for developing computer simulations of their robot motions before constructing the robot as well as ArduinoBlue Bluetooth application that will interface with the connected sensors and actuators. The SnappyXO Robotics kit, software applications, and curriculum were invented by one of our program instructors from Stony Brook University with funding from the National Science Foundation and several other organizations. Learn more about SnappyXO Robotics product and curriculum at http://www.snappyxo.com.
This program is designed for students serious about learning robotics. It is an intense program and will demand time and effort at home as well as during class time. Please only apply if you have the time and desire to be successful in this class. All participants will need access to either a Windows/Mac computer with an internet connection and have administrative permission to install software. The program will end with a robotics project finale, where each student will present their robot to the members of the class. This past year we had a battle of robots with parents able to watch the event. Students who satisfactorily complete all the activities will receive a certificate of completion.
On Sale Mar 26 at 12:30 AM