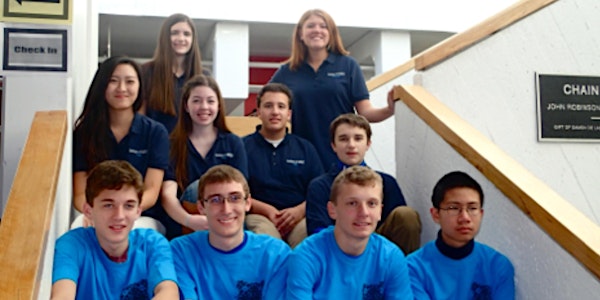 Institute of MERIT Research & Technology Class for 2023-2024
This program is designed for students who are interested in actively pursuing research in mathematics.
Date and time
September 9 · 9am - March 30, 2024 · 11:30am EDT
Location
SUNY College at Old Westbury 223 Store Hill Road Old Westbury, NY 11568
About this event
The Institute of MERIT is proud to be able to offer a program entitled Research and Technology. This program is designed for students who are interested in actively pursuing research in mathematics. It is only available to students who have successfully completed the ICPS program and who will be in grade 10 or 11 in September 2022. All students are required to: (1) choose a research topic, (2) write a research paper and (3) present that paper at the Al Kalfus Long Island Math Fair.
The Long Island Math Fair is the only one of its kind in the nation. It has allowed students who enjoy mathematics to stretch their talents beyond the regular classroom. Many students over the past few decades have commented on how much of their college interview was spent discussing their Math Fair work, since it uniquely defines their application. This is a challenging, motivational learning experience driven by the students' own intelligence, invention, and inspiration!
Class seminars will be based upon the following topics:
1. routine versus non-routine problems
2. defying your intuition
3. the art of technical writing, annotating, and naïve proofreading
4. finding patterns and making conjectures
5. determining a suitable and exciting research topic
6. learning to read mathematics journals
7. components of a research paper
8. preparing and critiquing oral presentations
9. learning to use Excel to perform math calculations and analysis
10. using Geogebra to develop assumptions
11. calculator and computer programming.
Many class sessions will be "workshops," where students bring their laptops and work on their papers and oral presentations. This is a great forum to have their work checked and edited on the spot, and to exchange ideas and discuss mathematics. Writing a paper and preparing an oral presentation will require additional time input at home. The paper is completed and submitted in mid-January. [This assumes that classes will be face-to-face in September.]
IMPORTANT—READ BEFORE APPLYING: There are a limited number of seats and traditionally there is a waiting list for such an exciting option. Before you apply, examine your Saturday morning commitments carefully to make sure you can attend all of the sessions. All participants are expected to attend each session. This means that you and your child make a commitment to place this program as a priority. Please only apply if you can pledge to fully participate in the program.
There is a $400 participation fee, which will cover the cost of entering the Math Fair, and the cost of the textbook which the students can annotate and keep after the program has been completed.
The coordinator of the program is Dr. Robert Gerver, a retired mathematics and research teacher from North Shore High School. Dr. Gerver received the Presidential Award for Excellence in Mathematics Teaching from President Reagan in 1988. He has published over 20 books as well as many articles in mathematics journals. His book, Writing Math Research Papers - A Guide for Students and Instructors-Fifth Edition will be used as the basis for the course. In addition to Dr. Gerver, guest lecturers will be brought in to broaden the scope of the program and to focus on researched based technology.
The program will consist of 16/17 sessions, starting in September, and continuing through to March. No classes will be held on Thanksgiving weekend, or the weekends surrounding the winter vacation. Each session will take place on Saturday morning from 9:00 AM to 11:30 AM at SUNY Old Westbury.
On Sale Mar 26 at 12:30 AM