Institute for Leadership Synergy: SMART Power Academy
Description
SMART Power Academy

Join us for our 2 1/2 day women only development program. This transformative experience will dramatically increase your influence, career fulfillment and happiness.
Day One: Leadership, Performance Balance, Your Value Proposition, & Stress Resilience

8:00AM - 5:30PM
Day Two: Personal Vision, Career Clarity, Innovation, & 5 Habits of SMART Power Leaders
8:00AM - 5:30PM
Day Three: Slow Flow Restorative Yoga, Your Leadership-Life Pitch, & 40-Day Success Plan
8:00AM - 1:00PM
Why will your company want to send you to the Academy?
Become "promotion ready"

Improve executive presence,

presentation and persuasion skills
Adopt a strategic leader mindset

(SMART Power)
Learn the 5 Habits of Highly

Effective Leaders

(SMART Power Leadership)
Create a professional

development plan

(Supercharge Your Career)
Learn stress resilience skills

(Work Like a Genius)
Use structured collaboration to

create innovation breakthroughs

(SMART Power Innovation)
Use Gender Synergy skills to

work better with male leaders

(SMART Teams)
For additional information, contact National University's Division of Extended Learning at extlearning@nu.edu or 858-642-8600

---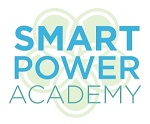 The SMART Power Academy provides leadership training that is science-based with proven processes created specifically for women. The offerings range from keynotes speeches to 1-day workshops to a 2.5 day Academy summit. Each provides tremendous value to a woman's career confidence and growth and in creating value for their enterprise.