Institute for Ethical Leadership: Corporate Social Responsibility Certifica...
Description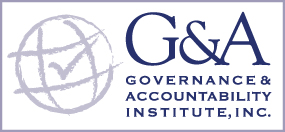 Register Now for the Two Day Certificate Program on Corporate Social Responsibility
Wednesday April 27 and Thursday April 28, 2016, from 9:00 am to 5:00 pm at the Rutgers Business School-Newark.
The Institute for Ethical Leadership, in partnership with the Governance & Accountability Institute, Inc., offers a two-day, deep dive into Corporate Social Responsibility (CSR) and the related fields of philanthropy, sustainability, risk management, and ethics. The CSR function can be located in various parts of the corporation, from philanthropy, to corporate sponsorship, sustainability, and sometimes directly in the chairman's office. Titles for those responsible for the function likewise are diverse.
Benefits of the Program:
Executives and their teams need the skills, network, and increased philanthropic expertise to achieve community impact goals while delivering value to the organization. In this program, participants explore CSR models and best practices that successful companies are using to drive business and social value across the organization and the community. Network with CSR colleagues, leaders, and independent experts to confer about current views in CSR practice and build a valuable network of thought leaders and funding partners.
Presenters include:
Peter Hansen, Senior Vice President of Development, NJPAC

Ellen Lambert, Director of Corporate Responsibility and President of the PSEG Foundation

Timothy McClimon - President of the American Express Foundation and Vice President for Corporate Social Responsibility, American Express Company

Louis D Coppola - EVP & Co-Founder, Governance & Accountability Institute and Board Member, Global Sourcing Council (GSC)
Topics include:
The Ethics of Corporate Responsibility

Return on Investment

What is the Relationship between Philanthropy and CSR

CSR Trends – Locally, Nationally and Internationally

Socially Responsible Investing and Divesting
The Four Faces of Corporate Social Responsibility:
Archie Carroll, Professor Emeritus, Robert W. Scherer Chair of Management, Department Head, and Associate Dean of the faculty of the Terry College of Business, University of Georgia, is a renowned CSR expert. Dr. Carroll is co-author of Business & Society: Ethics, Sustainability and Stakeholder Management, one of the leading books in the field, and is co-author of Corporate Responsibility: The American Experience. He asserts that the full gamut of corporate citizenship includes four faces, or responsibilities, that reveal an important facet that contributes to the whole.

Be profitable – deliver an acceptable return for shareholders while contributing to local and global economies through their core business

Obey the law – operate within the law in all locations in which they do business

Engage in ethical behavior – consider environmental and social impacts of their operations and, as far as possible, do no harm while pursuing business interests

Give back through philanthropy – proactively seek opportunities to make a positive contribution to society beyond profitability, compliance and business ethics. At the discretionary or voluntary level, organizations have a responsibility to understand broad stakeholder needs and address societal concerns through their business practices
Dr. Carroll emphasizes that the exemplary corporate citizen strives to expand its profits, while fulfilling its citizenship obligation to others. These goals are not to be fulfilled sequentially, but concurrently, in the pursuit for model corporate citizenship."
Who will Attend:
Leaders and Staff of corporate foundations or corporate giving programs

Corporate Professionals with responsibilities that include corporate community involvement, corporate citizenship, corporate social responsibility, community relations, employee engagement, volunteer management, public affairs, or corporate communication

CSR Teams or departments

Individuals interested in transferring into the field
Cost:

General registration fee - $1,500. A 10% discount is offered to the 2nd + registrants from the same organization
Included in the program cost: parking, breakfast, lunch, course materials, decision-making and evaluation tools, and a resource guide. Attendance will be limited so register today.
Continuing Education Units (CEU):
For interested participants, this program offers 1 general CEU credit for the 2-day program
About The Institute for Ethical Leadership at Rutgers Business School:
Mission - We strengthen ethical leadership to enhance civil society.
The Rutgers Institute for Ethical Leadership, working with business, government, nonprofit and philanthropic organizations, and within Rutgers, provides leaders and future leaders with the education, training and critical-thinking tools needed to make ethical decisions. Part of a broad-based academic institution, the Institute believes that cultivating and rewarding sustainable ethical practices assist leaders to create a more powerful and successful organization. The Institute, under the direction of co-founders, Alex J. Plinio and James Abruzzo, aspires to a position that leaders, across all sectors, look to for guidance, partnership, and support. The Institute believes that ethical behavior drives good business and that legal compliance alone may fail to address the complexities of ethical conduct.
About the Governance & Accountability Institute, Inc.:
Governance & Accountability Institute, Inc. is a for-profit strategies advisor, provider of consulting services and well-respected research firm serving leaders in organizations in the corporate (private), public and social/institutional sectors.
The Institute provides corporate and investment community clients with a portfolio of integrated services and resources to help leaders identify, quantify, monitor, analyze, and manage effective approaches to address critical issues -- especially those reaching "the tipping point," when resolution of [issues] may be harder to achieve.
We are experts with long experience in risk management, corporate governance, corporate sustainability and responsibility -- and in the "ESG" strategies and performance factors that increasingly affect corporate reputation and capital markets valuation and perceptions of the enterprise. Corporate ESG perceptions can influence access to capital, cost of capital, and in the positive, shape favorable perceptions.