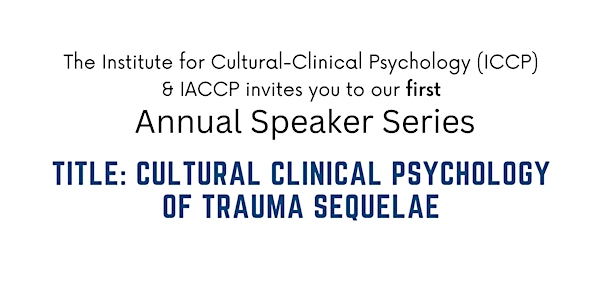 Institute for Cultural-Clinical Psychology Inaugural Annual Speaker Series
ICCP features speakers who have made significant contributions to the field of culture and mental health.
About this event
Are you interested in culture and mental health? Have you wondered how recent cultural psychology perspectives can be applied to clinical questions?
The Institute for Cultural-Clinical Psychology (ICCP) is hosting a series of virtual events to address these very questions and more. This series is being offered in collaboration with the International Association for Cross-Cultural Psychology (IACCP) and the Department of Psychology at Concordia University (Montréal, Québec, Canada). We will feature speakers who have made significant contributions to this field, while striving to promote ethnocultural, geographical, and linguistic diversity among our presenters and our chosen topics.
Each event will be two hours in length. The first hour will involve a traditional colloquium presentation, followed by a Q&A session. This hour will be completely open. The second hour will involve a guided discussion with our presenter, allowing participants to go 'behind the scenes' with an expert in cultural-clinical psychology. In future, this second hour will be restricted to members of the IACCP special interest group on cultural-clinical psychology. During our first year, however, we will open this discussion to any attendee who would potentially be interested in joining this group in the future.
Important:
Please find the Zoom link here: https://concordia-ca.zoom.us/j/83985336809.
Please confirm your attendance for the second hour guided session by sending an email to culturalclinicalpsych@gmail.com.
The talk will take place from 11am to 1pm EST, which is 5pm to 7pm CET.
The presentation will be delivered in English, with questions also welcome in German.
Please feel free to invite anyone who might be interested. Help us spread the word!
Please contact Julie Quadrio at culturalclinicalpsych@gmail.com with any questions, or to register interest in future participation if you are not able to attend our first event.