Description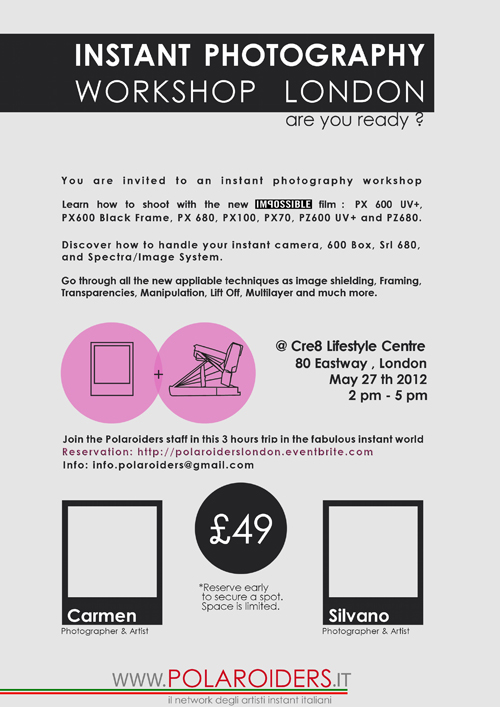 @ Cre8 Lifestyle Centre
80 Eastway, Hackney Wick
E9 5JH London
Overground Hackney Wick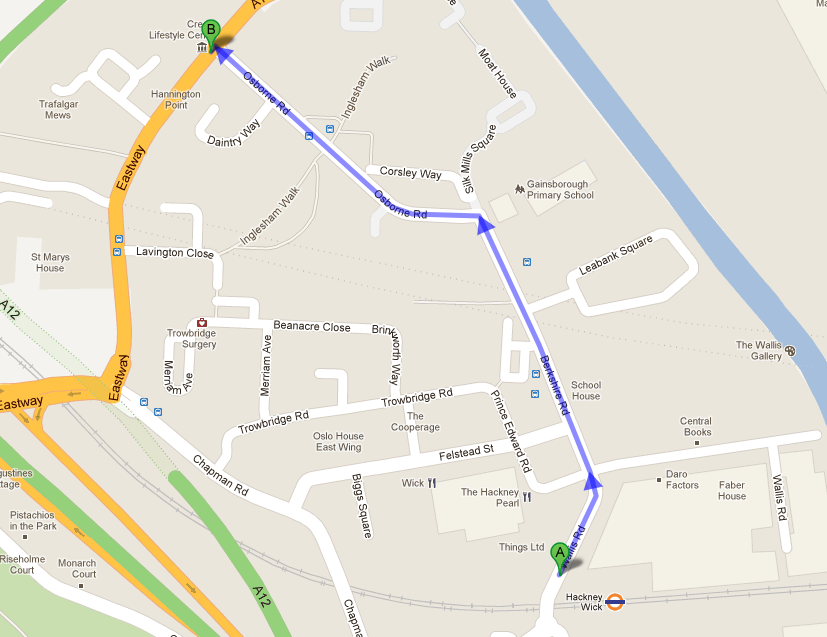 During the exhibition "Sport, Life and instant photography"
http://www.facebook.com/events/212560428856195/

Polaroiders.it organizes the "instant photography workshop"

Learn how to shoot with the new Impossible Film: PX600 UV+, PX600 BLACK FRAME, PX680, PX100 UV+, PZ600 UV+ and PZ680.

Discover how to handle your instant camera like 600 box, srl 680 and spectr/image system.

Go throught all the new appliable techniques as image shieldings, framing, transparencies, manipulation, lift off, multilayer and much more.
Everybody can partecipate both expert photographers and beginners, appassionates or just curios.

In this workshop we let partecipants try some techniques with our equipment so is not necessary to bring your camera and your films, but if you want practice more during the workshop we suggest you to bring them.

info: info.polaroiders@gmail.com
Creative Techniques by Alan Marcheselli and Carmen Palermo: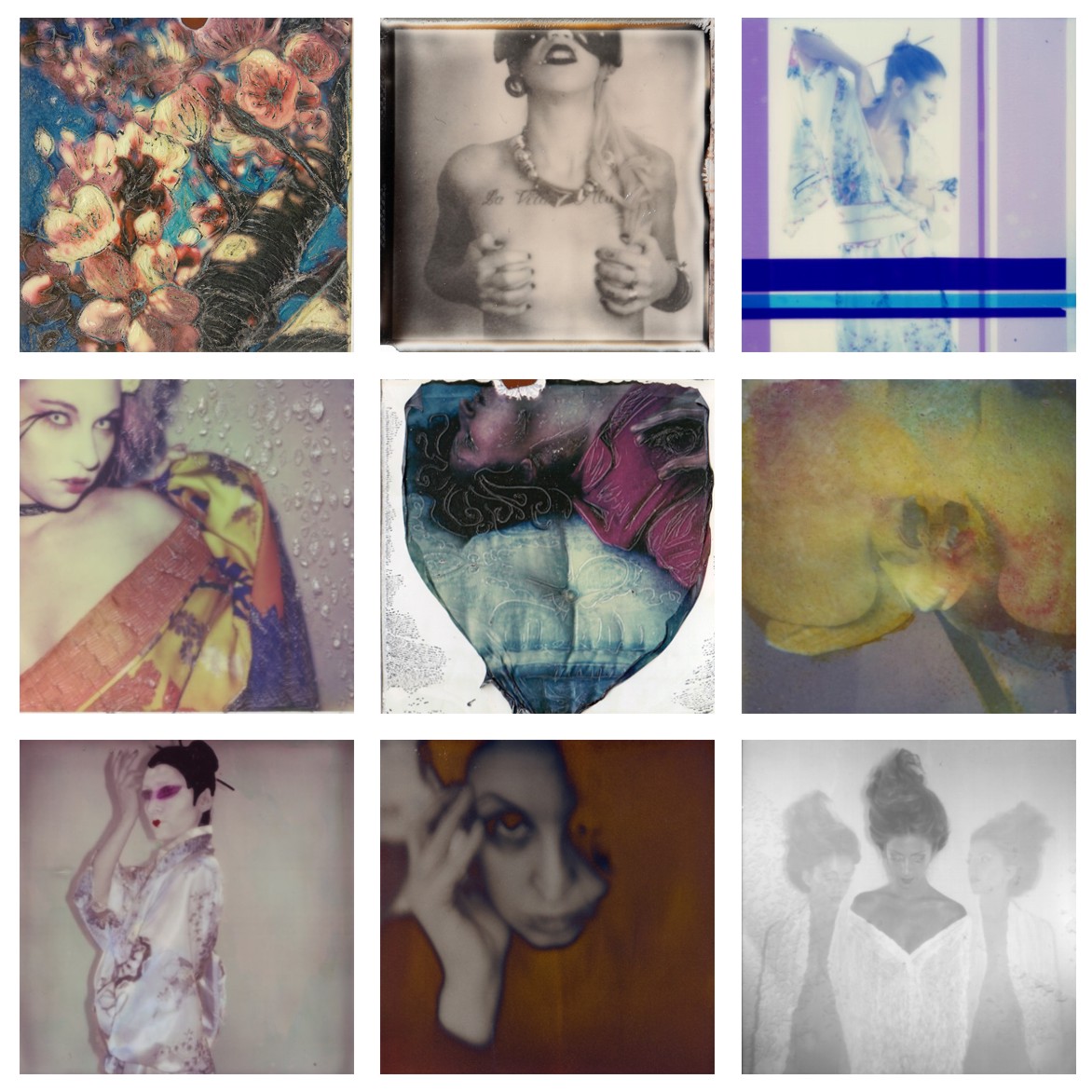 Creative Techniques by Silvano Peroni: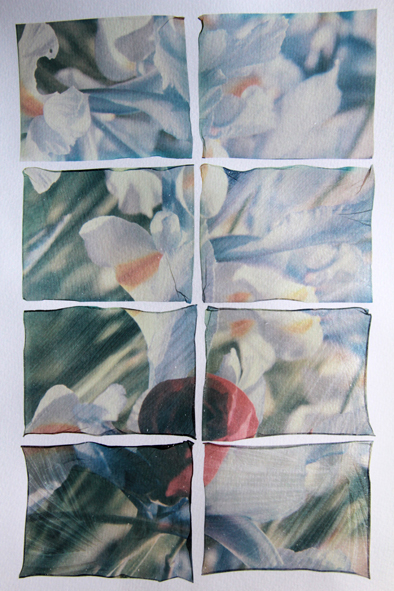 Organizer of Instant Photography Workshop London
www.polaroiders.it The Social Network dedicated to Instant Photography is born in 21 June 2010, with the scope of housing all Polaroid Professionals, Fans and Amateurs.

Today has more than 1,200members and more 15,000 photos uploaded.

www.polaroiders.it  is a community  where Polaroid fans, professionals and artists live together and compare with each other to get actively involved with the critic of the month , the monthly publication of a column in a magazine of sector ( monthly online and quareterly printed version  with distribution also in Japan and China), the internal competitions and more concretely with the exhibitions and events that the site offers throughout Italy.

Since October 2011, together with the photographer Manuel Colombo,the group is the promoter of ISO600: the first Festival of Instant Photography in Italy. (www.iso600.org)
www.polaroiders.it organizes workshops in Italy and in Europe on creative tecniques with the new film by The Impossible Project


www.polaroiders.it currently collaborates with:

    ⁃    www.potpourrimensile.com : monthly online magazine with quarterly printed version (distributed also in China and Japan) which  hosts  the column named "pot pola" entirely cured by polaroiders.it.
    ⁃    http://www.the-impossible-project.com/  italian translations of the site and the organization of events "Impossible Project" in Italy as well as workshops in Italy and in Vienna.




EVENTS:
   -  April 2012: "Il corpo" - Skyn Gallery in collaboration with www.iso600.org, Brescia
    -  March 2012: collective "pezzi unici" - Galleria Gallerati in collaboration with www.iso600.org,   Rome
    -  December 2011: collective "scrivi una pola in 10 parole" - Living Lab - Varese
    ⁃   28 Ottober2011: "Polaroiders fundraising for Levanto": Charitable Auction online for the collection of funds in favor of the areas affected by the flood of October 25, 2011
    ⁃    25 Ottober 2011: "Le donne, l'arte. Oggi" - Collettive, organized by www.incontrieventi.it In collaboration with polaroiders.it , at the headquarters of Messenzio Art, Rome
    ⁃    21 Ottober 2011: "Forme Istantanee" - Collective organized by Ars-Imago International and Polaroiders.it , at Ars-Imago Quest, Rome   
    ⁃    6-9 Ottober 2011: "ISO600 – FESTIVAL DELLA FOTOGRAFIA ISTANTANEA" - Milano
    ⁃    28 August 2011: "Polaroiders@Fanano Obiettivo Fotografia" - Fanano
    ⁃    15-31 July 2011: "Brain storming: racconti in polaroid" - Collettive polaroiders – Paratico (BS)
    ⁃    24 June 2011: Polaroiders@Homepagefestival - Udine
    ⁃    1-4 April 2011: "Il Vintage" - Palazzo della Rosa Prati, Parma
    ⁃    26 March 2011: MIX UP – Collective Exhibition e live performance – SPAZIO CONCEPT, Zona Tortona - Milano
    ⁃    25-27 March 2011: Polaroiders@Photoshow 2011 – Fiera Milano City - Milano
    ⁃    February 2011: Collettive "Sarezzo OFF", Villa Usignolo – Sarezzo (BS)
    ⁃    February 2011: Collettive "Scrivi una pola in 10 parole", Villa Usignolo – Sarezzo (BS)
    ⁃    27 January-13 February(Bologna): BOLOGNA ARTEFIERA 2011 – Academy of Fine Arts in Bologna (Collective exhibition of approximately 40 artists of the Polaroiders network and workshop on Instant Photography) ( organised by www.polaroiders.it in collaboration with Academy of Fine Arts in Bologna)
    ⁃    4 December 2010 (Bologna):  BO50 - Presentation of the book produced by polaroiders.it and exhibit of polaroid pictures taken during the events "BO50" organized by E24 MOTORWAY:00
    ⁃    4 December 2010 (Firenze): "Have a pola xmas" - Collective of 6 photographers polaroiders.it in collaboration with œThe Impossible Project€
    ⁃    26-28 November2010 (Parma- Palazzo Della Rosa Prati) : "On The Spot" Collective of 6 photographers polaroiders.it who interpreted with their polaroid commercial activities of Parma + personal Exhibit titled "Fortunae Musae" by Alan Marcheselli and Carmen Palermo ( organised by www.poalroiders.it in collaboration with Palazzo Della Rosa Prati)
    ⁃    27 November 2010 (Parma – Palazzo Della Rosa Prati): "On the Spot – poladay" - 1° Official Meeting of www.polaroiders.it 
    ⁃    20 Ottober 2010 (Milano – SMAU) : Presentation of www.polaroiders.it at SMAU 2010 in collaboration with Retrocamp.
    ⁃    16 Ottober 2010 (Firenze – Melbookstore): "Snap & Share" -Photo shoot of 12 Photographers of  polaroiders.it  with  3 models who wear the creations of a young emerging designer between the shelves in the library Melbookstore (organised by www.polaroiders.it in collaboration with E24 MOTORWAY:00)
    ⁃    23 Settember 2010 (Milano – Fiat Executive Lounge ): "Vintage is Vintage" -Photo shoot of 15 Photographers polaroiders.it , sponsored by The Impossible Project,a fashion of vintage garments organized by A. N. G. E. L. O. during fashion week , Project Backstage and Fashioncamp
     ⁃    21 June – 24 July 2010 ( Bologna): "It's vintage time" - Bi-personal exhibit by Alan Marcheselli e Carmen Palermo at "I love vintage"



BOOKS:


    ⁃    POLAROIDERS ANNO ZERO:  The first Collection of 187 Polaroids from polaroiders.it
    ⁃    SCRIVI UNA POLA IN 10 PAROLE: Book in collaboration with the group of writers to "Scrivi un romanzo in 10 parole" where the art of photography and writing meet
    ⁃    BO50: Collection of the best Polaroids shot during the Events organized by  "BO50" & ''E24:00''
    ⁃    VINTAGE IS VINTAGE: The Collection of the Polaroids shot by 15 photographers of Polaroiders.it in occasion of the event organized during 2010 Fashion Week.







WEBSITE: www.polaroiders.it

blog: http://polaroiders.wordpress.com/

facebook: PAGE http://www.facebook.com/?ref=logo#!/pages/wwwpolaroidersit/120379837995398
                  PROFILE http://www.facebook.com/?ref=logo#!/profile.php?id=100001115493121

youtube: http://www.youtube.com/user/POLAROIDERS

BOOKS: http://www.blurb.com/user/POLAROIDERS

CONTACTS:

Carmen Palermo
Alan Marcheselli
info.polaroiders@gmail.com