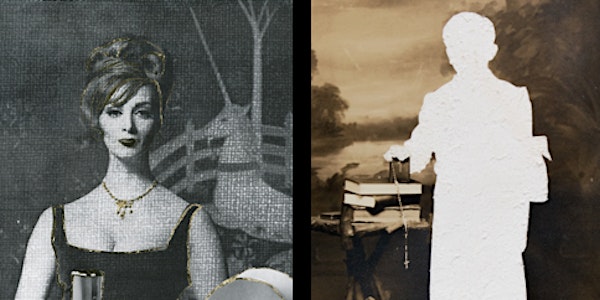 Installations by Bard Graduate Center Library Visiting Artists
When and where
Location
Bard Graduate Center Library 38 West 86th Street New York, NY 10024
Description
In January 2018, Bard Graduate Center Library piloted a visiting artist residency, inviting visual artists Karen Mainenti and Spencer Merolla to use the library to develop new work that highlights our unique collection, as well as their respective approaches to research. To mark the end of their residency, each has altered a section of the library, transforming study alcoves to exhibition spaces to show their research-inspired work. This site-specific exhibition will commence with an opening reception on Wednesday, August 1 from 6–8 pm and will remain on view for the month of August.
Events:
August 1, 2018, Opening Reception from 6–8 pm
August 16, 2018, Artist Conversation from 6–8 pm


---
Exhibitions:
Karen Mainenti: Objects of Desire
Spencer Merolla: Unfixed
On View August 1–31.
Viewing available by appointment only, please contact: public.programs@bgc.bard.edu to schedule a visit.


---

Karen Mainenti is a visual artist working in Gowanus, Brooklyn. She has exhibited at La Bodega Gallery and Trestle Gallery in Brooklyn; Gallery MC and the Society for Domestic Museology in New York; Guest Spot @ The Reinstitute in Baltimore Maryland; and the Cornell Museum of Art in Delray Beach, Florida. Her work has been featured on Hyperallergic, Gothamist, Brooklyn Magazine, and Bmore Art. In 2014, her outdoor street art installation, DUMBO Underfoot, was exhibited at the DUMBO Arts Festival in Brooklyn, and she had a solo show at Chashama's pop-up gallery in the Garment District. In 2013, she attended the School of Visual Arts Summer Residency Program and was a visiting artist at the Tulsa Girls Art School in Oklahoma.
Spencer Merolla studied religion as an undergraduate and had embarked on a career in academia before returning to her first love, visual art. Her work, informed by her study of religion and history, explores the social practice and material culture of grief through various affectively-charged materials. She has shown nationally and in London, most recently at the Invisible Dog Art Center, Rush Arts Gallery, Art House Productions, and the Fed Galleries at Ferris State University. Her work has been featured on Hyperallergic, The Jealous Curator, and The Creators Project. She has also authored an essay, "The Accidental Archivist" in Modern Loss, published by Harper Wave in 2018. She lives and works in Brooklyn.