Are you trying to build an audience on Instagram? This live, virtual class will teach you how to make engaging content that gets attention.
About this Event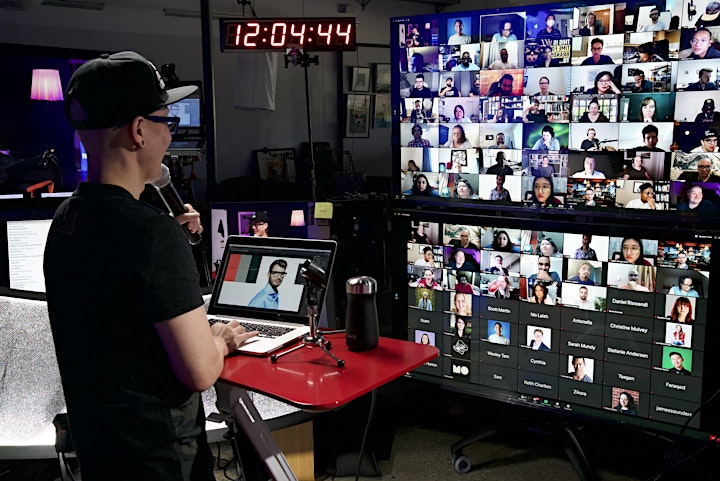 Join Chris Do (@theChrisDo) for an exclusive, hands-on, 5.5-hour online workshop to completely revamp your Instagram content game. Learn how Chris has been able to grow a massive social following by sharing bite-sized lessons in the form of carousels (mini-decks).
This is an interactive, virtual class via Zoom video conferencing. The live class link and prep details will be shared before the class date. You will have access to the course recording for 30 days. Space is limited to 100 live guests.
We'll take you step by step through ideating (finding the right questions to answer), writing (using the heads/tails principle), AIDA framework, layout and design, and best practices so that you can develop a daily habit of creating great content.
Date: Thurs. Nov. 5, 2020. 10am - 3:30pm PDT (1-hour work break @ 12:30pm PDT)
Find your local time here by adding a city: Local Time Converter
WHO IS THIS FOR?
If you want to tap into Instagram's algorithm and create powerful content that gets more engagement, comments and follows, this online workshop is for you. This workshop is for:
Writers who can't design
Designers who can't write
Social media managers
Influencers looking to level up their content game
Design studios looking for an additional revenue source
Designers looking to network and generate leads
Working hard, but hardly working?
No doubt, you've hit your head on the wall trying to gain traction, build an audience, grow your influence and get the attention of clients. Why isn't it working? How are some creators able to build such a massive following while others struggle to gain traction? Where do they get their ideas from? How can they post so consistently when it takes you forever to come up with a single carousel? Is there some kind of hidden secret the big influencers know?
You can do what most people do. Try. Fail. Fail again. Fail better. If you feel stuck— like you're going nowhere fast, this workshop is for you. Chris is going to walk you through, step-by-step, his 5 step process on how to create the most compelling content for Instagram. He'll take you from the macro level (content strategy) to the micro (what fonts and colors to use for your specific post).
Is your content being ignored by Instagram's algorithm?
Every day, more content creators rush onto the IG platform to cash in on social media gold, making it increasingly more difficult to stand out from the noise. Want to know the secret? Make high value content. Duh! What does that even mean? Make content, people will naturally save, share and engage with. Make something that improves their lives and saves them time. That's the secret-no-so-secret to having massive growth. We'll show you how.
Content strategy
Behind every piece of good content is a well-thought-out strategy. Chris will show you how to publish with a purpose so your efforts generate the results you're aiming for. This strategy is focused on multi-slide "carousel" content that delivers value to your audience and drives engagement.
Design and layout
Get a crash course on the basic rules of design and layout. You'll quickly pick up the skills to create visually interesting content and give your Instagram feed a facelift. You'll learn about font pairings, color harmonies, design and layout tips, and how to use images in creative ways.
Use whatever tools you are most comfortable with (Chris will be demonstrating using Adobe CC and Keynote but concepts are universally applicable).
Best practices
When should you post? How often? What hashtags should you use? How often should you engage? Does anyone read captions and are they worth the effort?
See the video links to get a sample flavor of this class:
Instagram Class at Adobe Max 2019
Instagram Deep Dive at The Futur Studio
(Videos are also embedded below)
Letter from Chris
This is the process I've used to grow my own Instagram profile and The Futur's.
Maybe you've heard me say it before: you need to post regularly. But to be honest, consistency and frequency are just the tip of the iceberg to building your brand's awareness on Instagram. There's so much more to it than pushing out content, waiting for the algorithm to notice us.
Everything I've learned from content marketing on Instagram has been distilled into this 4-hour workshop. I'm going to teach you how to gain more followers, grow your brand's awareness, and even create new revenue opportunities through your original content. You'll have the tools, resources, and insight at your disposal so you can surpass your marketing goals.