About this Event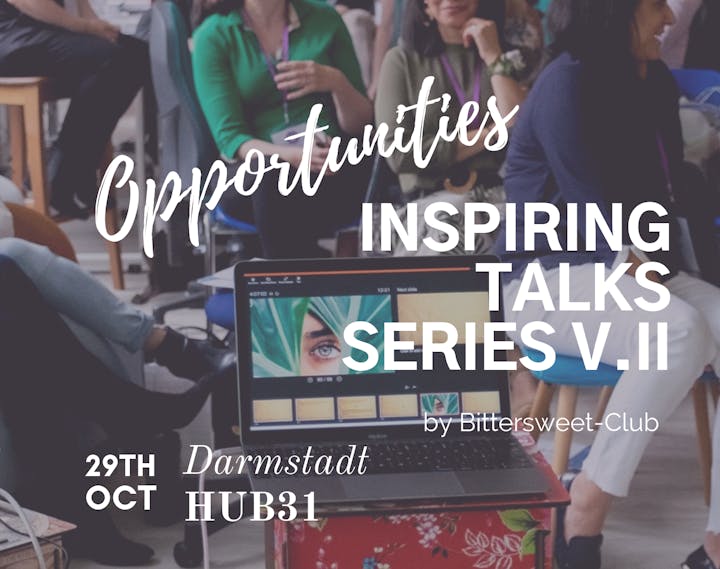 Inspiring Talks is a series organised by Bittersweet-club; an inclusive community, welcoming people from every walk of life who seek for inspiration. We believe in the power of stories to connect and change attitudes.
Bittersweet-club is building a truly inclusive community of curious people to share stories to inspire one another.
Our agenda is to share great stories and spark conversation. Come, join us and get inspired by our community!
***THEME***The second series outlines "Opportunities" – as new ways to map our path forwards, some people are on constant seek while others are creators of opportunities not only for themselves but for other people.
SCHEDULE
18:00 RECEPTION - Check in and networking
18:30 Kathrin Schoenborn-Sobolewski - VP, Head of Integrated Planning, Analytics & Partnering at Merck KGaA
18:50 Susanne Ley - New Work Fellow at SAP & Empower your Kid Coach
19:10 Spark Conversation - Food and networking
19:50 Natalie Setareh - Luxury Makeup Artist, Educator and Author
20:10 Sarah Hartmann - Cloud Integration Architect at Merck KGaA20:30 Closing
For more information about the event, visit the event homepage
Coming from a variety of backgrounds, beliefs, and cultures, we embrace our differences as a means of learning from each other and enriching each other's lives through our own stories. We celebrate our similarities, particularly our shared commitment to build a truly inspiring community.
We warmly welcome any and all who feel or are on the seek of inspiration.