Description
INSPIRING ACROSS GENERATIONS CONFERENCE 2019
TRAILBLAZING
Please join Ascend New England for our annual "Inspiring Across Generations" event on Saturday, December 7th, 2019 for inspirational thoughts from our keynote speaker, a discussion with a great executive panel, reception and networking opportunities. This year, our message is "Trailblazing" with a focus on embracing the endless possibilities of the unknown. Keep an open mind and trail blaze your path forward. Our panel of speakers and mentors representing various industries will share their leadership and experience to help you develop and grow. Additional event details to follow.

The conference will consist of two tracks:
Track 1 - For early career professionals. The focus will be on how young professionals can work on building their own brand and how to navigate through the endless possibilities to trailblaze your own path.
Track 2 - For career professionals. The focus will be on how they can be a trailblazer themselves, designing their own path and at the same time bringing along everyone on their journey.
SPEAKERS

AISLING JUANJUAN NISKA
Managing Director, Global Industry Analyst
Wellington Management Company

Aisling Juanjuan Niska was born to illiterate peasants in a tiny farming hamlet in China and was the first person from her village ever to attend college-level institution. After graduating with a teaching degree, the government assigned her to a remote and low-paying job that she was expected to hold for the rest of her life. But she wasn't satisfied—and she bought her way out of her secure position and left in search of happiness and success in the business world.
Her life started fresh at Boston with barely anything. She learned to speak English, attended college, first Umass Boston then transfer to Wellesley College. She luckily got into the prestigious investment management firm as a junior equity analyst. In 2008, she published her memoir on her China experience, A Tiger's Heart: The Story of A Modern Chinese Woman. Today, as managing director, she continues to analyze emerging markets utilities and telecom stocks and at the same time manages assets on behalf of the firm's clients.

ANN GUO
Founder and CEO
Passion Analytics
Ann is the founder and CEO of Passion Analytics, a Boston-based Edtech startup that has created the world's first automated career coach. Integrating her deep career design expertise with advanced analytics, Ann's mission is to make top-notch career guidance radically accessible to everyone. She received the MIT Great Dome Award for her outstanding contributions to undergraduate career development. Ann is a certified career and executive coach. She holds BS & MEng degrees in computer science from MIT and a PhD from UMass Amherst, focused on machine learning.


KATYTARIKA BARTEL
Co-founder
Angry Asian Girls

Katytarika Bartel is an artist, educator, and organizer based in Lowell, Massachusetts. Katytarika is a queer, mixed race Thai-American photographer and award-winning filmmaker interested in shining light on spaces of in-between. Katytarika is fiercely passionate about making photography more accessible, letting young people do things, and the color yellow.

Katytarika is an arts educator and youth worker, having taught at organizations such as Castle Square Tenants Organization, the Institute of Contemporary Art, and GrubStreet. She is also the co-founder and co-director of the Boston-based art collective, ANGRY ASIAN GIRLS, which works actively in the community to promote and uplift the narratives of APIA young folks.

Katytarika's organizing and fine artwork has been present at institutions in the likes of the International Center of Photography (New York), Pao Arts Gallery (Boston), the Boston Asian American Film Festival, the Museum of Fine Arts Boston, University of Massachusetts Amherst, and New York University.

IRENE LI
Co-founder
Mei Mei Restaurant Group
Irene Li operates Mei Mei Street Kitchen & Mei Mei Restaurant in Boston, where her work centers around ethical sourcing and fair employment practices. Her businesses merge modern techniques and multicultural cuisine with local foods and sustainable business practices. Mei Mei's creative, farm-driven, Chinese American food has been featured in Food & Wine, The New York Times, People, Bon Appetit and more. Irene's life experiences range from organic farming to prison education and many things in between, and while she never expected a life in the restaurant industry, her desire to create change and care for those around her remains constant.

At Mei Mei, Irene directs a groundbreaking open book management training program in conjunction with Rethink Restaurants. She's working to provide the entire team, from dishwashers to sous chefs, with valuable financial know-how and business management skills, and an opportunity for profit-sharing. She is an Eater Young Gun winner, Zagat and Forbes 30 Under 30 Honoree, and a five-time James Beard Foundation Rising Star Chef semi-finalist.

MICHEL MAALOULY
Founder and Chief Executive Officer
Desora

Michel Maalouly is the Founder and Chief Executive Officer of Desora, a Harvard-founded cooking technology company, that is creating the next generation of cooking appliances. In under 3 years, Desora has heavily invested in and brought 5 cooking products to market, that are fundamentally reliant on hard-core Technology to make cooking objectively better. Desora's quality line of products include: The Cinder Grill, The iKamand, The ProJoe, The Classic III, and The Big Joe III outdoor grills.

In November 2018, Michel led the acquisition and integration of Cinder Grill and its technologies, which were absorbed by Desora, marking Desora's expansion into indoor cooking appliances. Cinder is the world's only indoor precision grill, capable of sous-vide cooking without water or plastic bags. You simply place your food on Cinder, set the temperature you want your food to cook to, and walk away. Cinder takes care of the rest.

Michel graduated from Harvard College with an S.B. degree in Engineering Sciences, Magna Cum Laude with Highest Honors in Field.
PANELIST

PAUL BI
Director, New Product Innovation – Global Innovation & Insights
Global Risk Solutions, Liberty Mutual Insurance

Paul Bi is a product director, innovation strategist and diversity & inclusion (D&I) champion actively serving as a disruption agent for change. A highly motivated, D&I driven influencer, Paul seeks to create impactful cultural change by ardently challenging the status quo. As the Director of New Product Innovation for Liberty Mutual's Global Innovation & Insights group, Paul leads global commercial new product & service innovation strategy focusing on emerging and disruptive trends. Recently, Paul also served as the National Co-Chair for Liberty's Pan-Asian ERG – LEAAP@Liberty (Leading & Empowering Asian American Professionals + Allies employee resource group) leading an organization of 1,000+ members with chapters across the country including Boston, Seattle, Plano (TX), Portland, Chicago and NYC. Prior to joining Liberty Mutual, Paul started his career in an entirely different industry spending time at CBS Radio and interning at Radio Disney. He is a Chartered Property & Casualty Underwriter (CPCU), holds a B.S in Business Administration from Bryant University and an M.B.A from Boston College.

JENNY AHN
Organization Transformation Leader
Deloitte Consulting
Given the pace of change and market disruptions, it has never been more critical for leaders to set the vision and direction for their organizations. Jenny is an organization transformation advisor passionate about meeting leaders at the intersection of disruption and workforce solutions to prepare multinational organizations for large scale change. As a leader in Deloitte Consulting's Human Capital Practice, she has led complex initiatives for healthcare organizations focusing on global business readiness, talent management and organizational solutions. As an expert facilitator, Jenny applies group dynamics and innovative approaches to enable leaders to unlock powerful insights that define workforce innovations and market break-throughs.
Jenny is a respected and sought after speaker on the topics of talent trends and inclusive leadership, at such events as the Flex Summit, Multicultural Women's National Conference, Boston Non-Profit Summit and Deloitte's Finance Leadership Forum. She is a graduate of Columbia Business School (MBA) and Tufts University (BA, Economics).

BARTHOLOMEW JAE
Director of Education Development
National Fire Protection Association
Bartholomew Jae is the Director of Education and Development at the National Fire Protection Association (NFPA). He leads NFPA's efforts to help institutions and individuals learn to contribute to the Fire and Life Safety Ecosystem as skilled engineers, workers, first responders, and authorities with jurisdiction.
Bartholomew has over 25 years of experience helping companies develop their leaders, talent, and organization:
Learning & Development Leader, Strategy and Management Consultant, Diversity & Inclusion champion

Worked with global Fortune 500 companies across many industries including Financial Services, Health and Life Sciences, Energy, Retail and Products, and Public Sector.

Previous employers include: Accenture Strategy, PwC, Acadient, Inc., and Scudder Kemper Investments

Master of Business Administration and Bachelor of Science degrees from Bentley University.

ALLYSON SCHILLER
Office of Diversity and Inclusion Leader
PwC
Allyson Schiller is the Office of Diversity and Inclusion Leader for the Northeast market for PwC. She is responsible for leading the market's strategic initiatives to retain, development and advance women and ethnic minorities. As part of the firm's strategy, Allyson works with all dimensions of diversity including but not limited to micro-inequities, unconscious bias, gender dynamics and generational differences. Allyson also leads the strategies and initiatives of the market's Employee Resource Groups and has worked with other local companies to share best practices that foster cultures of inclusion leading to enhanced development of professionals. She is a frequent panelist and lead facilitator at conferences, clients, universities/colleges and internally at PwC for sessions on cultural dexterity, unconscious bias, gender gaps and inclusion.

Allyson is focused on working collaboratively with organizations to positively impact the experiences of those who live and work within the northeast community. She serves on the MSCPA Diversity and Inclusion Council and Work Without Limits Executive Committee. Allyson is a graduate of Fairleigh Dickinson University in New Jersey with a Bachelor of Science degree in Business Management and holds the PHR and SHRM-CP certifications. Further, she volunteers as a Court Appointed Special Advocate for children in Massachusetts where Allyson is a liaison between the court and the community to uphold the best interest of the child.

WENDELL DINGLASA
Director, Alternative Asset Management
PwC
Wendell is a Director in the Alternative Asset Management tax practice in the Boston office. She has over 12 years of tax experience focusing primarily in the hedge fund, venture capital, fund-of-funds and private equity sectors. She provides tax compliance and consulting on various partnership and withholding tax issues and treatment of complex financial products. Wendell earned her B.S. in Accounting and Business Law from Boston University.

ANGELA SONG HIGHRES
Tax Manager
EY
Angela Song is a Tax Manager at EY in their Financial Services Office. She was born in Beijing, China and immigrated to the US at a young age. She started her career journey at the Emerging Leaders externship program hosted by EY for high performing college sophomores while she was getting her B.S. in Accounting at Boston College. Four years after joining the firm full time, Angela stepped into her latest role as a manager in the fall of 2019. In the past two years, Angela completed rotations in both the Bangalore, India and Buenos Aires, Argentina offices. Angela is also honored to be one of the co-directors of EY's Pan-Asian employee resource group, the Pan-Asian Professional Network (PAPN) in Boston. She enjoys participating in a variety of recruiting events with EY, from panels at her alma mater to interviews at the office.

Joining Angela in the workshop will be speed networking facilitators Nikki Huang, Arya Pang, and Peihu Wang. Nikki Huang is a senior manager in EY's Audit and Advisory Business Services practice and is currently the D&I Lead in her group. Araya is an experienced senior in the Audit practice who has been extensively involved in both PAPN and the Professional Women's Network at EY. Peihu is a senior who started in the internal finance group and recently made his transition into a client-serving, consulting role in EY's performance improvement practice.
PANEL MODERATOR

MARIA L. TESORO-REYES
Tax Managing Director
KPMG
Maria is a tax managing director in KPMG's Business Tax Services Practice with over 22 years of multinational corporate and partnership income tax experience. She has a strong background in corporate and partnership income tax, managing large compliance projects, and ASC 740. Maria has substantial experience in advising large multinational corporations in the consumer products, manufacturing and services industries. She is the engagement partner on several middle market and large compliance engagements. In addition, she is the reviewing tax managing director on several middle market and large audit clients. She also provides ASC 740 assistance to middle market public and private companies.
PANELISTS

CHETAN GAVANKAR
Principal, Cyber Security Practice
KPMG
Chetan is a principal in KPMG's cyber security practice. He is experienced in implementing large Information Security programs at global financial institutions. He has successfully designed and implemented security programs to deliver Consumer Data Protection, Identity Governance and Administration Implementation, Security services operating model, third-party risk management, and cyber-regulatory risk projects.

PRITA SUBRAMANIAN
Principal, Economic & Valuation Services
KPMG
Prita Subramanian is a Principal with the Economic and Valuation Services group of the Washington National Tax practice at KPMG. As a senior transfer pricing economist, Prita supports a variety of transfer pricing engagements, including litigation support, audits, planning and documentation studies. Prita has extensive experience with transfer pricing for intangibles. She is also a key member of KPMG's core team understanding and evaluating the issues surrounding the taxation of digital businesses. Prita routinely contributes to KPMG's thought leadership on transfer pricing issues and is an active participant in drafting KPMG's comment letters to the OECD. She is a member of KPMG's transfer pricing Quality Review Process team, which is responsible for overseeing quality control for all KPMG US transfer pricing engagements. Prita currently works on supporting a broad range of client engagements, and on developing training and technical guidance. Prita has also served as a national technical resource for FAS 123r/ASC 718 stock-based compensation valuation.
EVENT DETAILS
Date: Saturday, December 7, 2019
Time: 9:30 AM - 6:00 PM
Venue: State Street - John Adams Building
1776 Heritage Dr, North Quincy, MA 02171
Admission: Members $25 I Non-members $50 I Students $15
Special Admission Offer: 1-Year Ascend Membership + IAG Admission $135
Attire: Business Casual
Lunch will be provided.

EVENT AGENDA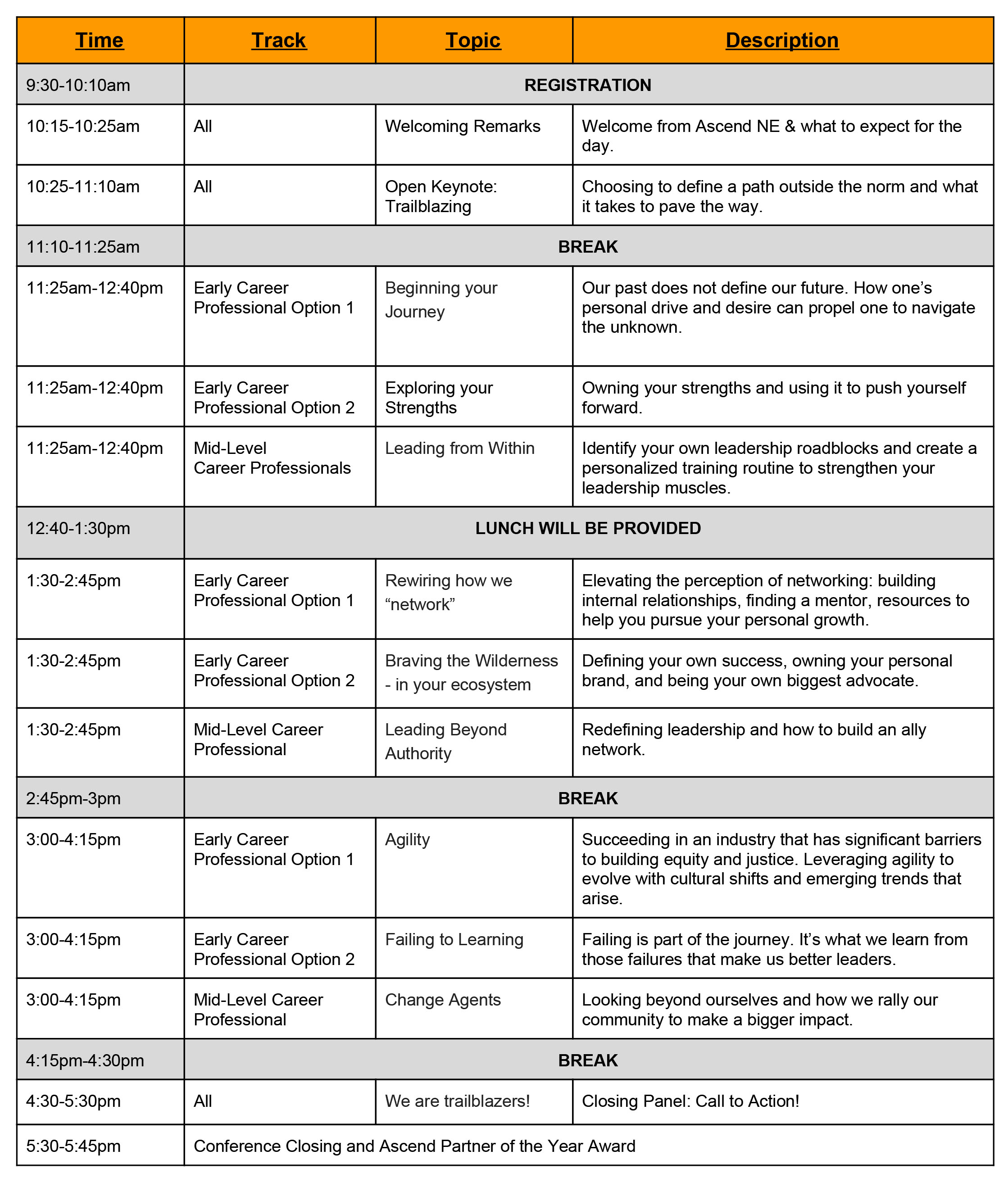 GOLD SPONSORS

---
Disclaimer:
Ascend reserves the right to use any photograph/video taken at any event hosted by Ascend, without the expressed written permission of those included within the photograph/video. Ascend may use the photograph/video in emails, websites, social media, or other marketing material.
An individual attending an Ascend event who does not wish to have their image recorded for distribution should make their wishes known to the photographer, and/or the event organizers.
---
Click here to join as a member today!
Click here to learn more about Ascend New England.
Questions? Email newengland@ascendleadership.org