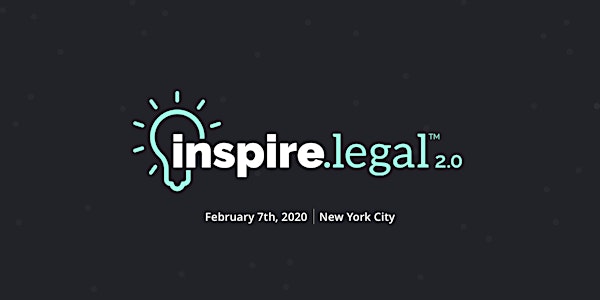 Inspire.Legal™ 2.0
Mapping the future of legal, together. #InspireLegal
When and where
Location
New York Law School 185 West Broadway New York, NY 10013
Refund Policy
Contact the organizer to request a refund.
Eventbrite's fee is nonrefundable.
About this event
What is Inspire.Legal™?
Too often, legal technology and innovation conferences simply rehash the same tired conversations and revolve around the brightest, shiniest new tech widgets in the market—widgets that frequently feel like solutions in search of problems.
Inspire.Legal™ is different. We're seeking to create a functional roadmap for legal innovation, free from pay-to-play bias, by bringing together a diverse range of lawyers, clients, technologists, and other legal innovators to crowdsource a curated set of the most pressing problems facing our industry—to forge action-oriented recommendations that can serve as an industry-wide blueprint for legal evolution and to inspire tomorrow's change-makers to focus on solutions that will generate the greatest possible impact.
For more information, please visit: https://inspire.legal.
Who will be there?
We've recruited dynamic legal innovators from across the industry—from top international law firms to major clients and corporate legal departments; from leading law schools to the trenches of the fight to expand access to justice; from established legal technology and innovation incumbents to the brightest up-and-coming legal innovation entrepreneurs—to help facilitate the dialogue and contribute their own thoughts and ideas to the project. Some of those (listed as "Luminaries" on our website) will be serving as workshop discussion leaders and moderating our interactive "Unpanels."
The 2020 Format: Inspiring Collaboration!
Inspire.Legal 2020 will be focused on collaboration: who on the legal landscape needs to work together more effectively?, why?, and how might we achieve it? From legal services providers with clients and law companies to better serve the client's unique interests, to technology providers cooperating with customers and other technology providers to create more interoperable systems and integrated workflow solutions, to law schools coordinating with employers to ensure that lawyers in training receive the requisite experiential learning, on a range of key frontiers, the future of legal depends on different stakeholders joining forces to understand when and how they might collaborate to achieve greater results, together.
At registration, each participant will be asked to contribute their own views and experiences around key obstacles to lawyers providing, or clients receiving, significantly more effective legal advice.
Those contributions will seed interactive, moderated discussions—or "Unpanels"—where 3-5 subject matter experts will lead a conversation around each of five core topics:
Technology Procurement & Adoption
Platforms & Interoperability
New Offerings & Client/Lawyer/Law Company Collaboration
Experiential Learning & Training
Collaborative Funding Models
each of which will be responsible for reporting out 4 specific "challenge statements" for further workshopping.
And the Legal Problems Forum—the core of Inspire.Legal—will enlist the unique perspective and experience of every conference participant in a searching insight discovery exercise to explore one of the identified challenge statements sourced from the Unpanels as part of a roundtable discussion facilitated by a legal innovation Luminary.
Finally, the resulting work product will be reported out to the full participant body for crowdsourced feedback and solution proposals at a culminating reception.
Inspire.Legal™ is made possible by our Presenting Sponsors: