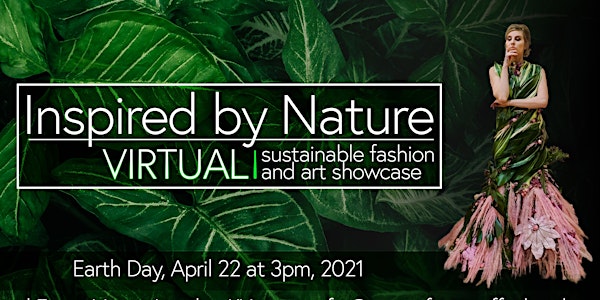 Inspired by Nature: Sustainable Fashion and Art Show
A virtual celebration of Earth Day. Sustainable Fashion show and art showcase. Livestream link will be emailed closed to the event's date.
About this event
Kentucky artists of various mediums partner with Bluegrass Community College's Latinx and Immigrant Services Office (LISO) and with the Universidad Anáhuac Querétaro located in Querétaro, Mexico to create a show that inspires, educates and entertains. To be livestream from Oak Hill Gardens located in London, Kentucky. Oak Hill Gardens is the most exotic venue in the Appalachian region. With Grounds and Pool designed by award winning landscape designer and artist, Josh Samples.
This event will be livestream in English and Spanish.
Fashion Designers: Sarah Jane Estes, Edward Taylor, Josh Samples, Samantha Jean Moore, Tosha Sun, Brianna Armstrong and Soreyda Begley.
Visual Artists: Cathy Vigor, Wren Night, Amalia Galdona Broche, Victor Palomino, Esmeralda Martin and Mercedes Harn.
Hair and Makeup Artist: Ellie Beltran
Photographer: Shuling Fister
For more information email us at sbenedit@soreyda.com