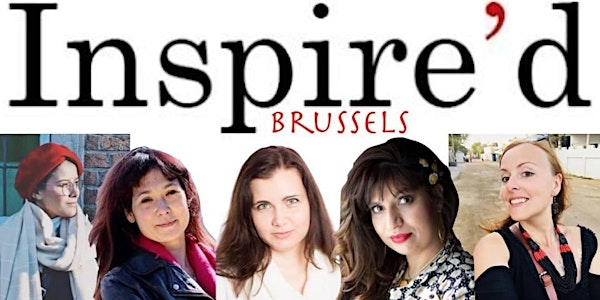 Inspire'd Brussels - Personal Leadership ''TED style'' talks
Event Information
Location
Carpe Diem
13 Avenue de Tervueren
1040 Etterbeek
Belgium
Description
Inspire'd is the UK's leading platform for inspirational and transformational talks and is now making its Brussels debut! You do not want to miss this special space to meet fellow entrepreneurs and change makers for a night you will not forget!

Each month we invite 5 speakers to share their wisdom in 10 minutes. And in the true spirit of an open mic event, we invite a "Wildcard" from the audience on the night. The energy created makes Inspire'd a must-experience.

----------------------------------

We would like to invite you to the Inspire'd Stage FIRST BRUSSELS EVENT on MONDAY 8 OCTOBER 2018 @ 19:00 in Carpe Diem.

We have a spectacular event coming up for you with amazing speakers and special guests:

Shay Allie: Your Inspire'd host in London. She's a multifaceted entrepreneur, who is a barrister and partner in her own law firm, as well as being the founder of Inspire'd and the author of two books in the transformational field.

Su Mee Tan: Your Inspire'd host in Amsterdam. She's a transformation professional with a focus on coaching, training and personal leadership. She worked as a change manager and trainer for leading law firms across the globe before moving into coaching. Su Mee is a certified co-active coach and the founder and owner of Into The Mirror Coaching. When she is not coaching or running after her two boys, she enjoys listening to music, singing and meeting friends over coffee.

Cinzia De Marzo: EU legal advisor & tourism expert on sustainable destination management. Former Seconded National Expert -SNE at the European Commission, DG GROW, Unit Tourism, creative and emerging industries and responsible for the development and the implementation of the European Tourism Indicator System – ETIS. Several collaborations at international level, such as with the Council of Europe for ETIS pilot implementation within the transnational cultural routes and with the UNWTO for the promotion of the International Sustainable Tourism Observatories – INSTO open consultation meetings. Current ECTAA project manager (Group of National Travel Agents' and Tour Operators' Associations within the EU) to implement the project Partnership in European tourism – PET, financed by the European Commission- DG GROW. Current collaboration with Mirabilia initiative of Italian and French Chambers of Commerce (which aims at promoting the minor Unesco sites), in order support the development of the network at European level. EU external expert of the European Commission- DG REGIO on EU macro regional strategies implementation and publication of the Report/Analysis of the national tourism strategies of the EUSAIR countries. Member of the National Scientific Committee of the Italian Ministry of Cultural Heritage and Tourism - MIBACT. Expert evaluator of EASME (Executive Agency for Small and Medium-sized Enterprises).
Katalin Csiba: policy advisor in the European Parliament. Trained in Hungary as a biologist, and worked at Friends of the Earth in a climate change campaign. Joined the Hungarian green party in 2009 later served as the spokes person of the party. Moved to Brussels in 2014 to work in the European Parliament as a policy advisor to one of the Hungarian MEPs in The Greens/EFA group covering mainly legislative and non-legislative files in the Committee on Employment and Social Affairs. In the meantime acquired a master's degree in Management from Harvard University Extension School specialising on non-profit management and government and currently enrolled in the Master of Research Social Policy program at University of York (UK). Occasionally she publishes articles about EU matters in the Hungarian media. She enjoys travelling, studying, books, films, exciting podcasts, interior design, and looking for new challenges in life.
Benedetta Dentamaro: Italian lawyer. Ph.D in international and EU law, obtained also a specialisation diploma in Law and Economics of the European Communities.
Moved to Brussels in 2005 to work in the European Parliament. In 2010 joined the European Commission where she currently works in the Legal Affairs unit of the Directorate-General for international cooperation and development as focal point for the relations with the United Nations.
Elected in 2015 to the official Committee of Italians abroad (Comites), constituency of Brussels, Brabant and Flanders, where she was appointed Secretary-general. Member of the Diplomatic club of Belgium since 2017.
Author of dozens of scientific publications, lately she cooperates with several Italian newspapers.
Among her (too many) interests: politics, travelling, arts and dancing. Italian native speaker, she speaks English, French and Spanish; she learnt (and forgot) German and Croatian.
Translator, instructor, writer for Peace, born and raised in Brussels, Belgium, Amal El Gharbi is passionate about languages, philosophy and traveling, and is concerned and involved in social and women issues. Two years ago, she launched « Aamaly mag », a bilingual online space created after an inspirational trip to Canada to share insights on women conditions, education and identity, but also her interest for fashion, photography and hand lettering. Contributor to Gaya Magazine, her articles are published in the "Inspiration" and "Fashion" sections. Other press features also include European platforms such as Europe and Me Magazine, Sisterhood Magazine.
Margo Anna Pitura holds a MA degree in International Relations from Maria Curie-Sklodowska University in Lublin, Poland, and a post-graduate MA in Human Rights Law from University of Saint Louis in Brussels. She has also taken part in two student exchange programmes in Ghent, Belgium and Poznan, Poland. She moved to Brussels in 2010, right after obtaining her first MA, for a traineeship at the office of a Memeber of the European Parliament and she's pursued her career in the European affairs since. She has worked for the European Commission DG CONNECT, Executive Agency for SMEs (EASME) and recently she has started working for the EU Delegation to Afghanistan in Kabul, covering international development cooperation in the areas of trade capacity building, private sector development and cross-border programmes and connectivity. Her message is that no matter where you are from (she's from a small town/village in South-East of Poland) and how much money you have to start, family behind you, if you see the goal ahead of you, nothing should stop you from getting there sooner or later. Believing in being able to reach the goal is the key. Margo is passionate about travelling with her backpack, getting to know new cultures, reading, watching, listening and interacting with inspiring, interesting people. Don't forget to learn languagues and see the bright side even if life hits your butt.
Alaa Shublaq is singer songwriter with a passion for music. With his signature soulful voice and touching lyrics, Alaa aims to use his gift to add the extra ray of sunshine that the world needs

THE WILDCARD! As always, our line up could also include YOU! The Wildcard slot is chosen from our audience from those that are wanting to speak on the night - these are ALWAYS magic - could it be you this month?!

Our loving host is: CSILLA ROSTAS

Venue address:

Carpe Diem

Avenue de Tervueren 13

1040 Brussels

Closest metro station: Merode

Tickets: €10 online / €12 at the door (cash only accepted at the door)
Buy your early birds tickets here :https://www.ticketsource.co.uk/boxoffice/select/ZJtJLzlwRVfR

The Inspire'd Stage Team,

*Every ticket sold will be donated to charity. This month we are supporting Save Generations Organization in Kigali, Rwanda who helps to improve the quality of life of vulnerable children,youth& women through providing them life&vocational skills to enable them reach their full potential.

#inspiredstage) #tedtalks #inspiration #motivation
Date and time
Location
Carpe Diem
13 Avenue de Tervueren
1040 Etterbeek
Belgium
Refund policy