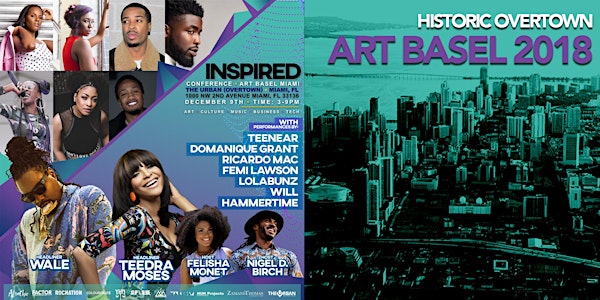 Inspired: Art Basel Miami 2018
Date and time
Sunday, December 9, 2018 · 3 - 9pm EST
Location
The Urban 1000 NW 2nd Avenue Miami, Florida 33136
Refund Policy
Contact the organizer to request a refund.
Description
AfroChic is proud to announce that it will be curating a special event for Art Basel taking place on Sunday December 9th from 3-9pm at The Urban in Miami, Florida. Centered on the soul of the African diaspora, Inspired will celebrate black innovation in art,
music and technology.

Miami is home to a diverse arts community with members from the African, Caribbean and Latin diasporas. The debut of Inspired at Art Basel will bring about exquisite stories and
art from creatives who are devoted to propelling the culture forward and fostering economic growth. The Urban Miami, located at 1000 NW 2nd Avenue is a new food market and public space set in the
historical city of Overtown. The city was originally named Colour Town during the Jim Crow era and is the historic center for commerce in the black community in Miami. The Urban, which officially opened to the
public on December 1st, is a critical aspect of Inspired with its economic implications for African-Americans.

The art exhibit will be curated by Rachael Anagbo of HUH Projects and will platform local Miami-based Black and Latin mixed media artists like Robert Young. Panel discussions will take place over the course
of the afternoon and will engage guests on topics such as: The business of entertainment, women in entertainment and how technology is changing music. Featured artists include: Teedra Moses, Teenear, Femi Lawson, Domanique Grant, Lola Bunz, Ricardo Mac, Will and DC Native by way of Sudan, Hammer. Platinum recording artist and award winning entertainer Wale will headline the conference.

Sponsors include: AfroChic, Factor Music Canada, Slip N Slide Records, Queens Inspire Kings, HUH
Projects, Roc Nation and more.

Click here to register. For more information about ticket sales and for the latest news about the AfroChic
Festival®, visit http://afrochic.ca/inspired/

# # #

About AfroChic
The AfroChic Cultural Arts Festival is a multi-disciplinary annual event that's redefining the Afrocentric
event production space in Canada and abroad. The annual music festival highlights young and emerging
talent from Canadians of African decent through visual arts, fashion, and music.
Twitter: @AfroChicTO | Instagram: @AfrochicTO | #Afrochic
For more information, contact:
Courtney Roberts: Courtney@thecolourcrate.com
Kiyosha Teixeira: Coordinator@thecolourcrate.com