Description
See things differently. Do things differently. Get different results!
You've likely heard that the definition of insanity is doing the same thing over and over again and expecting different results. If that's true, how do you break free of repeating those patterns in your professional and personal life that keep you crashing into the same barriers over and over again?
First step is listening to the voice inside you that says U deserve more. The second step is joining us for Inspire U! During this engaging, rewarding and fun training event, you will identify those areas of your work and home life ripe for improvement. Inspire U is a 2.5-hour training course like you've never experienced.
Led by U & Improved master trainer Jodi Low, this course will give you the tools to shift your thinking, anchor in how to attain what you want through a series of experiential processes, and give you actionable steps toward crafting the personal and professional life you deserve!
Be prepared to:
Identify what truly fuels your passion.
Pinpoint areas of your life that you want to improve.
Learn the key steps to making conscious improvement.
Create a plan to get the results you want.
Get a dose of high-voltage enthusiasm!
Whether you're the CEO of a Fortune 500 company or a small business owner, we all want the same thing: to be heard, appreciated and understood by our friends, family, colleagues and team. This course will set you on a path to be more present in work and at home and lead with confidence.
An introduction to our U the Leader class, Inspire U is designed to give participants a taste of what they would experience during the full 2.5-day class. Leader graduates who attend this training will realign with their goals and passions while those new to U & Improved will gain insights into the opportunities we offer to thrive in every area of life.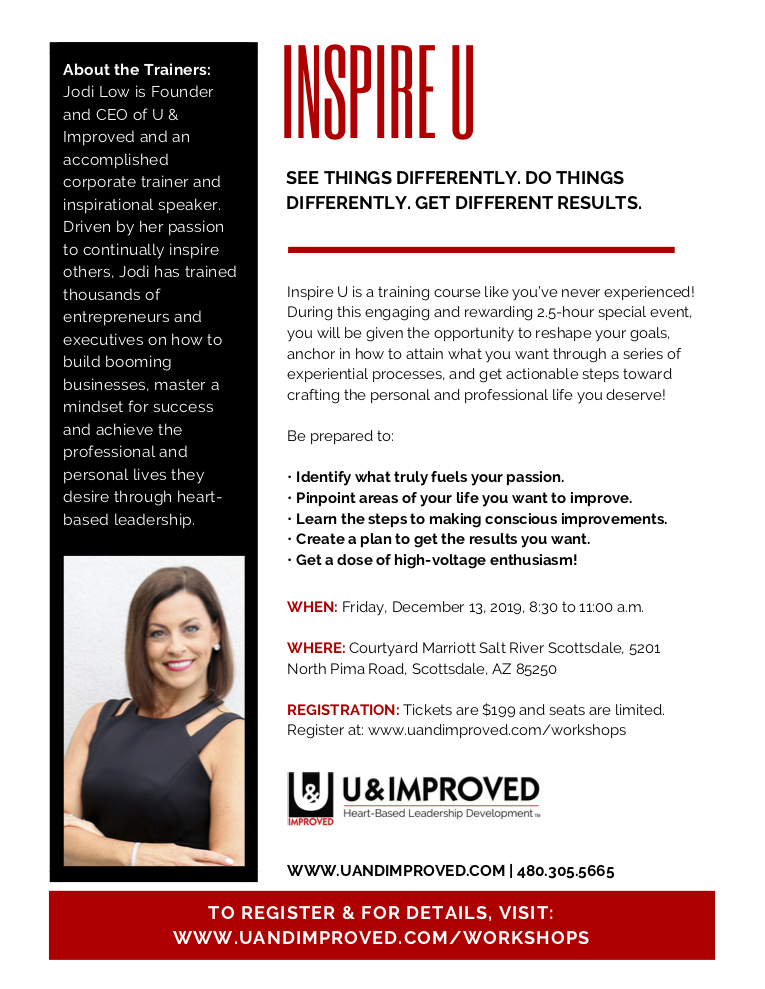 ---
About the Trainer: Jodi Low
Jodi Low is Founder and CEO of U & Improved and an accomplished corporate trainer and inspirational speaker. Driven by her passion to continually inspire others, Jodi has trained thousands of entrepreneurs and executives on how to build booming businesses, master a mindset for success and achieve the professional and personal lives they desire through heart-based leadership.
Learn more about U & Improved at www.uandimproved.com.