Description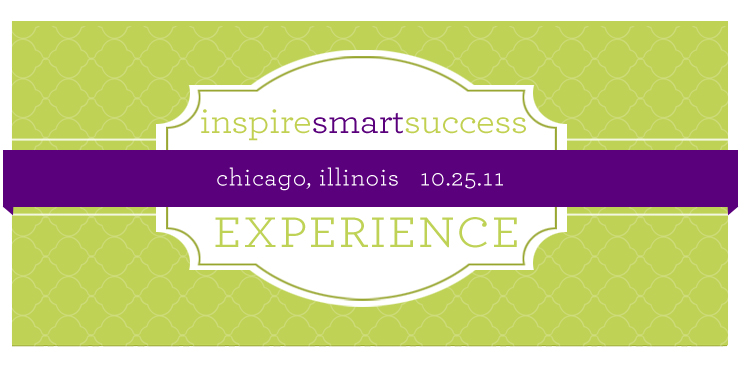 How Can the October 24th-25th Inspire Smart Success Experience Chicago... Explode Your Wedding Business?
Let us INSPIRE you with incredible new ideas. Insightful new directions. New jaw-dropping business strategies.

ISSE's amazing speakers and sessions for wedding business owners will give you hands-on advice on how to book more business and grow your brand.
What you will Learn:

How to Get PUBLISHED in Print and Online

How to Get on TV

Do's and Don't with BRANDING your business


Why and How to use SOCIAL MEDIA to BOOK MORE BUSINESS
...all while immersing you in a luxurious, full day inspirational EXPERIENCE.

Details:
October 24th: Welcome Party 7:00pm-10:00pm
October 25th: ISS Experience 8:30am-6:00pm
Location: The Sax Chicago Hotel

Take a Peek at the Experience you don't want to miss!
Learn How to Get your Wedding Business Feature in Print, Online & On TV:
GET PUBLISHED IN PRINT: We all want to grow our companies, book more business, and make more money-right?! But how do you stand out and get noticed? Getting published in print and online provides credibility and builds awareness of you and your brand. There are affordable ways and easy tactics to getting published in local and national magazines... Stacie, who is a skilled multi-platform Marketer and former Editor-in-Chief of a national wedding publication, along with Magazine Experts and Publishers Amy Allen of Modern Luxury-Brides and Laura Wrasman of Wedding Guide Chicago , who will teach you insider tips and tricks on how to pitch to get published!
GET PUBLISHED ONLINE: With all of the thousands of popular blogs out there, it's important to have a strategy in place that will get your work published online. Learn from Stacie and popular blog Editor Brit Tucker Stewart of Landlocked Bride,

how to create this strategy and become the go-to wedding pro for the online blogging community to get published online!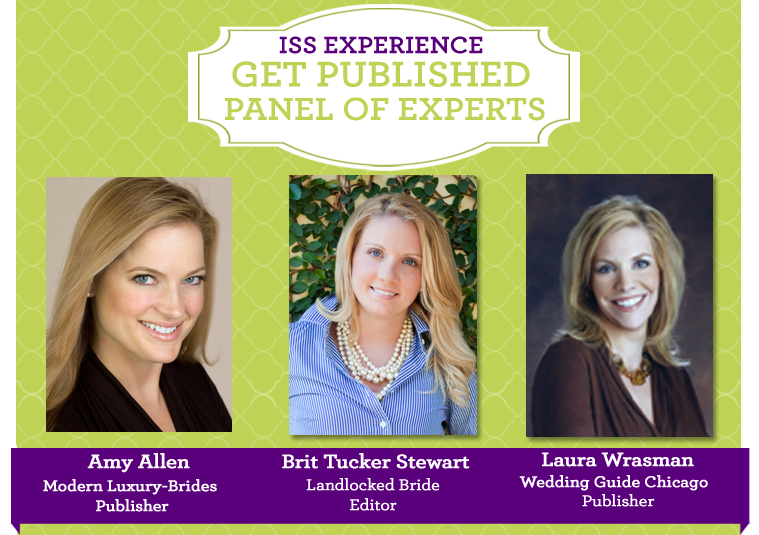 GET ON TV: Have you ever asked yourself, "How in the world do I get on television as an expert?" Or what about, "How do I pitch my reality show idea when I know it's really great!?" Positioning yourself as an expert on television can change your business overnight! Learn how to pitch yourself and position your company to get on TV from

Celebrity Wedding Planners & Event Designers Diann Valentine and Tiffany Nieves-Cook who are regulars on TV and also seasoned executive producer and TV Host Stacie Francombe

.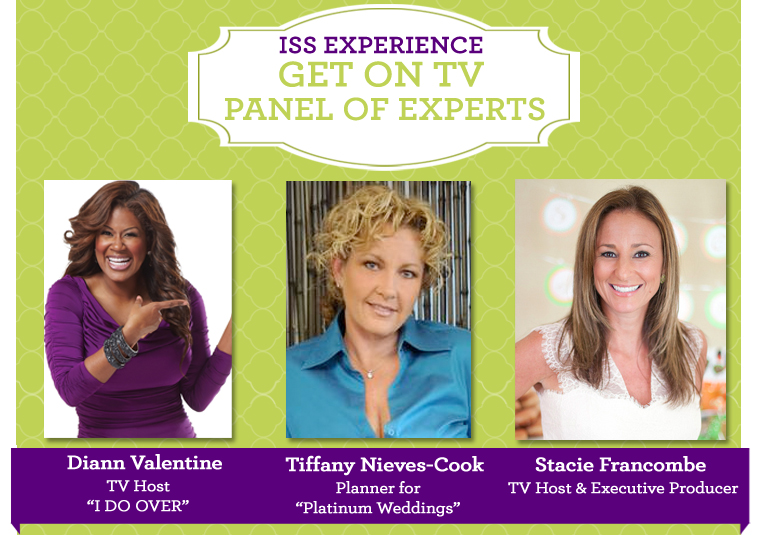 Is your BRANDING Helping or Hurting your Business?!
Logos, website, fonts, colors oh-my! You'll get tips and case studies of how to achieve effective branding to attract just the right target demographic, in order to book the business you want.

Social Media 101
Who has time to keep up with twitter and facebook and linked in and blogs?! You'll learn how to juggle it all and where to focus your effort in order to effectively reach your tartget audience through social media!
Your Hostess:
Join entrepreneur and marketing expert Stacie Francombe for the Inspire Smart Success Experience for highly motivated wedding professionals.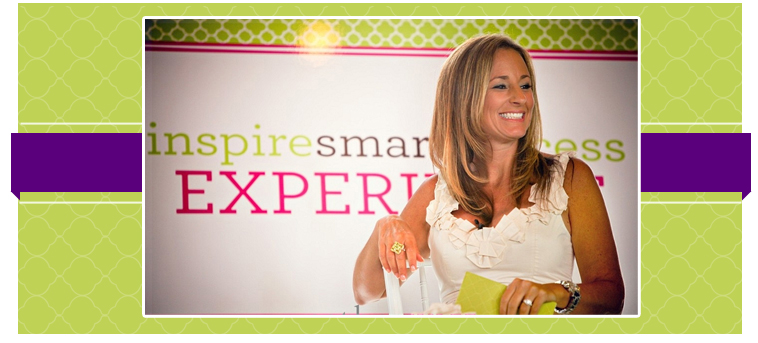 Be Prepared for FUN:
This ISS Experience is more than just presentations and speeches…it will be just what we promise, an EXPERIENCE!
Be prepared for a fabulous party where you can let loose, mingle and meet new friends.

Followed by a fun and easy going day of quality and actionable information and tools to get you pumped about increasing your brand awareness!

Use this experience as an opportunity to surround yourself with other like-minded entrepreneurs, and at the same time, get to know Stacie and learn about her mentoring program Inspire Smart Success.

Whether you are an experienced wedding professional or just starting out….this information is invaluable and this experience is for you!
Space is limited to register early! If you are traveling to the event, there is a block of rooms with a special ISSE rate starting $209 +tax/fees and resort fee per night at the Sax Chicago. Use code Inspire Smart Success when booking call 877-569-3742 or you can also include it with your ticket on your eventbrite order.

***
ISSE BUZZ:
"You are fab! Words cannot express to you how powerful yesterday was for me! I needed to hear everything you said, what panel members expressed, and the best part of the whole day was the amount of new friends I have come to meet… I am forever in your debt, you helped me make my business what it is today and for that I say THANK YOU!" -Randi Moore
"Amazing time at The Inspire Smart Success Experience – I feel like someone just gave me a check for $1,000,000 and I'm going back to Wilmington North Carolina to cash it! Watch Out! Thank You Stacie Francombe – this experience changed a lot of lives!" -Khalilah T. Olokunola
"Thanks Stacie so much for inviting me to the Inspire Smart Success. I left there so inspired and I felt lucky to be there, thank you so much… You have already not only changed my business, but my life." -Shondra Glover
"If you missed the Inspire Smart Success Conference hosted by Stacie Francombe, shame on you… Stacie pulled out all the stops! I can honestly say that this was the best conference/experience that I have been to at any time. Stacie provided a beautiful and intimate setting that helped to promote a great atmosphere for networking. Each panel guest made themselves available to us to answer our questions and gave good solid advice that will help us take our businesses to the top! If you are a Wedding or Event professional, you should make attending this "Experience" your top priority, if you are lucky enough to have it come your way…" -Alisha Nesbitt
"Stacie, thank YOU for following your heart and your dreams and starting ISS. You have no idea how much this experience moved and inspired me to become a more confident and devoted business woman. The world needs more women like Stacie Ivers Francombe." -Lorri Davidson
"You can't put a price on what I've learned today. I'm so blessed & grateful for the opportunity and so happy I could come!!" -LaToya Parnell
ISSE Tentative Schedule:
Monday, October 24th ISSE Welcome Party
7:00pm – 10:00pm Mingle and Let Loose with the ISSE Attendees

Tuesday, October 25th: Inspire Smart Success Experience
8:30am-9:00am – Check-in and Registration & Continental Breakfast
9:00am-9:30am – Welcome!
9:30am-11:30am – Get Published in Print & Online
11:30am-12:30pm – How Branding can Help or Hurt your Business

12:30pm-2:00pm – Let's Eat & Mingle!
2:00pm-3:30pm – Get on TV Panel
3:30pm-4:00pm – Q+A/Dessert Break
4:00pm-5:00pm – Social Media 101
5:00pm-6:00pm – Q+A/!Learn more about Inspire Smart Success Mentoring

***
What is Included in your Fee:
Included in your fee: Monday Party & Tuesday Experience:
~Welcome Cocktail Party with yummy lite bites and Inspire-Tinis
~ Full day of seminar events
~Awesome Swag bag
~Continental Breakfast
~Lunch
~Copius amount of information, networking and FUN!


***
Want to do more than just attend? Awesome! There are still sponsor and partnership opportunities. Contact Sandie Ivers at sandie@inspiresmartsuccess.com to learn more!

***

Looking to get involved in future ISSE events? Great! Contact Stacie Francombe at stacie@inspiresmartsuccess.com or 404.272.6367 or Rachel Saito at 813.600.7167 or rachel@inspiresmartsuccess.com to learn more!

***
Take a peek at the ISS Experience-Atlanta and Orlando at:
http://inspiresmartsuccess.com/blog/inspire-smart-success-experience-recap-orlando-fl/
and

http://inspiresmartsuccess.com/blog/inspire-smart-success-experience-atlanta/
Special Thanks to Our Fabulous Partners!